Nowadays, digital investment platforms have made it easy for people to invest in the stock market with ease and convenience. Basically, these digital infrastructures allow Nigerians to invest in foreign and local stocks with as little as N1000. Trove is one of Nigeria's leading digital investment platforms. Here is a summary of what you should know about the platform.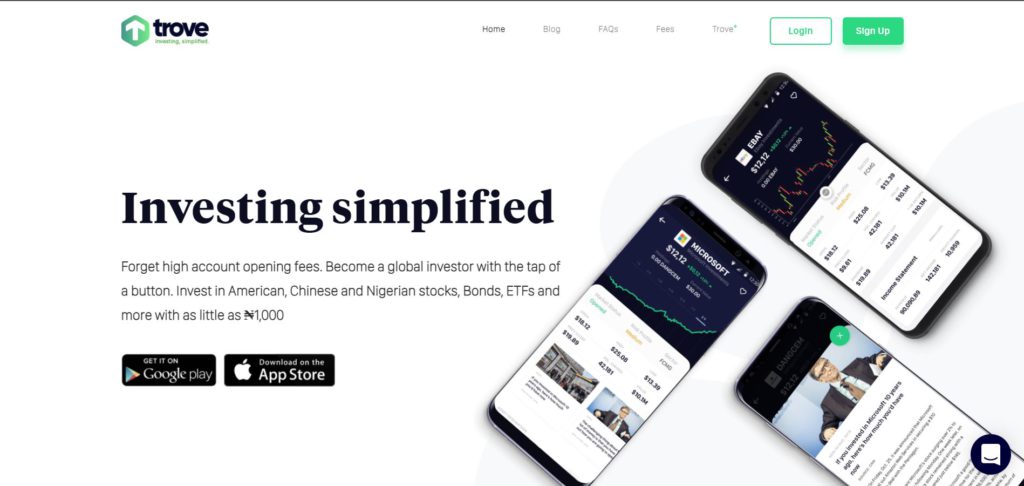 An Overview of Trove
Trove is a digital platform that allows you to invest in the Nigerian and US financial markets in just a click. Basically, the app lets you purchase and sell stocks in various Fortune 500 companies such as Alphabet, Tesla, and Apple while making reasonable investments in reputable Nigerian companies listed on the local stock exchange. 
Founded in 2018, the investment platform specializes in finance, investment, advisory, stock, as well as Financial Securities. Additionally, the platform gives you the chance to sell your private assets. Once you sell your assets, you will receive the funds directly into your account.
What services does Trove offer?
Basically, the Trove platform gives individuals access to more than 4000 foreign and local stocks to purchase. A unique investment feature on the platform is the Trove+.
What is Trove+ and how does it work?
Trove+ is a group of advanced trading tools. These tools help you spot good investment opportunities.
Basically, you get access to powerful investments analytics at your fingertips. With Trove+, you get benefits like:
1. Exclusive data trade ideas are sent to your inbox every day.
2. A set of advanced tools and charts to optimize your investment strategy
3. Estimates that inform you if your trade is undervalued or overvalued.
4. A Stock Screener that filters through different stocks based on the criteria that you set. This targets your price, value as well as your dividend yield.
Basically, the features of the Trove+ make this platform unique and easy for users to invest in. Also, read on How To Deal With Losses In The Stock Market In 9 Effective Steps.
How can I open an account with Trove?
To open an account and begin investing, follow the instructions below:
1. Visit the website, www.troveapp.co
2. Next, touch the "Start Investing" toolbar
3. Input your basic details and submit the registration form online.
Also, you can register through the Trove mobile application. You just need to download the app from the App Store or Google Play Store and register.
How can I start investing in Trove?
To begin your investment journey, follow the instructions below:
1. Create your account
Create an account by signing up via the website, www.troveapp.co, or the mobile application.
2. Fund your digital wallet
Transfer money to your digital wallet using your debit card. You can use MasterCard, verve, visa debit cards, as well as bank deposits.
3. Trade
Begin trading by purchasing and holding stocks or trading daily.
4. Withdrawal anytime you want
You can withdraw any uninvested money from your wallet at any time via your linked bank account.
What documents do I need to sign up on Trove?
To sign up on Trove platform successfully and start investing, you need the following documents:
1. Valid driver's license
2. International Passport*
3. National ID Card
4. Voters registration card
Lastly, you need a recent and valid Utility Bill as proof of your home address
What is the minimum amount I can invest with on Trove?
To start investing on the platform, you need a deposit of at least $10 or ₦1,000 to your digital wallet. Once you have transferred the money into your digital wallet, you can begin investing.
What is the interest rate on Trove?
Here is a summary of the trading Fees if you want to purchase Nigerian Stocks
SEC (Securities & Exchange Commission) – 0.30%
CSCS Trade Alert – ₦4.20
VAT on commissions – 7.5% of NSE, SEC & Brokerage fees
Stamp Duty – 0.075%
Brokerage – 1.35%
Platform Fees – 0.5%
To see other rates on trading foreign stocks, visit the website, www.troveapp.co
How can I download the Trove mobile app?
Here are steps to download the Trove mobile app:
1. Visit Google Play Store if you use an Android device. For iOS devices, visit the App Store.
2. Search for 'Trove' in the search bar
Lastly, download, launch the app, and start investing.
How can I contact Trove?
You can contact Trove via the following ways:
Office Address: 18b Oladimeji Alo Street off Freedom Way, Lekki, 100001, Lagos State.
Email Address: hello@troveapp.co
Phone: (234) 907-713-2746
Website: www.troveapp.co
Bottom Line
Trove is primarily a platform for investment. This means that you can purchase and sell valuable socks on the platform with ease. Additionally, the Trove+ feature makes it easy for you to invest wisely by giving you accurate insights. In all, the credibility of the platform makes it a great place to build your investment portfolio.
You can obtain a comprehensive loan, tailored to your specific needs by using this platform. Basically, it allows you to compare loans from different lenders across Africa, ensuring the best option doesn't slip through.