The agricultural sector is one of the most lucrative sectors to invest funds in Nigeria. This is because agricultural produce will always sell since everyone needs food to survive. Hence, many investors in this sector enjoy high returns. Fortunately, investing in agriculture is now easy and convenient since it can now be done digitally. HerVest is an agro investment platform that gives you access to invest in female small-scale farmers and earn considerable returns. The company promotes gender equality by enabling women to take part in major financial services.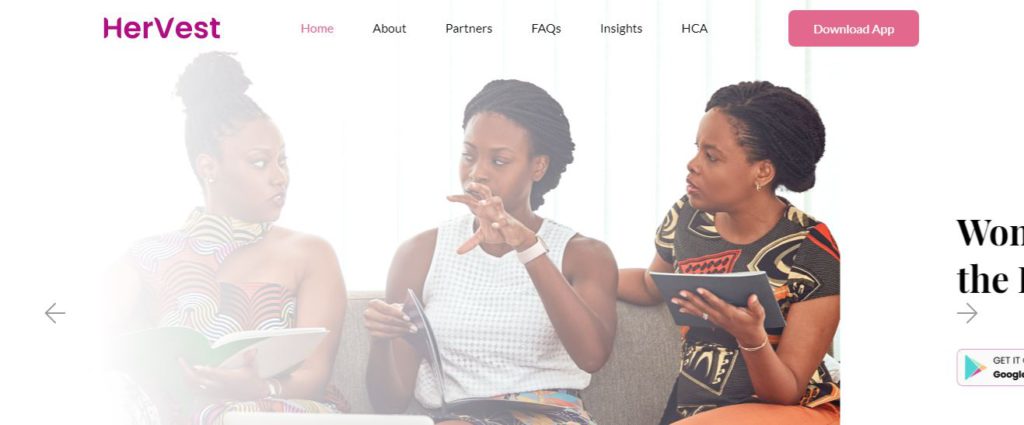 An Overview of HerVest
HerVest is a women-centred and inclusive fintech platform that enables women to partake in major financial services. In simple terms, this fintech platform gives you a chance to invest in female farmers and earn reasonable returns.
Basically, the organisation aims to strengthen the capability of women, via a guided gender-lens approach, and customer support. This is done by making decisive impact investments, particularly in female small-scale farmers who lack access to capital and the labour market.
The company was founded on June 1, 2020, by Solape Akinpelu and has since then grown to become more prominent in Nigeria. They specialise in providing investment services for the public. Also, they specialize in other aspects like savings, fund transfers, and providing credit for small-holder female farmers.
What Services does HerVest offer?
This fintech platform offers the following service to individuals:
1. Investment
The impact investment service allows you to invest in female small-scale farmers and earn financial returns of up to 25% per annum. Hence, you earn passively without breaking a sweat.
2. Savings
As a member of this platform, you can save towards your life goals or any particular long-term or short-term target. Also, this feature allows you to save for as many goals as you want all at once.
3. Funds transfers
This platform allows its users to seamlessly transfer funds to a third party. Hence, you don't need to worry about handling cash directly since you can transfer with ease.
4. Credit for small-holder female farmers.
As stated earlier, this company provides credit for small-scale female farmers who need money to keep their farm businesses running. Once these farmers earn returns, they will give them back to investors who will be encouraged to invest more in their agricultural business.
Read Also: Kickstarting Your Investment Journey: 5 Things To Note
How can I register in HerVest?
To create an account on this investment platform, follow these steps:
1. First, download the app to your phone.
2. Next, tap on sign up and enter your important details.
Thereafter, cross-check your details and submit.
How can I start investing in HerVest?
1. Download the app and create an account
2. Next, create a savings plan. You can create as many plans as you like.
3. Start your investment journey
How many savings plans can I create in HerVest?
Basically, this platform allows you to create as many savings plans as you want. You save towards many of your goals at once with no barrier.
When can I withdraw my funds on HerVest?
You can withdraw your money whenever you want to from your digital wallet. However, you can only withdraw the money you locked in a plan after the maturity date.
What is the interest rate on HerVest savings?
Basically, when you invest with HerVest, you earn up to 25% interest every year. This is a juicy offer compared to other investment platforms.
How can I download the HerVest mobile app?
Here's how to download this mobile application:
1. Grab your android phone and open the Play Store. However, if you own an iOS device, open the App Store on your device.
2. Next, type 'HerVest' in the search bar.
3. Lastly, download the mobile app, install and start investing securely.
How can I contact HerVest?
You can contact HerVest via the following ways:
Address: 23 Hughes Ave, Yaba 101011, Lagos
Phone Number: 0803 287 5778
Email Address: hello@hervest.ng
Website: www.hervest.ng
Bottom Line
HerVest is primarily a women-centered investment app. Basically, this platform enables you to invest in hardworking female farmers and earn reasonable returns after maturity. This platform is secure and credible, making it reliable and trusted by many Nigerians.
Need a loan? Kindly check out this platform that allows you to compare loans from several lenders in minutes. This would help you make the best decision for you.