Nowadays, several platforms make it easy for you to invest in virtual coins. Basically, these platforms enable you to access virtual currency easily and conveniently. Patricia is a leading digital platform that allows you to purchase, sell, trade cryptocurrency seamlessly. Here is what you need to know about the crypto-focused platform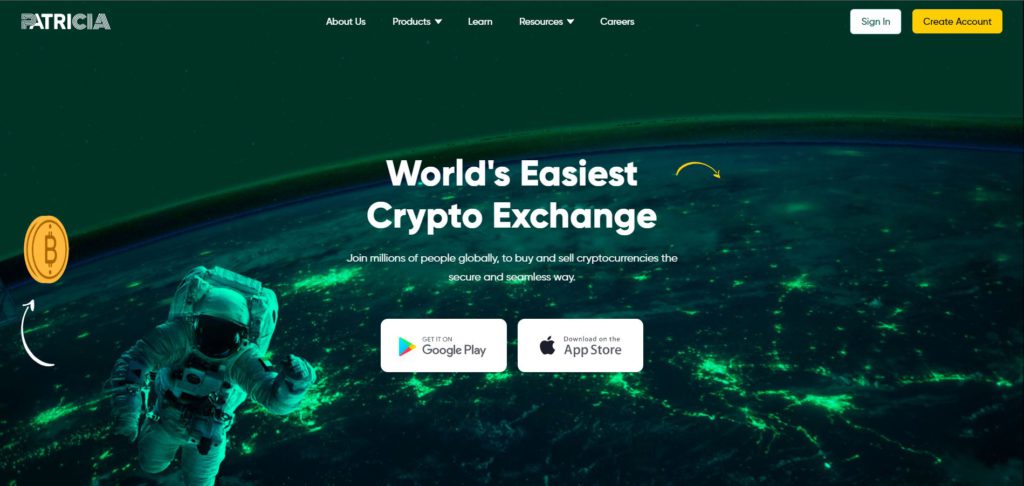 An Overview of Patricia
Patricia is an organization that uses crypto, DeFi, and Blockchain Technology to build up the financial system. Basically, the platform enables you to use cryptocurrency to execute financial transactions. It also allows you to purchase, sell and trade cryptocurrencies within Nigeria. The platform permits you to store your cryptos in an Ethereum wallet, Bitcoin wallet, or a Local Currency Wallet.
The financial organization is privately held and was founded on August 16th, 2017. The company began its initial transactions on Whatsapp and launched its website in 2018. However, in 2020, they launched their first App, giving users an easier and more accessible digital platform.
What services does Patricia offer?
Patricia offers you a range of financial services accessible via cryptocurrency. These services include:
1. Refill
The refill service enables you to use bitcoin to pay your bills, purchase airtime, and buy data. Since bitcoin is a global currency, the platform has simplified it for your everyday use. Basically, this saves you from a lot of stress since you can use Bitcoin in your digital wallet to pay bills and top up your phone in one click.
Also, read on All You Need to Know About Investing in Bitcoin (BTC).
2. Hank
With Hank, you can never lose your valuables. Basically, this device helps you find your phones, keys, wallets, and others with just the touch of a button. This eases the search process and helps you to stay organized.
3. Patricia Merch
This is a private marketplace for users. Basically, you can purchase your favourite clothing specially designed by the company.
4. OTC
The OTC desk is a personalized and private service reserved for large crypto block trades (from $5000 and above). You just need to submit your trade petition by filling out the form on their website.
Basically, these features are what the cryptocurrency-focused platform offers its users.
How can I register on Patricia?
To open an account on Patricia, follow the steps below:
1. Visit the website www.mypatricia.co
2. Next, tap on the "Create Account" toolbar
3. Input your username, email, and password and submit the form.
Also, you can sign up via the mobile app. Just download it from the play store or App store and input your basic details.
What are the documents required to register on Patricia?
You need these important documents to register on the Patricia platform:
1. Your Valid BVN
2. Also, you'd need a recent Utility Bill
3. Bank statement
4. Your basic details like your username, phone number, email address, etc
Lastly, you need a legitimate government-issued Identity card like your National ID Card. The platform uses this to verify your identity.
What are the Withdrawal limits on Patricia?
The platform categorizes every account into four levels. Basically, each of these levels has a maximum withdrawal limit. These limits include:
1. Level 1 maximum withdrawal limit is 1000NGN
2. In addition, the maximum withdrawal limit for Level 2 is 2,000,000NGN
3. Level 3 maximum withdrawal limit is 5,000,000NGN
Lastly, the maximum withdrawal limit for level 4 is 50,000,000NGN
How can I download Patricia mobile app?
You can download the mobile application in two simple steps. They are:
1. Go to the App Store if you make use of an iOS device. If you use an Android phone, go to Google Play Store.
2. Next, search for "Patricia" in the search box
Lastly, download the app and create an account. After creating an account, you will be able to access the platform's services.
How can I contact Patricia?
You can contact Patricia via the following ways:
Address: 2A Swisstrade Dr, Lekki Penninsula II 106104, Lekki, Lagos, Nigeria
Phone Number: 0700 7287 4242
Website: www.mypatricia.co
Email Address: hello@mypatricia.co or support@mypatricia.co
Bottom line
Patricia is primarily a platform that enables the easy use of digital currencies for your daily transactions. Basically, this means that you can trade popular cryptocurrencies and use them to execute financial transactions with ease. In all, the platform is legit, credible and secure.
Need a loan? Kindly check out this platform that allows you to compare loans from several lenders in minutes. This would help you make the best decision for you.