The popularisation of cryptocurrency has made many investors attracted to it. Due to the high demand for crypto investment, many companies have taken it upon themselves to meet the demands of the people. Busha is one of Nigeria's leading crypto exchange platforms that allows you to trade crypto seamlessly. With this platform, your crypto assets are guaranteed to be safe and secure.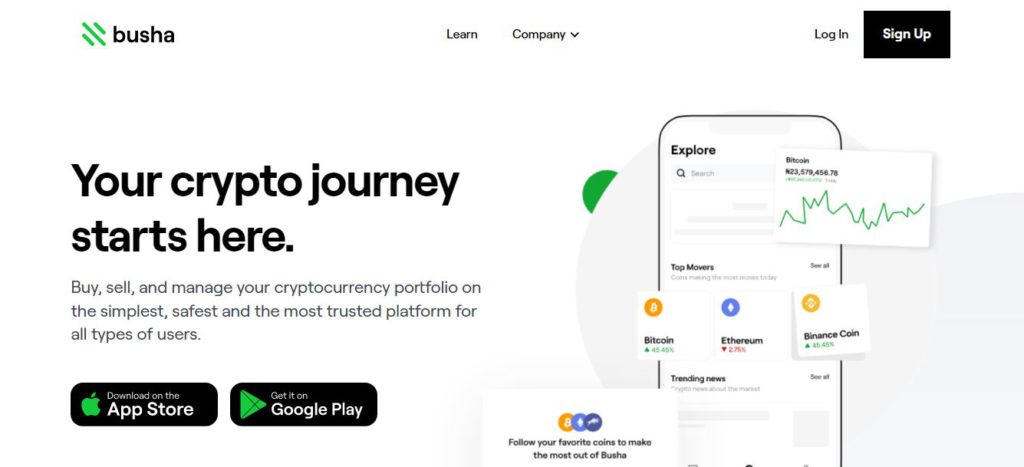 An Overview of Busha
Busha is a platform that gives you access to trade and manage your cryptocurrency portfolio. Basically, the digital platform provides everyone with a simple and safe place to buy, sell and manage their cryptocurrency.
The privately-held organisation was founded in 2019 by Michael Adeyeri. Ever since they have built a solid reputation and grown to become one of Nigeria's leading crypto exchange platforms. They specialize in Cryptocurrency exchange, Digital currency, as well as crypto technology. They're the best crypto exchange in Nigeria and Africa
What services does Busha offer?
Bush's offers the following crypto-centric services:
The online platform offers you various flexible options to trade your crypto. Also, the trading process is simple, convenient, and fast. Other sub-features of this service include:
a. Schedule Recurring Buys
With the Schedule recurring buys feature, you can automatically purchase cryptocurrency every day, every week, or every month. Basically, once you activate this feature, the platform automatically buys crypto using the standard price at the time of execution.
b. Set Limit Orders
You can also set your personal limit on every order you make.
2. Yield
With this platform, you can save and earn. Basically, you only have to store your crypto assets on the platform and earn good returns over time.
3. Pay
This feature enables you to accept cryptos as a form of payment from your customers all around the world. Basically, you can receive cryptocurrencies like Bitcoin, Ethereum, and several others.
How can I register on Busha?
Here's how to create an account on the digital platform:
1. Go to their official website. You can find a link to their website below.
2. Next, touch "Sign Up"
3. Thereafter, input your basic information and then submit.
Also, you can create your account through their mobile app. All you need to do is to download it and then enter your basic information for verification.
What documents do I need to download the Busha app?
To create an account on this platform, you only need your first and last name, email address, as well as a username.
How can I buy crypto on Busha?
Here are the steps to take if you want to purchase cryptocurrency:
1. Tap on the "Get Started" toolbar on the homepage.
2. Touch "Trade" and then select 'Buy'
3. Next, choose any of the digital currencies you want to purchase.
4. Choose your preferred payment method
5. Thereafter, select the type of currency and the amount of currency you wish to purchase.
6. Confirm that all details are correct.
7. Lastly, tap "Buy Instantly" and check for the details of your transaction after your order is completed.
How can I sell crypto I Busha?
To sell your digital assets, follow these steps below:
1. Choose the cryptocurrency you want to sell.
2. Next, select the "Sell" option
3. Input the amount of crypto you would like to sell.
Lastly, confirm the order details and complete the transaction.
What is the minimum amount of crypto I can sell on Busha?
On this platform, you can trade as small as 250 Naira worth of your crypto asset. The process is quick and easy.
What is the minimum amount of crypto I can buy on Busha?
This platform allows you to purchase any of your favourite cryptocurrencies with as small as 250 Naira. Therefore, there is no excuse to not begin your crypto investment.
What is the crypto transaction limit on Busha?
The crypto transaction limits fluctuate depending on your level of verification. For level 1, the transaction limit is ₦2,000,000 (lifetime). For level 2, your limit is ₦10,000,000 monthly,. Lastly, for level 3, your transaction limit is ₦40,000,000 per month.
Read more on Best trading apps in Nigeria.
How can I download the Busha mobile application?
You can download this mobile in three easy steps. They include:
1. Open Google Play Store on your android phone. If you own an iOS device, open the App Store.
2. Next, type in 'Busha' in the search bar.
3. Download the app, create your account and start trading.
How can I contact Busha?
You can contact Busha via the following ways:
Address: R.T. Lawal St, Lekki Penninsula II 101245, Lekki, Lagos
Email Address: support@busha.co
Website: www.busha.co
Bottom Line
Busha is primarily a crypto exchange digital platform. Basically, they enable you to trade instantly and handle your crypto portfolio easily, seamlessly, and conveniently. In all, this platform is the easiest, safest, and most trusted crypto exchange infrastructure for all types of users.
Need a loan? Kindly check out this platform that allows you to compare loans from several lenders in minutes. This would help you make the best decision for you.