Nowadays, many Nigerians prefer to invest their money in cryptocurrency. This is because it is easier to manage than many other types of investments and also offers its investors diversification. Fortunately, many platforms in Nigeria now provide easy access to the world of crypto. Bundle is an app that makes it easy for you to buy, send, and receive cryptocurrency seamlessly. Basically, this platform facilitates stress-free crypto trading.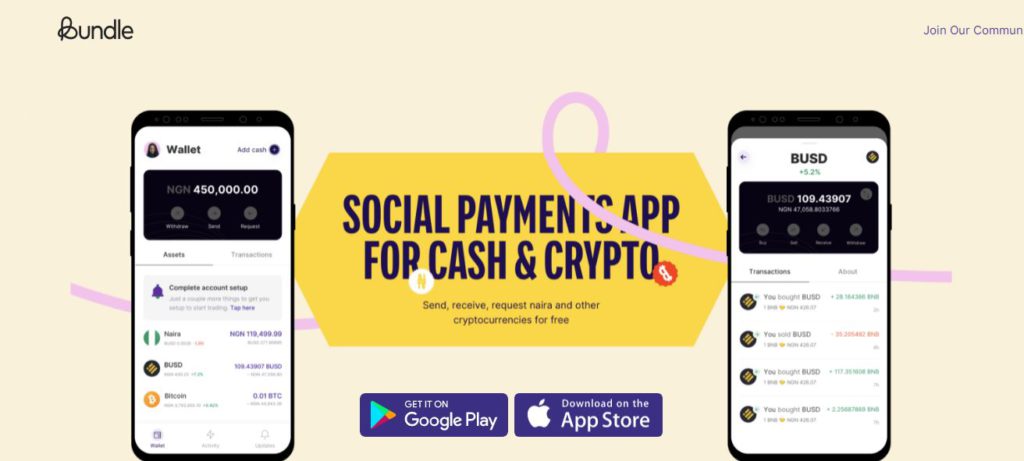 An Overview of Bundle
Bundle is primarily a social payments app for cash or cryptocurrency. Basically, this crypto-centric platform makes it easy for you to send cash currency and popular cryptocurrencies such as Bitcoin. And you can do this all for free without any charge.
The privately held company was founded by Yele Bademosi in 2019. They focus on providing crypto products and services to all Nigerians.
What services does Bundle offer?
Here is a list of the various services this company has to offer:
1. Send, Request, and Receive cash or crypto instantly
Send, request and receive crypto or cash for free with just a few taps. Also, you can pay back your friend or family by sending them cash for enjoyment.
2. Send cash to contacts not on Bundle
The platform allows you to pay someone who is not on the platform by sending cash or cryptocurrency to them through their phone number for free. After sending, they only need to download & register on the app to receive it.
3. Buy and sell cryptocurrency
This platform allows you to buy and sell your favorite cryptocurrency like Bitcoin, TRX, Ethereum, and more than 80+ cryptocurrencies. Once you add your local currency to your account using the 'Add Cash' feature, you can then proceed to purchase any available cryptocurrency.
4. Withdraw and deposit cryptocurrency 
If you want to move your cryptocurrency to another wallet, just click on "Withdraw", and follow the consecutive steps. Additionally, you can deposit Bitcoin and any other cryptocurrency for safe storage in your digital wallet for free.
Read more on Investing in crypto-currency in Nigeria – What you should know.
How can I register on Bundle?
Here is how you can register on the platform:
1. Visit their official website
2. Next, input your name, phone number, and email address and then tap 'sign up'
Also, you can decide to register via the mobile app. Just download the app, fill in your basic details and click on 'signup'.
How can I buy cryptocurrency on Bundle?
To buy cryptocurrency on this platform, follow the steps below:
1. Open the app and tap on 'Asset'
2. Next, click on 'buy' and then enter the amount of money you want to use to buy the crypto.
3. Swap values to convert the exact amount of money you entered into crypto assets.
Lastly, enter your pin and confirm the transaction. After this, you will receive the equivalent crypto amount in your digital wallet.
Read also, Best trading apps in Nigeria.
What is the transaction limit on Bundle?
The transaction limit differs depending on your KYC registration level. To get a breakdown of the transaction limit on this platform, visit their official website.
How can I download the Bundle mobile application?
Here's how to download this app:
1. Open the Google Play Store on your android phone. For iPhone users, open the App Store.
2. Type "Bundle" in the search bar.
3. Lastly, download the app, create an account and start trading.
How can I contact Bundle?
You can contact Bundle through the following ways:
Address: Lakepoint Tower B, 9th Floor, 403 Cl, Banana Island, Lagos
Phone Number: 0815 943 4410
Website: https://www.bundle.africa
Email Address: info@bundle.africa
Bottom Line
Bundle is primarily an app that allows you to make cash payments and access crypto services easily. Basically, this platform facilitates purchasing and trading crypto in seamless and stress-free ways. Although the organization still has a long way to go in assuring Nigerians of its credibility, it has so far been able to meet users' needs.
Need a loan? Kindly check out this platform that allows you to compare loans from several lenders in minutes. This would help you make the best decision for you.