Technology has made investing simpler and more convenient than ever. In the past, the investment process was more expensive and very time-consuming due to the lack of readily available technology to facilitate seamless communication.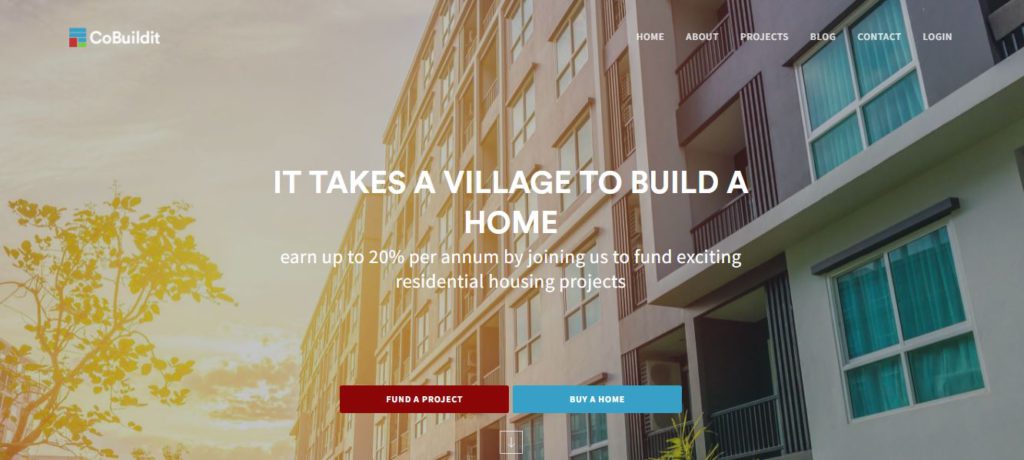 Fortunately, several platforms have simplified investing using technology and brought real estate investment to your doorstep. In just a few clicks, you can access and invest in various portfolios. CoBuildit is a leasing real estate company that allows you to invest in a variety of building projects and earn reasonable returns.
Basically, the company allows you to effortlessly purchase any completed building you choose through their website. With this platform, the investing process is easy, seamless, and convenient.
An Overview of CoBuildit
CoBuildit is a project management company located in Abuja. This company functions through a platform that allows users to invest in ongoing building projects and earn attractive returns. Basically, every user on the platform can part-fund the construction of new homes which allows home buyers a longer timeframe over which to pay for their homes.
The privately-held leasing real estate company was founded in 2015 and allows investors to fund various ongoing building projects. On this platform, you can earn up to 20% every year by funding exciting residential housing projects. Additionally, you get a chance to buy a home at the best prices.
What Services does CoBuildit offer?
Basically, the platform provides the following services to individuals:
1. Investment
Investment is a major service that this platform offers individuals. Basically, you can invest in various building projects and earn returns after the project is completed. To begin investing, you only need to select the project you are interested in, make payments and then monitor it till it is completed.
2. Home Purchase
You can also purchase completed buildings on CoBuildit. This makes it easy for you to own a home since the company has done all the heavy lifting. To buy a building, you just need to go to their website and check for which completed project is up for sale. Thereafter, you can verify its location physically and on Google map, then make your payment for the building.
Basically, these are the services that the investment platform offers individuals. You can choose to either partner with them by becoming an investor or just purchase a building.
Also, read more on How to Invest in Real Estate in Nigeria.
How can I register on CoBuildit?
To register on CoBuildit, follow the steps below:
1. Go to the website www.cobuildit.com
2. Next, tap the "sign up" toolbar.
Lastly, input your email address, create a password and fill in other basic details, then submit.
How can I start investing in CoBuildit?
To commence your investment journey on this platform, follow the instructions below:
1. First, create your account by signing up on their website.
2. Next, view all the projects available, verify their location on Google Maps, and select the one you will like to invest in.
3. Make your payment to secure your space as an investor.
Thereafter, monitor your project till it is complete then get your returns on investment.
What Projects are available on CoBuildit for investment?
To get an extensive summary of the number of projects available on CoBuildit, visit their official website, www.cobuildit.com. Also, you can subscribe to their mailing list to be the first to know once a new building project is available
What is the Minimum Funding Amount on CoBuildit?
Basically, the funding amount varies depending on the project you choose for investment. However, the minimum amount you can use to find any project is N50,000.
What is the interest rate on CoBuildit?
On the CoBuildit platform, you earn up to 20% interest per annum on any of your investments in the available projects
How can I sign legal documents on CoBuildit.com?
You can sign all legal documents electronically via the website. Basically, this facilitates the seamless transfer of documents between all important stakeholders in the project and ensures that all information remains secure.
Does CoBuildit have an app?
No, CoBuildit does not have a mobile app yet. However, you are free to access their full services on their website.
How can I contact CoBuildit?
You can contact CoBuildit via the following ways:
Address: 24 I.T. Igbani, Utako 900108, Abuja
Phone Number: 0805 252 5242
Website: https://www.cobuildit.com
Email Address: hello@cobuildit.com
Conclusion
Although CoBuildit is primarily an investment platform, the company also gives you a chance to realize your dream of owning a home. Essentially, the platform is a legit, credible, and secure place to commence and build your investment portfolio.
You can obtain a comprehensive loan, tailored to your specific needs by using this platform. Basically, it allows you to compare loans from different lenders across Africa, ensuring the best option doesn't slip through.