The importance of agriculture in Nigeria cannot be underestimated. It is the centre of the Nigerian economy, providing a means of livelihood for most Nigerians. Hence, it is no surprise that many Nigerian companies now capitalize on growing this sector of the Nigerian economy. ThriveAgric is a leading agricultural technology company that grants small-scale farmers access to finance and other agro services. Here is all you should know about this company.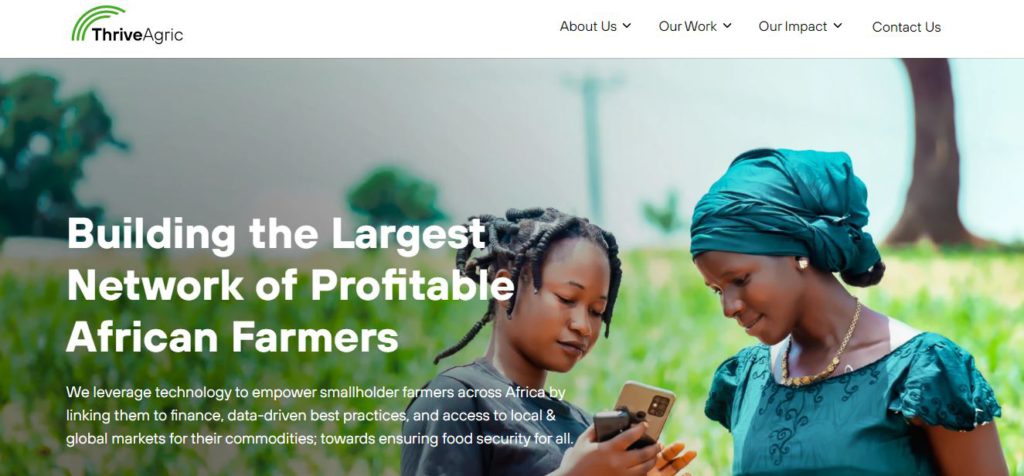 An Overview of ThriveAgric
ThriveAgric is an agricultural technology company that provides farmers access to finance, premium markets, and other agro services. Basically, they aim to help small-scale farmers with what they need to boost their farming businesses. This is to guarantee global food security and to encourage agricultural participation.
The privately-owned company was established by Uka Eje and Ayodeji Arikawe in 2016. Since the inception of this company, they have changed the lives of over 200,000 farmers. Also, they promote digital participation in farming through crowdfunding with partners on their web platform.
Basically, this company uses these funds gotten through crowdfunding to finance farmers with the promise of returns to their partners. In simpler terms, this means that you can make agro investments on this platform.
What services does ThriveAgric offer?
Basically, this agro-based company offers small-scale farmers the following services:
1. Input Financing
Input financing is the primary motive of this company. Basically, they provide small-scale farmers with the finances they need to start and run their farming businesses effectively.
2. Development & Training
This agro-centred company also organizes training for small-scale farmers at regular intervals. Basically, this enables these farmers to be well-grounded in agricultural practices, thereby increasing their output.
3. Technology Services
Using their proprietary technology, Agricultural Operating System (AOS), this company powers numerous apps. Basically, these apps enhance various aspects of their operations and generate data benefits suitable for the agricultural ecosystem.
4. Post-Harvest Services
Post-Harvest services are the sum of all the activities that happen after farmers harvest their farm produce, including storage. Basically, this company helps small-scale farmers to scale through harvesting and post-harvesting without stress.
5. Access to Premium Markets
This company also provides farmers with visibility. After they harvest their produce, this company connects them to the right customers.
Basically, all these services are aimed at giving farmers social and financial inclusion in the society. They empower them financially.
Interesting Read: Farming Investment in Nigeria
How can I register on ThriveAgric?
To register via their web platform, follow these steps:
1. Visit their official website. You will see a link to their web platform below.
2. Next, go to the menu and click on 'Contact Us'
3. Thereafter, input your email address and details of your message and submit it. Once you do this successfully, wait for the company to contact you in due course.
What documents do I need to register on ThriveAgric?
Basically, you will need your basic details including your name, phone number, and your email address. However, they may need other documents to complete your registration process. Just be prepared in case they ask for more documents.
How can I invest in ThriveAgric?
To invest in agriculture through this platform, follow these steps:
1. Go to their official website and click on the "Contact Us" toolbar
2. Next, enter your email address and a brief message of how you want to invest in agriculture through their company. Lastly, wait for them to contact you.
Does ThriveAgric have a mobile application?
No, ThriveAgric does not have a mobile application yet. However, you can simply just contact them via their web platform to access their services.
How can I contact ThriveAgric?
You can contact ThriveAgric via the following ways:
Address: 4th Ave, Gwarinpa 900108, Abuja
Phone Number: 0816 716 4014
Email Address: info@thriveagric.com
Website: www.thriveagric.com
Bottom Line
ThriveAgric is primarily a company that empowers small-scale farmers with the finance they need to run their businesses. Also, they provide a secure means for you to invest in agriculture through their platform and earn reasonable returns. Since this company has operated successfully for years, it is safe to say that they are legit and secure.
You can obtain a comprehensive loan, tailored to your specific needs by using this platform. Basically, it allows you to compare loans from different lenders across Africa, ensuring the best option doesn't slip through.