Nowadays, investing in real estate is the new gold mine. Real estate is known to be less volatile and has high returns so many investors are jumping on the offer. Hence, certain platforms have taken it upon themselves to make buying property easy for everyone. Bongalow is a platform that gives you easy access to a plethora of properties you can purchase. Also, this platform empowers you with the finances you need to buy this property. Here's a detailed summary of what you should know about this organisation.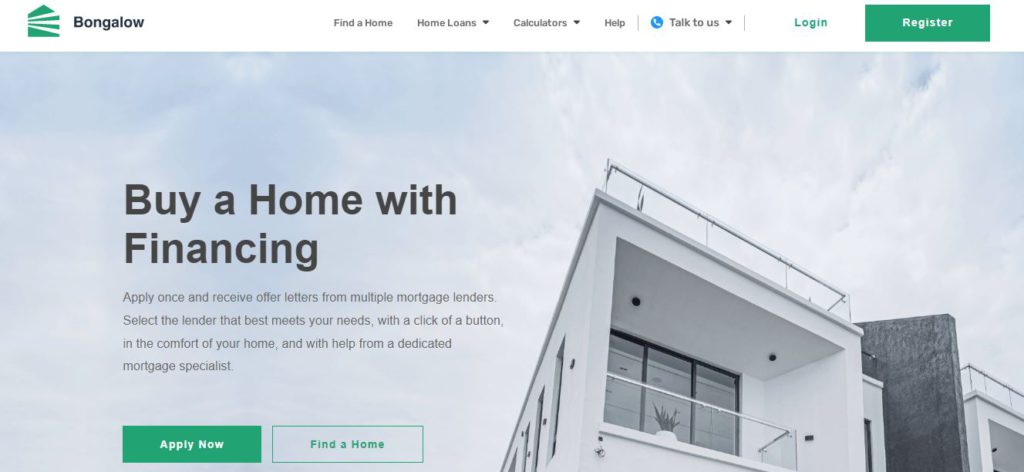 An Overview of Bongalow
Bongalow is a digital mortgage marketplace for Africans seeking to purchase property within Africa and may need financing to do so. Basically, they help by connecting you to lenders that are ready to fund your transaction. However, this platform isn't primarily a lender. It is just a means to locate and compare mortgages from various lenders and obtain the most suitable one for you.
This company is privately owned and was founded in 2019. Since then it has become well known both in Nigeria and Africa at large. With this platform, you can purchase your property with ease and also get funds to buy your dream home. 
What services does Bongalow offer?
Here is a list of the services this platform offers:
1. Find a Home
With this platform, you can find your dream home. In just a few clicks, you can purchase your dream home without going through any stress. All you need to do is visit the platform and buy a house with ease.
2. Mortgages
This platform allows you to access instant mortgages to buy your dream house. Basically, they offer you loans from a range of options for you to pick the right one for you. Some common types of mortgages on this platform include:
a. New mortgage and Mortgage refinancing
Basically, this mortgage option offers you a loan for as low as 20% down payment and as long as 20 years.
b. Construction mortgages
The Construction mortgage option offers a 30% equity contribution plus the land value. This option lasts for as long as 15 years.
c. Home equity loans
You can get this loan for as low as 50% in home equity value. Also, the Home equity loans option lasts for up to 15 years.
3. Diaspora mortgage
Diaspora mortgage caters to people who are not living in Nigeria. Basically, the company makes it easy for people who live abroad to purchase and own a property in Nigeria.
Read More, 5 Forms of Real Estate Investment Strategy
How can I register on Bongalow?
Here's how to create your account on this platform:
1. First, log in to their official website. You can get a direct link to this website below.
2. Next, tap on the 'register' toolbar
3. Thereafter, verify your email address and phone number. After this, go back to your portal and fill out the registration form correctly.
How can I borrow a loan from Bongalow?
Here's how to access funds on this platform:
1. Start by applying online. Just visit their website, create your account and start your application process.
2. Next, choose a loan offer from the available banking partners. Once you do this, start uploading the documents the lender needs to verify your details.
3. Thereafter, secure your plan by signing a sales purchase agreement with the developer building your house.
Lastly, manage your mortgage. This entails the repayment of your mortgage and downloading all relevant documents.
How much loan do I receive on Bongalow?
Bongalow gives you a loan of almost 80% of your property value. However, you need to pay a minimum of 20% down payment first before the bank gives you 80% worth of the property value.
Does Bongalow have a mobile application?
Bongalow does not have a mobile application yet. However, this is not a problem because you can still access all their services via their web platform.
How can I contact Bongalow?
You can contact Bongalow through the following ways:
Address: 7 Ibiyinka Olorunbe Victoria Island, Lagos, Nigeria
Phone Number: +234-906-254-7936
Email Address: customerservice@bongalow.com
Website: www.bongalow.com
Bottom Line
Bongalow is primarily a platform that connects you to the right people if you want to buy a property or need money to buy a property. Hence, it is okay for you to buy your property through this platform. Just ensure that you do your due diligence first about how legit they are before you proceed with your transaction.
Do you need a loan? Be sure to visit this loan platform that allows you to compare loans from different lenders in minutes. It offers the best and ensures that you get nothing less.