Many organizations have capitalized on the recent advancement in technology to operate digitally. The agro-industry is one of the numerous industries that has joined this trend. FarmKart Foods is an organization that leverages technology for farming. Here is a sum of what you need to know about all they do.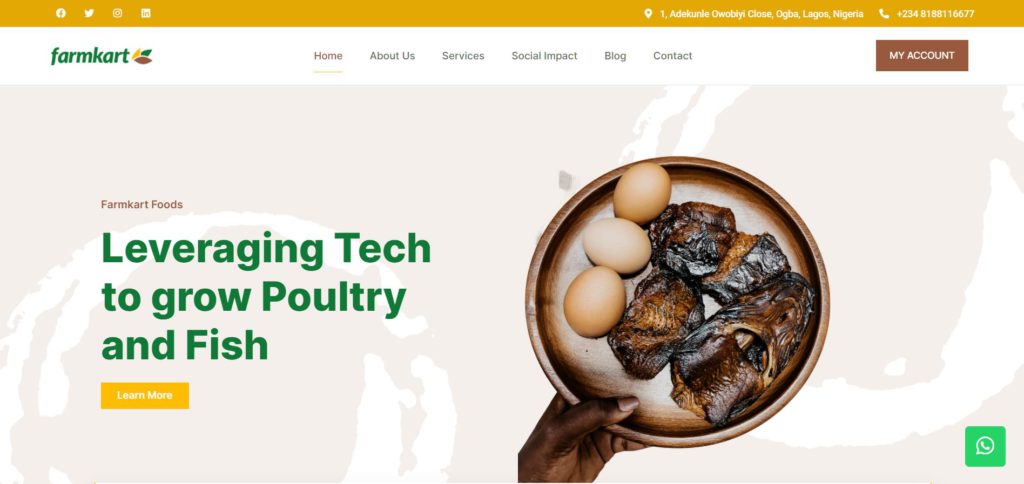 FarmKart- An Overview
FarmKart Foods is a privately held agric-tech upgraded platform founded in 2015. Basically, the company is offering you the chance to invest in livestock farming and get returns. They do this by using your investment funds to secure and insure a farm and farm produce, grow your farm, sell harvests and give you returns.
Also, the platform uses recirculating aquaponics system to sow and grow farm produce and products of fish and poultry. Hence, they aim to provide Nigerians with high-quality products using technology. The company is notable for specializing in areas like Digital farming, Agriculture, Livestock farming, poultry as well as Fishery. In essence, FarmKart's mission is to make poultry and fish production more accessible and sustainable.
What services does FarmKart Foods offer?
The services FarmKart offers to Nigerians include:
1. Sales
Farmkart grows greens and nature fishes and poultry in a hygienic environment suitable for humans' consumption. Basically, they sell and deliver harvests all over Nigeria. Making it easy and convenient for individuals to order online and get their delivery in due time. The company is reputable for selling high-quality products like eggs, chicken, and fish.
2. Consulting
With FarmKart's consulting service, you can learn everything there is to know about agricultural management. The platform work with other reputable agricultural organizations to provide professional training for interested participants. Additionally, they unite early-stage catfish and poultry farmers in Nigeria to increase farm productivity via hands-on learning.
3. Investing
The platform gives you a chance to invest in a wide range of livestock farming. FarmKart enhances its farming system with technology for a better output. Hence, investors get good returns on whatever investment they make. In essence, you get profits on your investments after the successful selling of produce from a full farming cycle.
Basically, selling, consulting, and investing are the services that the company offers individuals.
How can I invest in FarmKart?
You can invest in this agri-tech upgraded company through the following ways:
1. Purchasing FarmKart products
You can invest in the success of FarmKart by buying any of their farm produce on sale. The company specializes majorly in selling fish and poultry on a retail level.
2. Directly invest in FarmKart
Basically, you can directly buy shares in FarrmKart for as low as $5000 and become one of their shareholders. To become a direct investor, send a mail to their email address, hello@farmkart.ng. The investment route you opt really depends on the type of investor you are.
3. Join the FarmKart community.
To stay connected and get the latest updates on the platform, join their huge social media community. By joining their community, you do not only get updates on investment opportunities but also get to connect with individuals with similar goals.
Lastly, share the platform with other communities to create awareness about FarmKart and its offers. Also, check out this article on 5 reasons why you need to invest.
Does FarmKart do home delivery?
Yes, FarmKart does home delivery. This means that you can simply make your order online and they deliver it to your doorstep at a price.
How can I contact FarmKart?
You can contact FarmKart through the following ways:
Address: 1, Adekunle Owobiyi Close, Ogba 101233, Lagos
Phone number: 0818 811 6677
Email Address: hello@farmkart.ng
Website: www.farmkart.ng
Conclusion
Basically, FarmKart is an agricultural-based industry that employs the use of technology in a regulated environment for better outcomes. The company mostly focuses on investments. Hence, they ensure that every investor gets good returns on their money. This makes the platform a suitable place to make good agricultural investments.
You can obtain a comprehensive loan, tailored to your specific needs by using this platform. Basically, it allows you to compare loans from different lenders across Africa, ensuring the best option doesn't slip through.