Investing is a great way to create wealth for yourself. Basically, when you invest you create a reliable source of passive income, which grows over a long period of time. Chaka is a platform that allows you to invest in stocks and earn returns. Here is everything you need to know about the digital investment platform.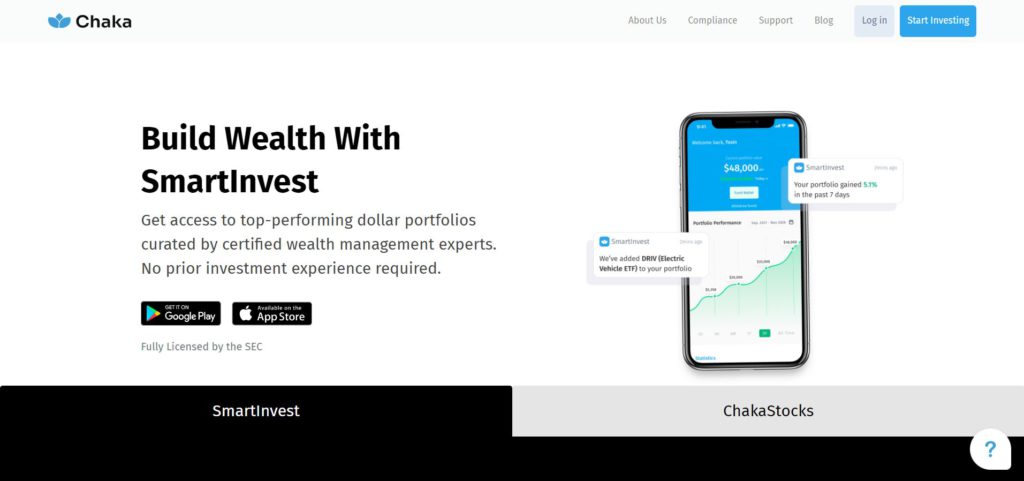 An Overview of Chaka
Chaka is a digital investment platform for both businesses and individuals. Basically, the company provides wealth solutions that enables Nigerians to invest and trade in international Stock Markets. They also support foreign investors investing in the Nigerian stock exchange market.
The privately-held investment platform was founded in 2019 and gives investors suitable investments for as low as 1,000. They are reputable for giving individuals access to ETFs and Equities in over 4,000 companies globally.
What services does Chaka provide?
Basically, Chaka provides a platform for individuals to invest and earn returns. Some unique features of the investment platform include:
1. SmartInvest
The SmartInvest feature allows you to entrust your investment portfolio into the hands of the platform. Here, the digital infrastructure recommends an investment portfolio tailored to your goals and risk level.
2. ChakaStocks
The Stock option allows you to purchase, sell, and hold stocks from over 40 countries globally including the US and UK.
Additionally, the platform offers you instant access to more than 4000 stocks & ETFs on the NASDAQ, Nigerian Stock Exchange, as well as the New York Stock Exchange.
These features are what make investing easy and convenient on the digital platform. Read more on Investment Opportunities in Nigeria with The Highest Returns.
How can I register on Chaka?
To register on Chaka, follow the instructions below:
1. Download the app from Google Play Store or the App Store.
2. Next, input your details on the online registration form.
3. Lastly, wait for verification of your details, then you can begin investing.
You can also register via the platform's official website, www.chaka.com. Just visit the website, click on the "Start Investing" toolbar and input your details.
Is Chaka Investment safe?
Chaka is a safe platform for your investment. The platform encrypts and protects your traffic using AES level encryption. Basically, this type of encryption provides security between their servers and your device.  This ensures your transaction and personal details are private. 
Also, read on 5 Reasons You Need To Invest.
How can I start investing in Chaka?
To start investing on Chaka, follow the steps below:
1. Create an account
2. Fund your digital wallet
3. Invest in any portfolio of your choice – either local or foreign
Also, you can decide to use the SmartInvest feature. This feature allows experts to recommend a portfolio suitable for your goals.
What requirements do I need to open a Chaka account?
To invest on the platform, you will be needing the following:
1. Your name, phone number, and email address
2. Bank verification number (BVN)
3. A valid means of identification
How can I download the Chaka app
Here are steps to download the Chaka app:
1. Go to Google Play Store on your Android device. If you use an iPhone, open the App Store
2. Search for 'Chaka' in the search bar
Lastly, download the app, register, fund your digital wallet and start investing.
How can I contact Chaka?
You can contact Chaka via the following ways:
Address: 6, Osborne Road, Ikoyi, Lagos, Nigeria
Phone Number: 07011204586
Email Address: support@chaka.ng
Website: www.chaka.com
Closing Thoughts
Chaka is primarily an investment platform. Basically, the platform allows individuals to make suitable investments tailored to their needs. It also offers a range of foreign stocks which you can invest in at affordable prices. In all, the digital infrastructure is suitable for you to make solid investments.
Do you need a loan? Be sure to visit this loan platform that allows you to compare loans from different lenders in minutes. It offers the best and ensures that you get nothing less.