Technological advancement has made it possible for people to be able to execute financial transactions with a just click. Basically, some platforms have also made it possible for you to earn rewards while executing transactions. PalmPay is a secure payment platform that allows you to make financial transactions and earn rewards for them. With this platform, you can earn conveniently and comfortably.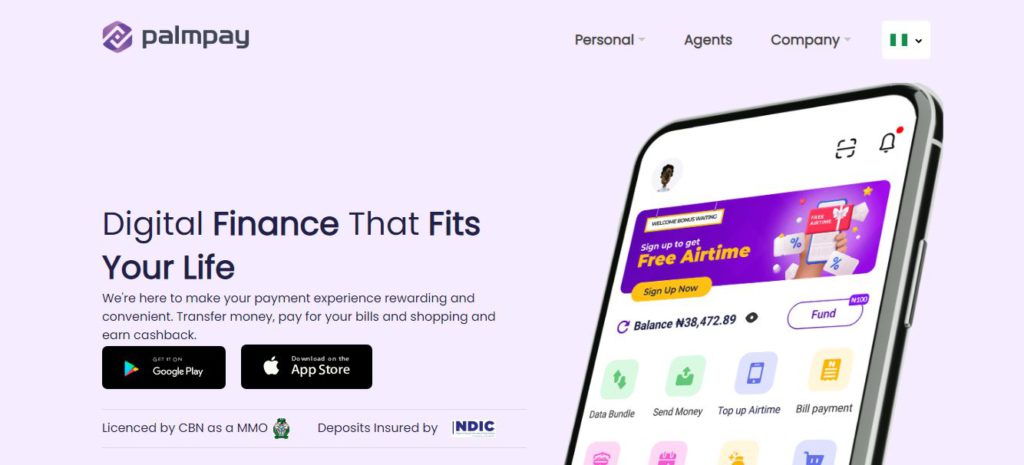 An Overview of PalmPay
PalmPay is an easy and secure payment app that gives you rewards for your transactions. Basically, this app allows you to send cash and receive cash, and make other financial transactions. This company was launched in 2019 and has a goal to become Africa's biggest financial services platform.
What services does PalmPay offer?
Here are some of the incredible services this platform offers:
1. Fast and reliable money transactions
You can send money to any PalmPay user or any Nigerian bank account fast and for free. Also, this platform is reliable. So, you will not encounter problems while trying to make money transfers.
2. Earn money as you Spend
Another amazing feature about this platform is that it provides a way for you to earn money online while using the mobile app. Basically, you can earn money through bonuses, rewards, and cashback.
3. Agent
This platform provides individuals with the chance to become one of their POS agents and earn commissions. Basically, you can also earn money for yourself through this means.
How can I register on PalmPay?
To open an account on this platform, follow these steps:
1. First, download the app from Google Play Store or the App Store.
2. Next, launch the app and sign up. Just choose your county code and phone number. A verification code will be sent to your phone number.
3. Thereafter, verify your phone number by inputting the code sent to your phone number.
4. After this, enter your other details and create your 4-digit pin.
How can I make money with PalmPay?
Here are some ways in which you can make money from this platform:
1. Rewards on all transactions
Most of the transactions you do with the app come with special rewards. Basically, you earn rewards for executing transactions through the app.
2. Cash spree
This is a referral feature that enables you to receive a referral bonus on this app. Basically, when you invite someone successfully, you will get a #300 reward.
3. Awoof Moni
In the Awoof Moni feature, you and the person you invited will be rewarded. For example, you can just send an airtime coupon worth N200 to a person. Once the person redeems it, you will receive a cashback of #200.
4. Playing the lucky game
This lucky game is just like a lucky draw. Basically, you can win coupons and discounts, airtime coupons, as well as different cash prizes.
5. By joining PalmForce
If you have referred 5 people successfully to this platform, then you are qualified to join PalmForce. Basically, PalmForce enables you to earn real cash instead of the conventional PalmPoints. When you invite people successfully, and they open an account, the platform will pay you real cash.
6. Become an Agent
Becoming a POS agent for this platform is another good way to earn money. When you are an agent, you perform transactions for people and earn commissions.
How can I become a PalmPay agent?
Here are the easy steps to follow to become an agent:
1. Go to the website. You will get a direct link to the website below.
2. Next, click on "Agents". You can find this in the taskbar.
3. Thereafter, click on "Get Started Now". You will see an application form. Enter your details in the application form and click on "Apply Now" to complete the process.
Also, you can apply to become an agent through the mobile app, which is easier. Just download the app, register or sign in, and click on "Agents".
What are PalmPay fees and service charges?
Basically, this platform is preferred by many people because its service charges are lower than most conventional banks. The first three money transfers you execute in a day are free of charge. However, subsequent transactions will cost you #10 each time.
How can I download the PalmPay mobile application?
Here's how to download this mobile app:
1. Open the App Store on your iPhone. If you use android, open Google Play Store.
2. Next, search for "PalmPay".
3. Lastly, download the app and open an account.
How can I contact PalmPay?
You can contact PalmPay through the following ways:
Address: 20 Opebi Rd, Opebi 101233, Lagos
Phone Number: 0704 483 4390
Email Address: support@palmfinance.com
Phone Number: +234 700 725 6729
Website: www.palmpay.co
Bottom Line
PalmPay is primarily a payment app that rewards you for any transaction you make. Also, you can earn additional cash by becoming one of their POS agents. Essentially, it is a simple, secure, and convenient way to earn money while executing normal transactions.
Need a loan? Kindly check out this platform that allows you to compare loans from several lenders in minutes. This would help you make the best decision for you.