Financial transactions are easy when they are done digitally. They become even easier when it is possible to access all transactions on one platform. Fundall is an all-in-one financial platform that offers you a wide range of financial services. Basically, these services aim to help you to manage your money wisely.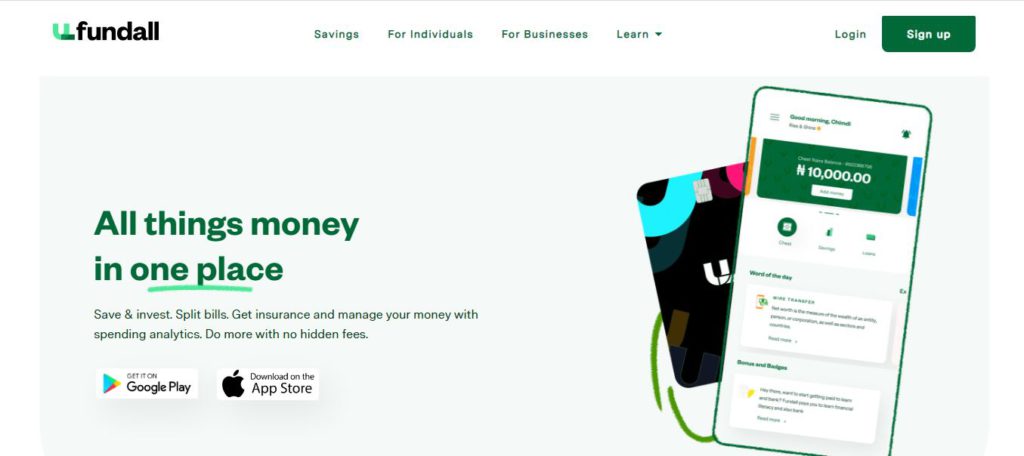 An Overview of Fundall
Find all is a platform that offers access to a wide range of financial products and services. Basically, these products help you to spend, grow, and manage your wealth wisely.
The privately-owned organisation was established in 2019 by Kolapo Joseph and aims to offer digitized financial services to the public. This platform provides you with a combination of the financial services you need as an individual or a business in one platform.
What Products does Fundall offer?
This financial platform offers the following products to individuals:
1. Saving
It is very easy to save on this platform thanks to the auto-saving feature. With automated savings, you can schedule a specific amount of money to go into your savings account every month. Basically, you receive up to 15% interest on your savings annually.
2. Digital Banking for individuals
As an individual, you can build wealth with the right tools on this platform. Basically, this platform offers you a range of products/services that are tailored to assist you to make better financial decisions.
Also, it serves as a digital bank that allows you to send and receive funds, pay bills and purchase airtime.
3. Corporate Banking for Businesses
This platform also offers you the right tools to grow your business while managing its finances. Basically, you can manage Inventory, perform seamless invoice management, and schedule payments for your employees.
How can I register on Fundall?
To sign up on this financial platform, follow these steps:
1. Download the app from Play Store or the App Store.
2. Next, sign up by entering your required details.
3. Lastly, submit your details when you finish filling the form correctly.
How can I invest Fundall?
Here's how to easily begin your investment journey on this app:
1. Download the app and create an account.
2. Next, access the savings product and invest by saving on the platform.
3. Lastly, choose how long you want your investment plan to last.
What is the interest rate on Fundall?
The interest rate on this savings platform is 15%. Basically, this means that you will receive a 15% interest on your savings annually.
Is there a transaction limit on Fundall?
Yes, there are transaction limits on this financial platform. However, your transaction limit depends on your account level (Tier). Here's a summary of everything:
Tier 1 Account, your transaction limit is N5,000
Tier 2 Account, your transaction limit is N200,000
For a Tier 3 Account, your transaction limit is N5,000,000
How can I download the Fundall mobile app?
To download this app, follow the guidelines:
1. If you use an android phone, open Google Play Store. However, for an iPhone, open the App Store.
2. Next, search for "Fundall"
3. Download the app, sign up and begin your financial journey.
How can I contact Fundall?
You can contact Fundall via the following ways:
Address: The Abebi, 23B Tinubu Close, Off Coker Rd, Ilupeju, Lagos State.
Email Address: hello@fundall.io
Phone Number: +234 (0) 901 7000 150
Website: www.fundall.io
Bottom Line
Fundall is primarily a platform that provides you with a range of financial services to help you thrive financially. Basically, it is like an all-in-one platform that offers several products including savings, investing, investing, and business management. In all, this platform is definitely one you should try if you want all your transactions to be in one place.
Need a loan? Kindly check out this platform that allows you to compare loans from several lenders in minutes. This would help you make the best decision for you.