Cryptocurrency is one of the most sought-after types of investment. This is because of its ability to give high returns. If you are looking for a reliable platform where you can invest in cryptocurrency without any fear of getting scammed, you can try Bitmama. Basically, this platform provides you with P2P crypto exchange services legitly.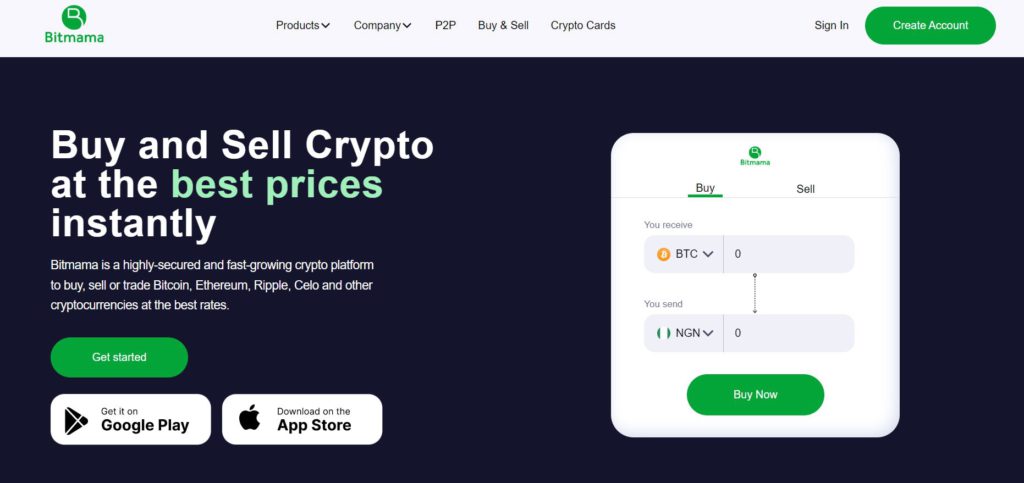 An Overview of Bitmama
Bitmama is a highly secured digital platform that allows you to purchase, sell, and trade cryptocurrency at affordable prices. This platform was established in 2017 and started out as a peer-to-peer digital currency exchange. In no time, it evolved into a digital platform where people can buy, sell and manage cryptocurrencies easily. The available cryptocurrencies on this platform include BTC, CELO, ETH, XRP, TETHER, XLM, as well as USDCOIN.
What services does Bitmama offer?
Basically, this digital crypto exchange platform provides you with services like:
1. Changera
The Changera platform enables you to send and accept money across the globe. Also, with this platform, you can easily buy data and airtime and pay your utility bills in no time.
2. Peer to Peer
The peer-to-peer crypto exchange is the major feature of this platform. Basically, as a user, you can trade cryptocurrency with your bank account and various other payment methods.
3. Buy and Sell
You can buy and sell cryptocurrencies like Ethereum, Bitcoin, Ripple, etc securely on this platform. You just have to register and become a user to enjoy this service.
4. Crypto Cards
With the Bitmama crypto card, you can pay for anything you want to buy. It is just like the crypto version of your normal ATM card. 
Read More: Cryptocurrency for Beginners
How can I register on Bitmama?
If you want to register on this crypto exchange platform and start trading, do this:
1. Download the app and create an account. Alternatively, you can create your own account on the web platform. Just go to the website and tap on "Register".
2. Next, fund your account. You can do this by linking your bank account to your profile and selecting a convenient payment method to transfer funds.
3. Start your Crypto trading journey immediately.
How do I deposit crypto to trade on Bitmama?
To deposit your selected crypto to trade, do this:
1. Open your mobile or web app on your smartphone.
2. Next, head to the wallet category and choose "Crypto wallets"
3. Choose the type of coin you would like to deposit on the platform and then tap on "deposit".
4. Lastly, copy out the coin deposit address, then you can make the deposit.
How can I buy cryptocurrency on Bitmama?
To purchase crypto for yourself on this platform, please do this:
1. Login to your account wallet
2. Next, navigate to the P2P section
3. Choose the crypto coin you like to buy and input the crypto coin or fiat amount you wish to buy
4. Choose a trade listing that matches your search and payment mode
5. Verify the crypto trade details on the summary page then copy out the seller's account number then make your payment
Lastly, tap on the "I have paid" tab and wait for a few minutes for the crypto seller to confirm your payment
How do I withdraw my cryptocurrency from Bitmama?
Here are the steps to take when you want to withdraw your cryptocurrency from this platform:
1. Go to your account's wallet
2. Next, head to the wallet section and choose "Crypto wallets"
3. Choose the digital coin you wish to withdraw and then tap on withdraw
4. Lastly, paste the address of the destination coin you copied and then do your withdrawal
How can I download the Bitmama app?
To download this crypto exchange mobile app, simply do this:
1. Visit Google Play Store on the Android phone you have. However, if you have an iOS-powered device, go to the App Store.
2. Next, search for "Bitmama"
3. Download and install the crypto app. Download is available on ios and android.
How can I contact Bitmama?
Here's how you can contact Bitmama:
Address: No. 7 Ibiyinka Olorunbe close, Victoria Island, Lagos 234, NG
Website: www.bitmama.io
Bottom Line
Bitmama is simply a digital crypto P2P platform that gives you access to digital coins at affordable rates. To access its services, you just need to download the app and start buying crypto. Although this platform is fairly new, it is legit and supported in over 100+ countries globally.
Need a loan? Kindly check out this platform that allows you to compare loans from several lenders in minutes. This would help you make the best decision for you