Investment is a great way to grow your wealth. When you invest your savings, you are likely to get more money in return thereby building up your finances. Also, it acts as a source of passive income. Your passive income is the extra cash you make from jobs that do not require a daily commitment. Wealth. ng is an investment platform that helps you invest your money to get returns. Here is everything you need to know about the investment platform.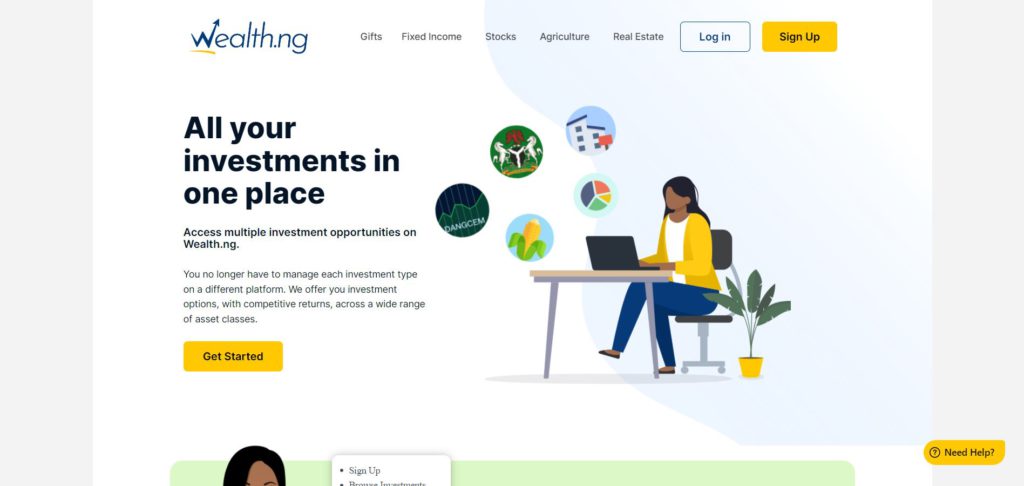 An Overview of Wealth.ng
Wealth. ng is a digital investment platform that helps you invest your money to get returns. Basically, they take advantage of technology to help people invest. This implies that all you need to access their investment opportunities is your Smartphone. The platform specializes in fixed income, Stocks, Real Estate, and Agricultural investment.
With Wealth.ng, the investing process is simple, convenient, and stress-free. You can easily do it from the comfort of your home since manual paperwork is not necessary. Essentially, this makes investing process easy and enjoyable. You can read more about investing for beginners here.
What services does Wealth.ng provide?
Basically, the platform offers you the opportunity to invest in the following areas:
1. Stocks
Stocks are simply financial instruments that denote ownership in a company thereby signifying a proportionate claim on its assets and profits. In simpler terms, when you buy a stock in an organization, you become one of its shareholders. Wealth. ng gives you access to buy stocks in various top blue-chip companies with high return rates.
2. Fixed Income
Fixed Income is a stable and secure investment option that offers a high return within a fixed period. You invest your money for a fixed number of months or years and get returns on it.
3. Agriculture
Agriculture is a business that will never go out of style because everyone needs food. This platform allows you to invest in Agriculture with a potential for high return on investment and low risks.
4. Real Estates
The platform's fractional ownership of real estate properties gives you access to invest in it with any small amount you have. Also, read more on how to invest in real estate in Nigeria.
5. Gifts
You can gift your children or loved ones investment gifts that cut across various investment opportunities.
These are the five ways the platform allows you to invest your money and get returns.
What is the interest rate Wealth.ng offers?
The investment platform offers the following interest rates:
1. You get up to 20% interest for every Real Estate investment you make with the platform.
2. For Agricultural investments, you receive up to 22% interest
3. The interest rate on Stocks fluctuates based on the profit made by the company you invest in
4. Lastly, for fixed-income investment, you receive up to a 13% interest rate
How can I register on Wealth.ng?
You can register on Wealth. ng through their website or app. To register using the website, follow the steps below:
1. Go to their official website, www.wealth.ng
2. Click on the 'Get Started' toolbar
3. Fill in the registration form with your necessary details and click on the 'Sign Up' button
To register using the app, download the wealth.ng app from the App Store for IOS and Google Play Store for Android. Thereafter, create an account by registering your details on the app.
What requirements do I need to register on Wealth.ng?
Some important documents you need to create an account include:
1. A valid identification card.
2. Your BVN number
3. A clear selfie image of yourself
4. Your name, email address, and phone number
However, you must be above 18 years of age to be able to access Wealth.ng investment services.
How can I download Wealth.ng app?
To download wealth.ng app, follow the steps below:
1. Visit the Google Playstore if you use an android device or the App Store if you use an IOS device.
2. Search for 'wealth.ng' in the search box provided for you.
3. Download the app on your smartphone
How can I contact Wealth.ng?
You can contact the investment platform through the following ways:
Address: 33B, Cameron Road, Off Alfred Rewane, Ikoyi, Lagos, Nigeria
Email address: hello@wealth.ng
Phone number: 0700 9325 8464
Website: www.wealth.ng
Bottom line
Wealth.ng is a platform that gives you access to various investment opportunities at good return rates. Also, their investment process is simple and stress-free with no need for any manual paperwork. This platform is one you can trust with your money.
You can obtain a comprehensive loan, tailored to your specific needs by using this platform. Basically, it allows you to compare loans from different lenders across Africa, ensuring the best option doesn't slip through.