The incessant depreciation in the value of Naira makes dollar asset management platform a necessity for every Nigerian. Basically, this platform allows you to invest and save your money in dollars, thereby saving it from devaluation. Rise is one of Nigeria's leading dollar asset managers. Here is a summary of all you need to know about the organization.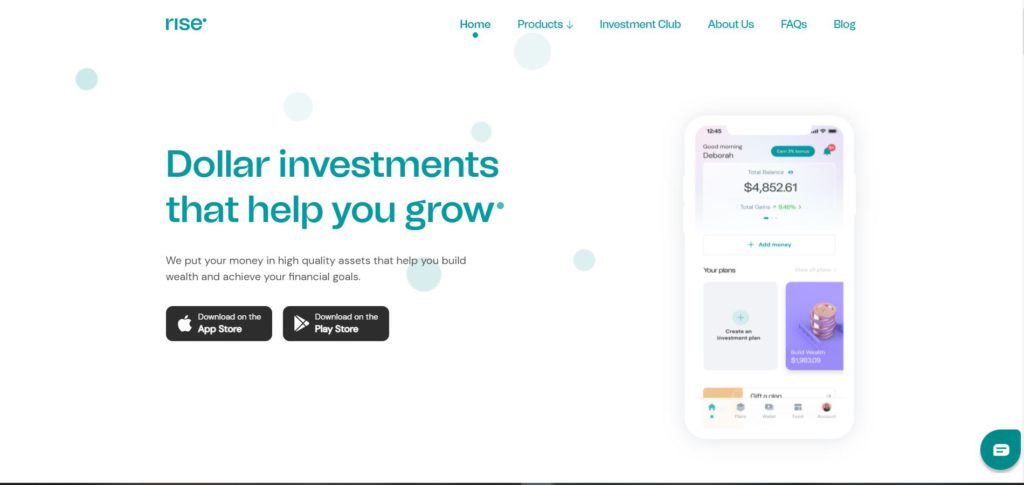 An Overview of Rise
Rise is a digital dollar asset management platform that provides Nigerians with access to a variety of foreign investments. Basically, the digital dollar asset manager gives you access to these investment opportunities via products like US Real Estate, Fixed Income, as well as US Stocks.
The privately-held investment company was founded in 2019 and aims to offer Nigerians the best investment opportunities globally. The company is unique because its platform combines both the features of a dollar fund manager and a dollar investment infrastructure to serve investors to the fullest.
What service does Rise offer?
Basically, Rise platform offers individuals amazing foreign investments opportunities. Their unique investment products include:
1. Stocks
The platform helps you to invest and manage your funds by investing in the stocks portfolio. Basically, the stock portfolio has over 30 high-growth stocks spread across the US market.
Read on How to invest in American stocks from Nigeria.
2. Real Estate
Real Estate portfolio allows you to invest in rented buildings in the US. Additionally, you can manage your funds for returns via rent and capital appreciation.
In addition, read on How to Invest in Real Estate in Nigeria.
3. Fixed Income
The Fixed Income is a low-risk asset suitable for people who want to protect their funds in a secure, stable, and appreciating currency, such as the dollar.
4. Build Wealth
The Build Wealth feature allows you to save for your retirement in dollars. When you save in dollars, the value of your money will appreciate instead of depreciating.
How can I register on Rise?
To register on Rise investment platform, follow the steps below:
1. Download the mobile app "RiseVest" from the App Store or Google Play Store.
2. Next, open the app and input your basic details in the registration form.
Lastly, cross-check your details and submit the form. After that, you will need to complete your account verification process.
What are the documents required to register on Rise?
You need the following necessary documents to register on the Rise platform:
1. Your Valid BVN
2. Your National Identification Number (NIN)
3. Your basic details like name, address, phone number, email address, etc
Lastly, you need a valid government-issued Identity card like your National ID Card or Voters card
What is the minimum investment on Rise?
You can begin investing from as low as $1 with no maximum limit on your investment. Basically, the digital asset management platform allows you to invest for yourself whether you are just beginning your investment journey or you already have millions.
How can I start investing in Rise?
To start managing your asset on rise, follow the steps below:
1. Register on the RiseVest mobile application
2. Next, fund your digital wallet
Lastly, pick your investment plan from the list of products available on the platform and invest in the plan via the funds in your digital wallet.
What is the interest rate on Rise?
Basically, your interest rate depends on what product you choose to invest in. Below are the interest rate on each product:
1. Stocks— Historical Returns: 14% Per Annum, Risk Level: High
2. Real Estate — Historical Returns: 14% Per Annum, Risk Level: Medium
3. Fixed Income — Historical Returns: 10% Per Annum, Risk Level: Low
The Building Wealth plan is a combination of the different plans which have different interest rates.
How can I download the RiseVest mobile app?
Follow the instructions to download the RiseVest mobile app:
1. First, open the Play Store on your Android phone. Check the App Store if you use an iPhone.
2. Search for 'RiseVest' in the search bar
Download the app, launch it, register your account and start investing.
How can I contact Rise?
You can contact Rise via the following ways:
Address: Block D5, Jacob Mews Estate, 21 Adebisi St, Yaba 100001, Lagos
Phone Number: +234 01 888 3519
Email Address: hello@risevest.com
Website: www.risevest.com
Bottom line
Rise is primarily an asset management platform. Basically, the organization helps individuals to build, manage and increase their wealth. Also, their investment plans with good return rates make the platform a magnet for investment. In all, the asset management infrastructure is secure for investments.