Since investment is the new gold, it is not surprising that even companies seek investment opportunities. Basically, a company invests by selling its shares to raise funds that will be used to run the company. GetEquity is a platform that connects companies to investors to facilitate buying and selling of shares. Here is a summary of everything you need to know about the platform.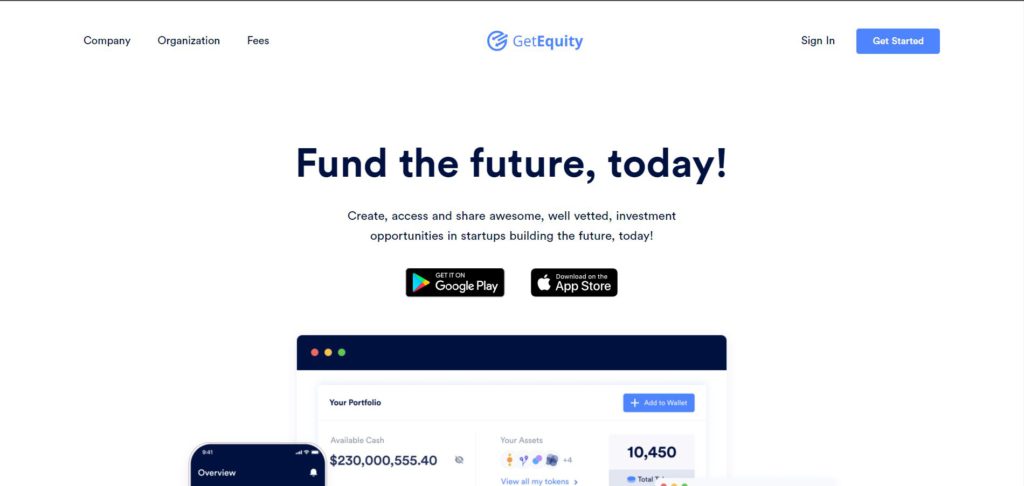 An Overview of GetEquity
GetEquity is an exclusive platform that acts as a marketplace for companies and investors to trade assets privately and securely. The platform allows enterprises and organizations to digitalize their assets through tokens. Additionally, it connects them to syndicates and investors who can buy these assets thereby helping them to create liquidity.
Founded in 2019, the privately-held marketplace simplifies how you can support startup companies by investing in assets, which are tokenized. Basically, this method is secure and is just as valid as conventional methods. Essentially, the platform acts as an intermediary between companies and their investors. The company basically connects startups with angel investors.
What products does GetEquity offer?
Basically, GetEquity marketplace offers the following products:
1. Fundraising for startup Companies
Do you have plans to start up your company but have no funds? You can register on the platform and find investors who will fund your company in a few clicks. It also allows you to manage your cap table and employee stock options.
2. Marketplace for investment portfolio groups, Communities, and Syndicates
With GetEquity, you can invest alongside like-minded people who share the same goals as you. These investors also buy and sell company shares to raise funds for startups. Also, you can showcase your unique investment portfolio and deals through tokens.
Essentially, the marketplace offers these basic products to you.
How can I register on GetEquity?
On GetEquity, you can either open an account as an individual (Syndicate) or an organization. With an individual account, you can invest by buying and selling company shares. On the other hand, an organization account allows you to list company shares. Here is how to open an individual account:
1. Log into their official website, www.getequity.io
2. Click on the 'Create An Account' toolbar under 'Portfolio Groups, Syndicates and Communities'
3. Next, proceed to input important details about your syndicate to be verified.
Here is how to open a company account:
1. Go to the website, www.getequity.io
2. Next, click on the toolbar 'Create A Company Account'
3. Choose if you will like the platform to list your shares publicly or privately.
Lastly, input other important details of your company for verification and signup. Also, read about everything you need to know about investing for beginners to get you up to speed.
What are the requirements to register on GetEquity?
Below are the requirements you need to register on GetEquity:
1. Your company's name,
2. Industry Type
3. Official Email Address
4. Lastly, your business Phone Number
Basically, these are the main requirements to open an account. However, the platform may ask you to provide other related documents.
How can I download the GetEquity app?
You can also create an account through the GetEquity app. Here is how you can download the app on your smartphone:
1. Go to the Google Play Store on your Android device or the App Store on your IOS device
2. Next, search for 'GetEquity' in the search toolbar
3. Lastly, download the app
How can I raise funds for my company on GetEquity?
To raise funds for your company, follow the steps below:
1. First, sign up on the platform as a company
2. Finish your KYC registration
3. Next, request for a token
4. Lastly, invite your employees or investors to your exclusive deal room.
How can I contact GetEquity?
You can contact GetEquity through the following ways:
Address: 6, Okah Avaeh Close off St Finbarrs College Road, Akoka, Yaba, Lagos. Nigeria.
Website: www.getequity.io
Email Address: support@getequity.io
Phone number: 102298432
Bottom line
GetEquity is a platform that helps organizations to raise funds by connecting them to investors. If you need to startup your company but lack funds, you can register on the platform. Also, it allows you to link up with like-minded people and invest in various companies.