Investment applications like i-invest help you to protect your finances and generate returns. It offers you a variety of investment opportunities for you to pick the most suitable. Here is everything you need to know about the mobile application.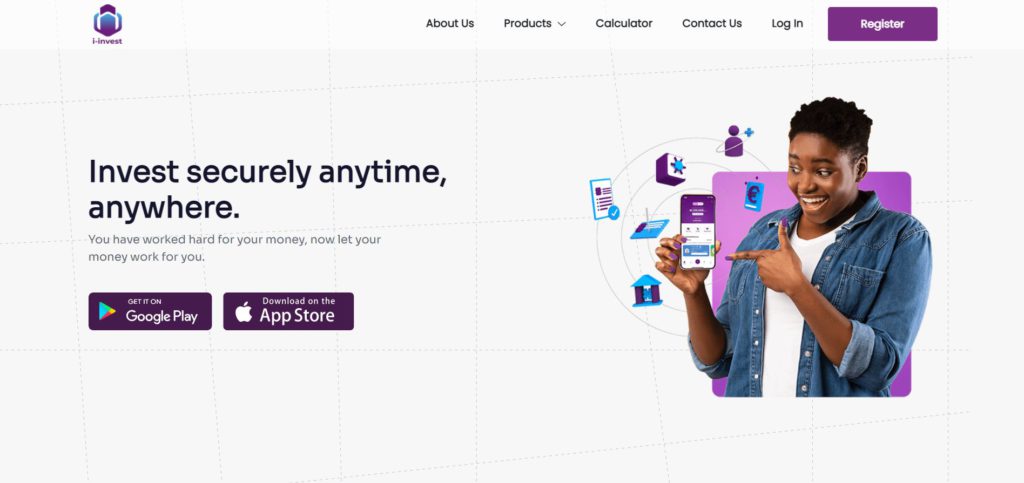 An Overview of i-invest
i-invest is an application that allows you to purchase treasury-related items and securities without the help of a broker. Also, the mobile application gives you a UI dashboard that allows you to track various investment portfolios. It also provides a way for retail investors conveniently whilst earning a high-interest rate.
The digital platform was founded in 2018 and is a product of Parthian Partners Limited, a privately-held company controlled by the SEC (Securities and Exchange Commission}. Essentially, the platform provides financial services and specializes in Treasury bill investments, FinTech, Savings, and Securities. It allows retail investors to fund various infrastructure projects in Nigeria and at the same time, earn an income.
What products does i-invest offer?
With the mobile app, you get access to various investment opportunities. They include:
1. Treasury Bills (T-Bills)
Treasury bills or T-Bills are investment instruments that the Federal Government issues via the Central Bank of Nigeria. The government uses it as a means to raise funds from people and organizations. Basically, when you purchase a treasury bill, you are lending money to the federal government. The government uses this money to pay off its debt and pay other expenses like military equipment and salaries.
Also, read more on how to invest in treasury bills in Nigeria.
2. Equities
When you invest in equities, you are simply investing in a company by buying its shares in the stock market. In simpler terms, when you buy shares in a company, you are investing in equity With the i-invest equities product, you can purchase and sell shares from reputable companies listed on the platform. You can make this investment easily and conveniently from your phone.
3. Fixed Deposit Notes
Fixed Deposit Notes also called Term deposits are investment instruments issued by financial institutions. In Fixed deposit investment, you invest a specific amount of money for a fixed period at a pre-agreed interest rate. You will be unable to take back your capital until the fixed period elapses.
Basically, fixed deposits offer you a higher interest rate than the conventional savings account. Hence, it makes it a better investment option worth trying out.
4. Commercial Papers (CPs)
These are short-term debt instruments that corporate bodies issue to obtain funds from the public to meet their short-term needs. Essentially, large corporations in Nigeria are the major issuers of CPs because their credit ratings are high.
5. Eurobonds
Eurobond is a type of investment issued in a foreign currency. For example, the Nigerian Eurobond is issued in dollars. Basically, this allows you to invest in Dollars from Nigeria. In this investment, large corporations raise money by issuing bonds to individuals in a foreign currency. These bonds are also known as external bonds because they are denominated in a foreign currency.
You can also read about the types of bonds in Nigeria.
6. Insurance
The mobile app collaborates with Tangerine Life insurance to give you premium insurance cover. You can buy an insurance policy easily and conveniently using the platform.
Basically, the i-invest mobile app offers these products for you to invest in and secure your financial future.
How can I register and invest in i-invest?
To register on i-invest, follow the steps below:
1. First, download the i-invest app from the Google Play store for Android smartphones or the App Store for IOS.
2. Next, click on the 'register' toolbar and input your details
3. Fund your digital wallet. You can use either a bank transfer or your debit card.
4. Choose the investment option you want and input the amount you will like to invest.
Also, you can register via their official website. To do this just visit www.i-investng.com and click on the 'register' toolbar.
What are the requirements to invest with i-invest?
The basic requirements you need to register on the app include:
1. A valid means of identification
2. Your Bank Verification Number (BVN)
3. Important details like your name, phone number, and email address.
4. A passport photograph and your recent Utility bill
However, it is important to note that you must be at least 18 years old to register and invest using the app.
How can I download the i-invest app?
You can download the app by following the steps below:
1. Visit the Google Play Store if you use an Android phone or the App Store if you use IOS.
2. Type 'i-invest' in the search bar.
Lastly, download the app and you will be able to register and use it.
How can I contact i-invest?
You can contact i-invest through the following ways:
Address: 22a Udi Street, Osborne Foreshore, Ikoyi, Lagos.
Phone Number: +234 1 700 4271
Email Address: enquiries@i-investing.com
Website: www.i-investng.com
Bottom Line
I-invest is an app that allows you to make solid investments using just your smartphone. Also, it allows you to buy a life insurance policy easily and conveniently. The information above will guide you on how to invest in the platform and make returns.
Need a loan? Kindly check out this platform that allows you to compare loans from several lenders in minutes. This would help you make the best decision for you.