CoinMarketCap app is a free crypto and Bitcoin price-tracking app that helps its users stay updated with daily crypto prices, market trends, gains and losses, top coins, as well las newly added cryptocurrencies. Before we dive into the details of the app, let's take a look at CoinMarketCap and what it stands for.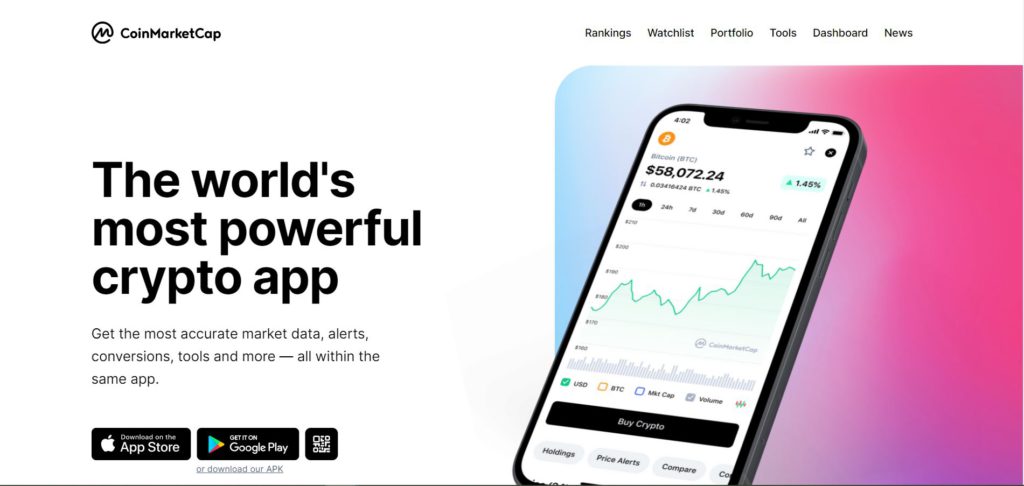 An Overview of CoinMarketCap
CoinMarketCap is a digital currency platform that allows users to track over 11,000 cryptocurrencies including Bitcoin, Ethereum as well as Litecoin. Also, CoinMarketCap was launched in May 2013 and has gained global recognition since then. You can read more on how to buy bitcoin in Nigeria.
How can I download the CoinMarketCap app?
You can get the CoinMarketCap app by following the process below:
Download it to your Android or IOS device from the app store.
Thereafter, you can use the app by launching the app and then creating an account or logging into a former account. This gives you access to the full features of the app.
Lastly, subscribe to the different tracking features and market updates you would like to receive
Can I buy and trade on CoinMarketCap app?
The CoinMarketCap app can track and give you update about the latest activities and prices of the different Crypto Markets. However, it does not directly sell or trade any cryptocurrency. Read more on bitcoin investment strategies.
Features of CoinMarketCap app
Some important features of the CoinMarketCap app include:
1. Crypto Price Alert
The app allows you to customize the price of the particular crypto coin you are waiting for to hit. This enables you to get an instant notification when your target prices are met.
2. Customized watchlist and updates
You can create a watchlist of your preferred coins on the app. Also, the app allows you to track your crypto portfolio with the newest prices from tokens, coins as well as altcoins.
3. Compare crypto assets
You can compare the market statistics, volume, and ranks of two crypto assets either in your preferred currency or in BTC value. Also, you can track and compare the prices of cryptocurrencies on various active crypto markets.
4. Crypto and Fiat currency converter
The app allows you to convert from crypto to crypto, crypto to precious metals as well as the crypto to fiat thanks to its powerful price converter
5. Frequent app updates
The app offers you the latest news and updates about your favorite cryptocurrencies. Also, it accommodates new cryptocurrencies as they enter the market.
6. Flexible account settings
You can customize your home screen on the app by including or removing sections. Also, the app allows you to create your watchlist or follow multiple watchlists.
Other features of the CoinMarketCap app include:
It is extremely secure
It helps users rank their crypto activities and blockchain projects 
Access to global crypto statistics
Get updates for crypto exchanges and sectors
However, all these important features are updated over time to help users get maximum satisfaction.
Bottom line
The CoinMarketCap app is reputable for being the best crypto tracking app in the industry. This makes it a reliable app to start with if you are seeking to invest in crypto in the future. Also, it gives you insight into the most favorable cryptocurrency in the market at the moment thereby helping you with the right digital currency for investment.