Would you like to earn money using just your phone and data? There is an app that allows you to do that. Hawkit is an e-commerce and earning platform that enables you to earn money by performing simple tasks online. Here, you will see the guidelines on how to earn money from the Hawkit app.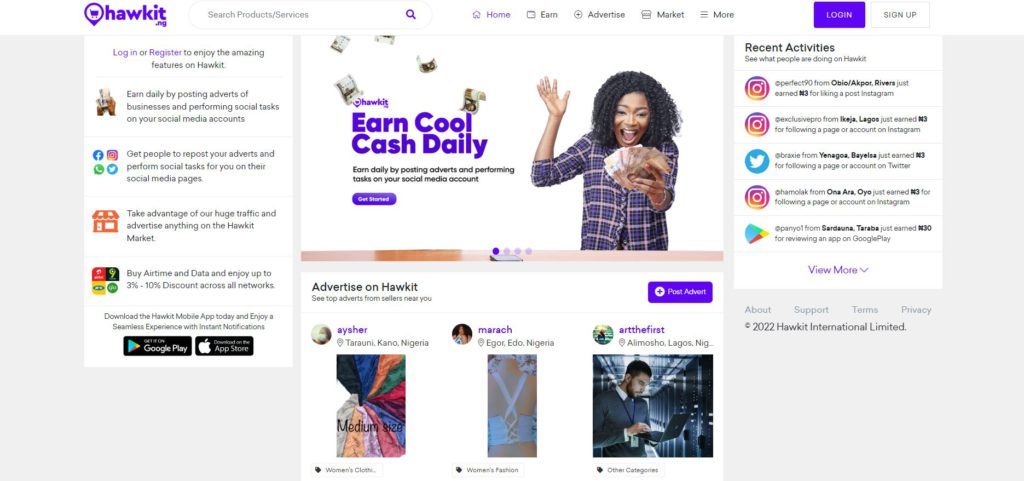 What is Hawkit and how does it work?
The Hawkit app is a popular e-commerce platform that allows you to easily advertise your goods and services so users can purchase them. Also, you can earn daily income on this app by reposting various adverts on your social media handles. Basically, this daily task enables you to earn as much as ₦5,000 per day depending on the task you perform. So the Hawkit platform does not only provide you with a fast shopping experience but also gives you access to win money when you perform tasks successfully.
How can I create an account on Hawkit?
If you want to create an account on Hawkit, follow the steps below:
1. Visit their official website, www.hawkit.ng, and click on "Create an account". Alternatively, you can download the app and start the registration process.
2. Next, enter your details like your full name, user name, email address, etc
3. Once you submit your details and verify your email address, the next step is to activate your account and you can start using the platform.
To activate your account, you need to pay an activation fee of ₦1,000. Note that the price is subject to change.
Hawkit app download
This app is free to download, however, it is only available to Android phone users. If you want to download Hawkit, here's what to do:
1. Use your Android device to visit the Google Play Store.
2. Next, search for "Hawkit"
3. Download the app and create an account for yourself.
How To Earn Money From Hawkit App
If you want to learn how to earn money from the Hawkit app, it is easy. Basically, all you need to do is perform some basic tasks. Some of these tasks include:
1. Apple Store review
This task is the highest-paid activity, hence, many people tend to go for it. Basically, to perform this task, you will need to download and review some apps on the Apple Store. When you complete the task successfully, you earn ₦60 for each app you review.
2. Google Play Store app review
The Play Store app review is the second highest-paying task. To perform this task, you only need to download and review some apps on the Google Play Store. You will receive ₦30 per review.
3. Subscribing to YouTube channels
To execute this task, you will need to subscribe to different YouTube channels. You will receive a link to these channels on the Hawkit platform and when you click on it you will find the YouTube channels. For this task, you earn ₦30 for each channel you subscribe to. 
Read also How to Make Money on Facebook
4. Social media commenting
The social media commenting task allows you to make money by commenting on various social media platforms. It can be either Instagram, Facebook, YouTube, or Twitter. For each comment you make, you earn ₦15.
5. WhatsApp statuses
This task allows you to earn when you post some adverts on your WhatsApp status. For each status post you make, you receive ₦20.
6. Following accounts and liking posts on social media
This is the lowest-paying task on Hawkit. To perform this task, you will need to follow some social media accounts and like some selected pages. You will earn ₦3 for following an account and another ₦3 for liking a page.
7. Twitter retweets
The Twitter retweeting task involves retweeting specific posts on Twitter. For each post you retweet, you will earn a sum of ₦10.
8. Facebook post share
This task requires you to share specific posts on your Facebook account. For each post you share, you receive ₦10 in your Hawkit account.
9. Hawkit Referral
For every person you refer to the Hawkit platform, you receive ₦500. However, you will only get this money after the person you referred to the platform activates his/her account. Also, as an existing user, you receive a Social Boost Referral Commission when you bring someone to buy Followers, Likes, Shares, Comments, etc. This commission is 20% of the amount of money the person pays to the Hawkit platform.
Besides performing daily tasks, some other ways you can earn on this platform include:
10. Advertise Businesses for People
Advertising for people is a cool business on this platform. Basically, you can use this platform to grow people's social media pages for a fee. All you need to do is collect a fee from your clients, pay some of it to the Hawkit platform to do the job, then you keep the change.
11. Start Your Airtime/Data Business
Another good way to earn is to purchase airtime and data at a lower price on the Hawkit platform. Thereafter, you can sell it to friends at regular rates and earn your cash.
12. Sell Products and Services
Hawkit is a great e-commerce platform for advertising and selling your products and services so buyers from all over the country can patronize you. Just upload pictures of your products and make sales.
How can I withdraw money from my Hawkit account?
When you have ₦1,000 in your Hawkit balance, you can easily withdraw it into your bank account. Just follow these steps to make the withdrawal:
1. First, log in to your Hawkit account
2. Next, locate the "Withdraw" tab on your account dashboard and click on it.
3. Enter the amount of money you would like to withdraw. You must cash out at least ₦1,000.
Lastly, input your bank account details and your Hawkit PIN to finalize your withdrawal process.
How can I contact Hawkit?
Here's how you can contact Hawkit:
Address: 89, Allen Avenue, Ikeja, Lagos State, Nigeria.
Email Address: support@hawkit.ng
Website: www.hawkit.ng
Bottom Line
Learning how to earn money from the Hawkit app is simple. Basically, this app provides you with various tasks which you can perform and earn money. All you have to do is just choose the task you want, complete it, and get credited. To get full details of the tasks available, just see the list above.
You can obtain a comprehensive loan, tailored to your specific needs by using this platform. Basically, it allows you to compare loans from different lenders across Africa, ensuring the best option doesn't slip through.