CALA investment, a website that claims to be into auto trading, crashed on October 28th, 2022 putting investors in immense pain. Here is a brief review of the platform before it crashed and the obvious signs that showed it is a scam even before it crashed.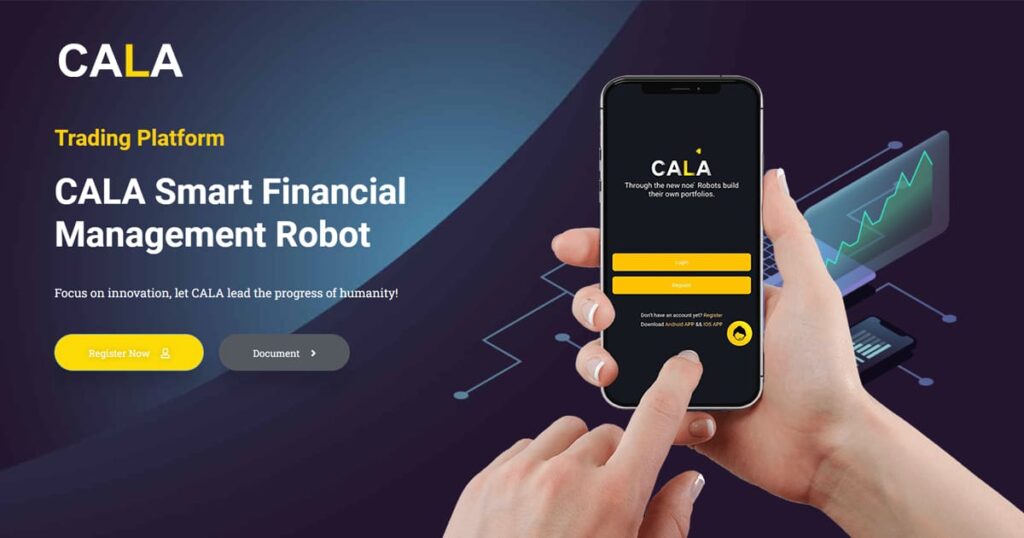 An Overview of Cala Investment
CALA claimed they are solely a technology company that specializes in research as well as the development of AI technology. Also, they claimed to have a headquarters in Armonk, New York, USA. However, these were all well-crafted lies to earn people's trust.
In addition, the company claimed to be an investment platform that helps investors to do auto trading. So all investors had to do was to fund their Cala account and allow Cala robots to trade for them while they get their returns.
Read Also: SunPower Investment – Is It Legit Or A Scam? Find Out Here
How does Cala work?
As earlier stated, the Cala investment platform was majorly for auto crypto trading. Basically, investors register on the platform and purchase a Cala robot. This robot will help to trade whatever amount of money they invest in the platform and deliver daily returns.
There are 5 different types of robots available on the platform at different prices. The higher the cost of the robot investors purchases, the higher revenues it will generate. This operates very differently from Magmap Investment for example, which requires a different investment method.
CALA sold the idea that their platform uses Blockchain and DeFi technology to gain access to numerous investment methods. Their robots will use these methods to develop stable and long-term investment profits.
Interesting Read: SolarCity Investment – How Does It Work And Is It Legit
How can I register on the Cala investment platform?
Although the Cala website has crashed and is no longer available, here was how investors registered on the scam platform:
1. Visit the website www.sabrinascala.com
2. Next, go to the registration page and enter your details, verify it and submit.
3. You have successfully created an account on the platform.
Also, investors had to make payments to buy a trading bot. Thereafter, this trading bot will work by scouting various exchanges to trade crypto with reasonable prices. After this investors will get their ROI.
How can I contact Cala Investment?
Here are the ways investors could reach Cala:
Address: 8th Floor, Churchgate Towers, CALA FINTECH SERVICES LTD:​ Plot PC31, 2 Churchgate St, Victoria Island 101241, Lagos
Phone Number: 0912 255 2252
Website: www.bocalazar.com
Is Cala Investment legit?
Certainly, the Cala platform is a scam because it has crashed. However, before the investment platform crashed, there were obvious signs that indicate the hoax of the platform.
The first and most important sign was that the platform had no legal backing. Any investment platform that is unauthorised by the regulatory bodies in Nigeria is definitely a scam. Don't trust platforms that don't have legal authorities backing them.
Secondly, the founder of Cala was never mentioned on the platform. Hence, the identity of the people who pulled off the scam is unknown. Lastly, they had a lot of negative reviews from some users who claimed that the robots are a scam.
Bottom Line
The Cala investment platform was certainly a disaster waiting to happen. Unfortunately, many people ignored the obvious fraudulent signs because of money. Make sure that you do your research about a platform before making any investment. Also, don't forget to look out for red flags, especially when it comes to legal backing.
You can obtain a comprehensive loan, tailored to your specific needs by using this platform. Basically, it allows you to compare loans from different lenders across Africa, ensuring the best option doesn't slip through