Coinomi is a security-conscious, multi-chain digital currency wallet that you can use across both mobile and desktop devices. The digital wallet offers support and ownership for over 125 blockchains and hundreds of tokens. Basically, the main purpose of Coinomi is to help digital currency consumers store their currency.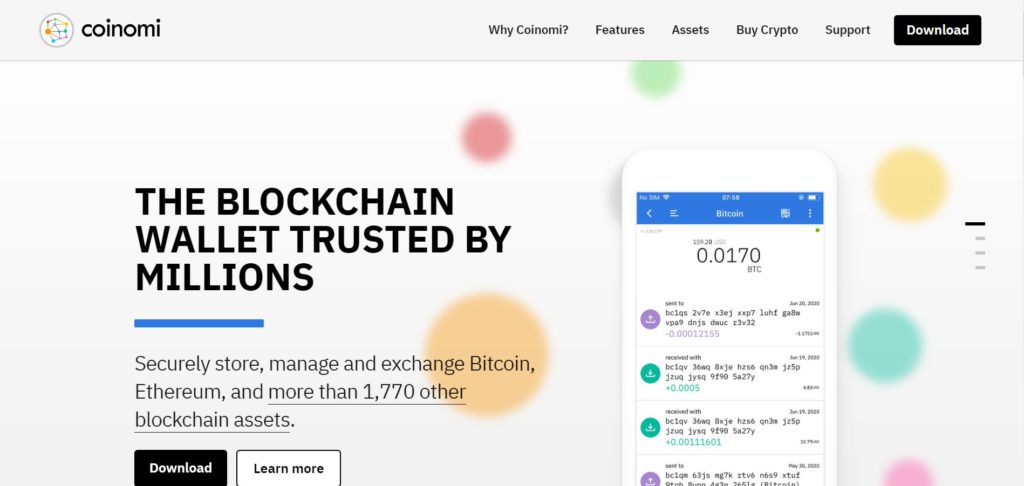 An overview of Coinomi
Coinomi was founded in 2014 by a group of blockchain experts and is the oldest multichain wallet existing. Also, Coinomi's wallets are reputable for being very secure since one has compromised any till date. Furthermore, the digital wallet is Seg-wit empowered and it provides 168 fiat currency representations, all readable in over 20 languages including Russian, Chinese, and English. In addition, users can exchange supported assets within the app through built-in exchanges.
What coins are supported on Coinomi?
Coinomi offers support for over 125 blockchains and thousands of tokens making it the largest non-custodial wallet in the industry. The digital wallet is compatible with a variety of coins including Bitcoin, Dogecoin, Ethereum as well as Litecoin. Basically, you can get a comprehensive list of all the coins the digital wallet supports on Coinomi's website. Read more about bitcoin trading apps here.
How do I set up a Coinomi wallet?
One important feature of the Coinomi wallet is its easy-to-use feature especially for rookies who are new in the digital asset world. You can follow these steps below to set up a Coinmoi wallet:
First, install the Coinomi app on your phone or desktop.
Next, click on 'Create a New wallet'. The app gives you a special seed phrase which you have to copy and keep in a safe place. You can use this special seed phrase to reactivate your Coinomi wallet on another device in case you misplace your phone.
Finally, you have to supply a strong password and then select which cryptocurrency you will like to have shown on your Coinomi wallet.
Thereafter, you can store supported cryptos on the wallet.
Additionally, Coinomi supports cross-chain payment. This feature permits you to make direct payment from your wallet to another person's wallet without doing any conversation.
How can I exchange cryptocurrency on Coinomi wallet?
Coinomi is a top crypto exchange platform where you can swap cryptos on different wallet thanks to Challegelly's API which is integrated into Coinomi. Here's a detailed step on how you can do that:
Open your Coinomi wallet and click on Changelly
Choose the coins you want to exchange and then input the number of coins you wish to convert. You will see an estimate of the amount you are about to receive.
Input your secure password and confirm your transaction.
Thereafter, you can check your wallet balance to see if you have received the number of coins exchanged.
What are the criteria for using Coinomi wallet?
The terms and conditions surrounding Coinomi are mainly prohibitions from using, copying, or transferring any Coinomi material either to a third party or for personal consumption. Basically, you should use all services related to the app, only on the app.
Coinomi Wallet Security
Coinomi uses impeccable security features to protect against attacks. The hierarchical deterministic wallet uses the seed phrase as another layer of security. Seed phrases allow users to reactivate their accounts on a new device.
Where can you download the Coinomi wallet?
You can download the Coinomi wallet for free on App Stores for either Android or IOS devices. Also, you can download the desktop version of the wallet on Coinomi's website.
Bottom line
Every crypto consumer knows how difficult it can be to safeguard digital currencies. Coinomi resolves this issue by providing a safe digital platform for storing cryptos. With Coinomi, you can rest assured that your cryptos are in safe hands.