Farmcrowdy is the first digital agricultural platform in Nigeria. Their purpose is to increase food production and security in Africa by empowering farmers.
Since its launch in 2016, Farmcrowdy has enabled over 25,000 farmers. They provide farm inputs, improved seeds, and training on modern family techniques. They provide a market where they can sell their farm produce.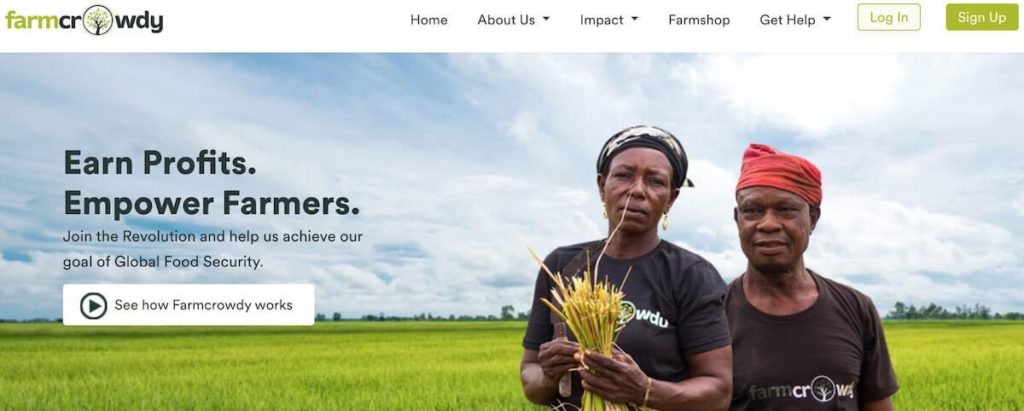 Understanding the Farmcrowdy App
The Farmcrowdy app provides a platform for one of the best investment opportunities in Nigeria. It offers an easy way to access and sponsor agricultural production from your mobile phone. When you download the mobile app, you will be notified once a farm is open for sponsorship and you get to make profits while sponsoring a farmer.
Also, the Farmcrowdy app is available for download on Google Play and Apple stores, and you can monitor your farm through image, text and video updates.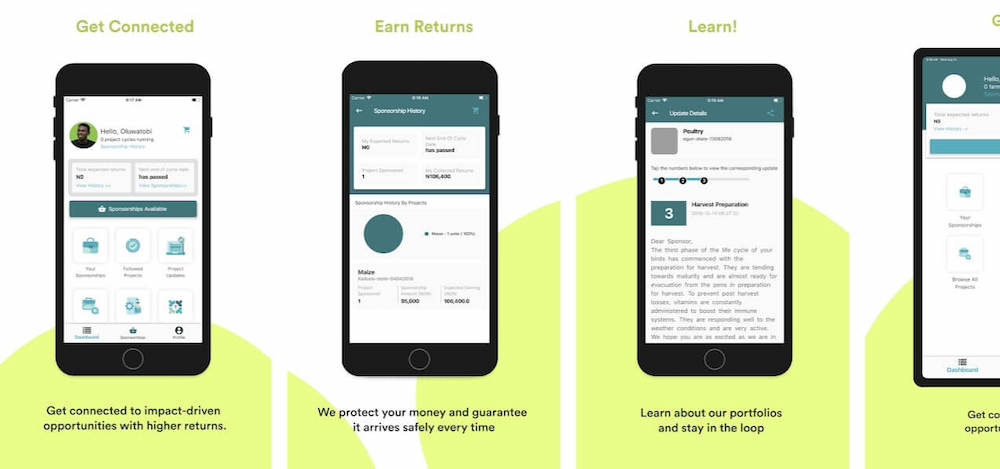 How does Farmcrowdy Work?
Farmcrowdy projects have a pre-incubation time of 2-3 months to provide a realistic market offer. Below is their farmer integration process
Crop and Land Selection: In this stage, the crops to be cultivated are selected based on season, demand and location. They also carry out due diligence on land availability, potential yield per area and potential partners (input providers and mechanisation).
Farmers: Thye identify and choose farmers based on the recommendations of the state farmers' associations or community leaders. Farmcrowdy does not work with individual farmers to keep the process organised.
Inputs: At this stage, Farmcrowdy provides input in the form of improved seed varieties, mechanised tools and training on modern farming techniques to the farmers. Also, there are technical field specialists assigned as supervisors to each farm/location.
Off-Takers: Lastly, Farmcrowdy sources for ready buyers for the farmers to enable farmers to focus their attention on producing quality agriculture products.
Also, this method protects the farmers from exploitation as they sell their products at profitable margins.
Farmcrowdy gives farm sponsors periodic updates. They are bi-weekly (for farm cycles which are six months or less) and monthly (for farm cycles which exceed six months).
Essentially, these updates are in the form of written reports, pictures and videos to show progress at various stages of the farm cycle. You can choose to sponsor as many farms as you want, and the farm cycles range from five to twelve months depending on the farm.
At the end of the stated tenure for a farm cycle, every stakeholder gets profit.
Is Farmcrowdy investment Legit?
Basically, Farmcrowdy is a legitimate startup that raises funds from people. These are individuals who want to contribute to the agricultural sector without farming directly. The company is under Leadway Assurance just like its fellow agritech company, Thrive Agric, which covers only initial sponsorship investments in cases of unforeseen circumstances. 
In 2016, when they were founded, they were backed by Venture Capitalists, Techstars Ventures, Cox Enterprises and Social Capital. They are also in partnership with Syngenta and ASTC (Agricultural Services Training Centre). They are leading companies in the field of agriculture.
Through the platform, both farmers and sponsors get a good return for their investments.
On the farmer's part, his hard work rewards him by selling his farm proceeds. The proceeds will be at a profitable price while the sponsors get their returns on the investment when due.