Nowadays, entrepreneurs can easily manage their business finances with digital financial management tools. Basically, some platforms provide these tools to make business management seamless. Accounteer is one of the leading platforms that empower small businesses with financial management tools. With this digital platform, your journey to financial independence is secure.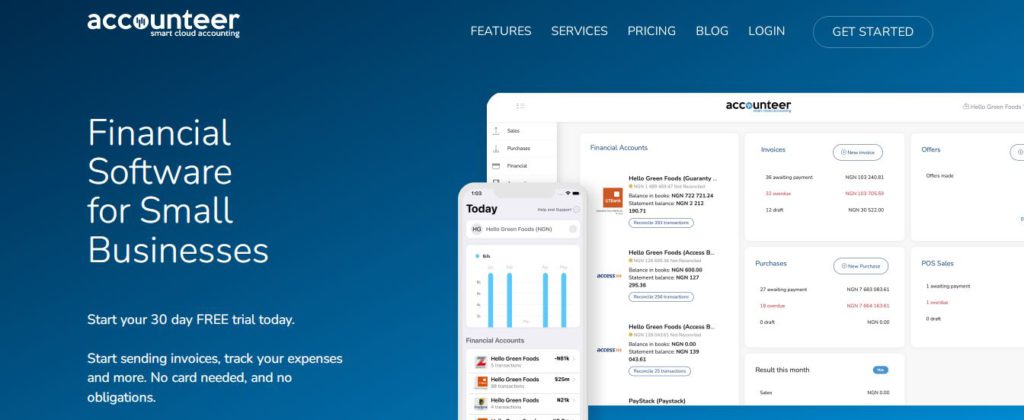 An Overview of Accounteer
Accounteer is primarily a cloud accounting platform for small businesses. Basically, the digital platform empowers small businesses with automatic tools for a smooth ride to financial independence.
The company was founded on Apr 17, 2015, by Merijn Campsteyn with the sole aim of empowering entrepreneurs and allowing them to control their finances. Also, the platform enables business owners to do all these without being financial experts. Entrepreneurs can generate invoices, record expenses, and track their finances with ease.
Additionally, this virtual accounting platform integrates with external services like e-invoicing platforms, banks, and, even e-commerce. With this platform, managing the financial aspect of your business becomes very easy.
What Services does Accounteer offer?
Below is a list of the various services this company offers business owners:
1. Reporting and Budgeting
This platform provides financial reports and dashboards modified to suit your needs. Also, it monitors your budget continuously and offers proactive forecasting.
2. Reconciliation and Audit Support
They offer credible and timely data entry, invoicing to customers, collection calls, as well as bill payments. Also, they integrate premium tools to be adequately prepared for audits.
3. Controller Oversight and Tax Computation and Filing
You get an accurate and quick insight into the financial condition of your business. Furthermore, it ensures that your businesses stay updated on new tax laws and oblige them.
4. Payroll and Advisory and Training
Basically, with this platform, you can easily record your employees' compensation as instructed by local laws. Additionally, the platform offers quality advice on financial matters and accounting processes.
To get full insight into the extra add-on services and other information, you can just visit their website.
Interesting Read: How to Register a Business Name in Nigeria: Step-by-Step Guide
How can I register on Accounteer?
Here's how you can register on this digital accounting platform:
1. Visit their official website. Check below to see a link to their website.
2. Next, click on "Get Started For Free"
3. Thereafter, enter your basic information and tap "Sign Up"
What documents do I need to register on Accounteer?
Basically, to register on this virtual accounting platform, you need your first name, last name, phone number, Email address, as well as your password.
What kind of business can sign up on Accounteer?
Basically, this platform accommodates all small-scale businesses. They offer the following:
1. Accounteer for Businesses
This type of account is majorly for small businesses. Hence, if you are a business owner, you can create a business account and serve your customers professionally.
2. Accounteer for Merchants
Basically, you can attend to your customers with automatic smart financial tools. Basically, these tools enable you to accept payments, run your inventory, generate real-time accounting reports, print receipts, and do more.
3. Accounteer for Financial Institutions
They enable you to provide extra value to your customers via tailored offerings for financial institutions. Also, you can digitize bank transactions, and effectively run your business to make it stress-free for you.
How can I download the Accounteer mobile application?
Here's how to download this app to your smartphone:
1. Grab your Android and phone and open the Google Play store. However, you can visit the App Store instead if you use an iOS device.
2. Next, type "Accounteer" into the search bar and search for the app.
3. Lastly, download the app and sign up to enjoy their services.
How can I contact Accounteer?
You can contact Accounteer via the following ways:
Address: 2 Abebe Village Rd, Iganmu 12242 Lagos, Nigeria
E-mail Address: team@accounteer.com
Website: www.app.accounteer.com
Bottom Line
Accounteer is primarily a digital platform with the right tools to manage your business effectively. Basically, with this platform, you can control your business finances even if you are not a financial expert. Since the company has been consistent for a considerable number of years, it is safe to conclude that they are trustworthy.
You can obtain a comprehensive loan, tailored to your specific needs by using this platform. Basically, it allows you to compare loans from different lenders across Africa, ensuring the best option doesn't slip through.