With technology, you can now perform financial transactions and pay your bills using just your smartphone. KongaPay is a platform that provides you with an easy mode of paying for items and getting paid in return. With this platform, you do not have to go through any hassle to pay your bills since you can do it using just your phone. It is fast, easy, and convenient.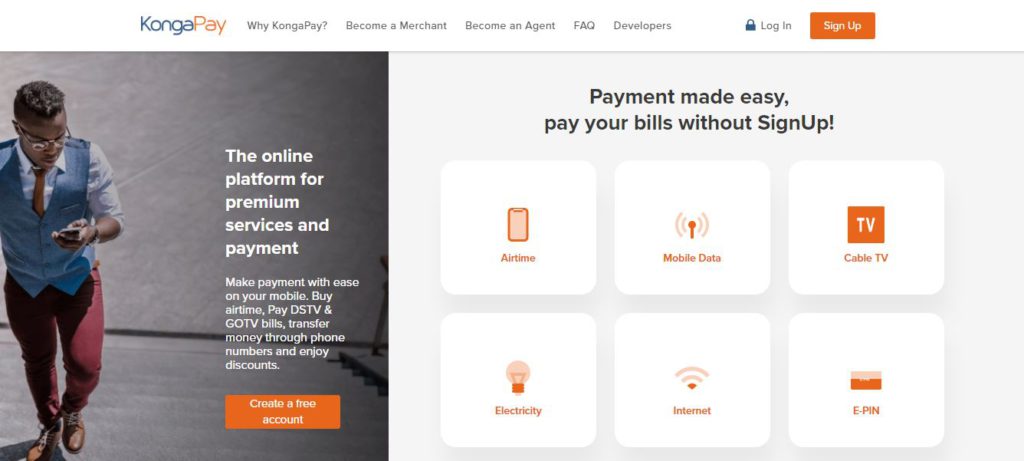 An Overview of KongaPay
Kongapay is a leading financial service provider devoted to providing the easiest, fastest, and most credible method of payment. This platform is a subsidiary of Konga, Nigeria's leading E-commerce group.
Millions of people around the world rely on this platform to receive and send funds and buy airtime and data. Also, through the platform, you can subscribe to cable TV, pay electricity bills, and access many more services.
What services does KongaPay offer?
Basically, this platform allows you to pay bills, purchase airtime, and make financial transactions with just your phone number. Also, they offer valuable products like:
1. Merchant
The merchant product gives you access to incredible features that make your business life easy and seamless. Basically, it allows you to access payments from your customers easily.
2. Agent
When you become an agent for this platform, you can execute seamless transactions at a cheaper rate. Also, you get access to incredible features that will make working as an agent easy for you.
How can I register on KongaPay?
Registration is easy on this platform. To get started, just follow the steps below:
1. First, download the mobile app from Google Play Store or App Store.
2. Next, input your basic details. This will include your name and other vital information.
3. Create a Pin-code for your account and input the code of verification. You will receive the verification code on your mobile phone.
4. Once you do this your account is set.
Alternatively, you can sign up by visiting their official website if you do not own a smartphone.
What are the requirements to register on KongaPay?
Basically, the registration requirements vary depending on the account level you want to open. The requirements for each account level are as follows:
1. KongaPay Lite
Name
Date of Birth
Gender
Email Address
Phone number (Verified with One Time Password)
Home Address
2. KongaPay Classic
Image Upload
BVN
Valid Means of Identification
3. KongaPay Premium
You need to just verify your address or utility bill.
How can I make money from KongaPay?
You can earn money by becoming an agent for this platform. Basically, as an agent, you earn money by selling digital services like
1. Sending and Receiving Money
2. Airtime.
3. Data.
4. Bill Payment (DSTV, Sports betting, Electricity bill, e.t.c).
Basically, you earn a certain commission after rendering any of these services to your customers. There's no limit to how much money you can earn as an agent.
How much commission do I receive as an agent?
As an agent, you get a 1% commission on each digital good you sell. Also, the platform does not charge any transaction fee when you fund your account.
How can I register to become a KongaPay agent?
Here's how to register to become a legit agent on this platform:
1. Visit the web platform or app and go to the agent registration page.
2. Next, fill out the application form with your right details.
3. Thereafter, submit the form. After this, wait for Konga to contact you and give you your login details.
During your registration, you can request a free POS. The platform will give you information about how you will receive your payment as soon as your registration is complete.
How can I download the KongaPay app?
Here's how to download this mobile app in easy steps:
1. Open Google Play Store on your android phone. However, if you make use of an iPhone, open the App Store.
2. Next, enter "KongaPay" in the search bar and search for the app.
3. Download the app and begin your registration process.
How can I contact KongaPay?
Here's how you can contact this platform:
Address: No. 3b Cocoa road, off Akilo Rd, Ogba, Lagos
Phone Numbers: 0708 063 5700, 0809 460 5555, 07007000000, 09070038917, 018883435
Email Address: support@kongapay.com
Website: www.kongapay.com
Bottom Line
KongaPay is a financial service app that allows you to make financial transactions easily and access other extra services. Also, the platform provides products that are very beneficial to both individuals and businesses. With this app, you can earn money for yourself. Just follow the process above to begin your journey to financial freedom.
You can obtain a comprehensive loan, tailored to your specific needs by using this platform. Basically, it allows you to compare loans from different lenders across Africa, ensuring the best option doesn't slip through.