Nowadays, people do not have to visit banks physically as banking is now digital. Waiting in long queues at banks is now a thing of the past all thanks to digital banking. 9PSB is Nigeria's first and leading digital payment service bank. This bank offers you the digitized version of everything conventional banks provide.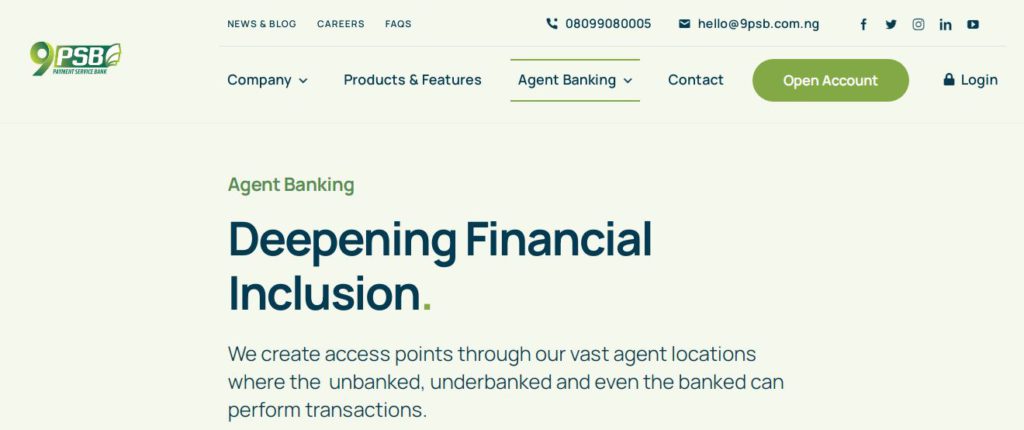 An Overview of 9PSB
9PSB, short for 9 Payment Service Bank (9PSB) is Nigeria's first and leading Payment Service Bank. The bank operates under the authorization of CBN to give financial inclusion initiatives and services to the unbanked, underbanked, individuals in Nigeria.
The company functions as a completely digital bank and operates its privately-owned agent banking network. Basically, this company is for everybody and provides seamless access to both online & offline digital banking experiences.
What Services 9PSB offers?
This digital banking organisation offers the following services to the public:
1. Digital Banking
This platform is an entirely digital bank. Basically, you can open a bank account in just 2minutes without visiting any physical branch or doing any paperwork. There are primarily two types of accounts you can open. They include:
a. 9ra Instant
You can open a 9ra Instantly account in less than 2 minutes by just dialling *990*0# from your phone.
b. 9ra Save
As its name implies, this account is more like a savings account. Basically, it enables you to save fixed-term deposits and earn interest on your savings.
2. Agent Banking
Thousands of agents are available to attend to you across Nigeria. You do not need to walk into a physical bank again.
3. Funds transfer, Bill payments, Airtime purchase, and Visa booking
You can transfer funds to your loved ones and pay your essential bills like electricity and cable bill. Also, you can buy airtime and book your visa anytime.
Read More, Top online savings and Investment platforms in Nigeria
How can I register on 9PSB?
To register on 9PS you need to open a bank account on the platform. Here's how to open a 9ra Instant account:
1. Grab your phone and dial *990*0#
2. Next, enter your details
3. Lastly, cross-check and submit your details
However, if you want to open a 9ra save account, you need to download the mobile application to activate it.
What documents do I need to open an account with 9PSB?
Basically, there are two types of accounts you can open on this platform, the 9ra Instant and the 9ra save. To open any of these accounts, you need the following documents:
a. Your NIN
b. date of birth
c. gender
d. Address
How can I start investing in 9PSB?
To start saving and earning interest on this banking platform, follow these instructions:
1. Activate your 9ra save account by downloading the mobile app
2. Next, create a savings plan and lock savings for the next 30, 60, or 90 days.
3. Lastly, receive your interest at the maturity date.
Read More, 5 Investment platforms in Nigeria
What is the minimum amount I can invest in 9PSB?
On 9ra save, you can kick off your savings plan with as low as N200. On the other hand, 9ra Instant Account allows you to deposit N50,000 maximum for a single deposit.
How can I become a 9PSB Agent?
Here's how you can become an agent:
1. Download the 9PSB agent mobile application from Google Play Store or the App Store.
2. Next, open the app and tap on "Sign Up"
3. Thereafter, input your details and submit.
Once you do this, the platform will give you further instructions on how to complete the process.
What are the requirements for becoming a 9PSB Agent?
To become an agent and provide financial service to the public, you must meet these requirements:
a. You must own an active phone number
b. Evidence of NIN/BVN registration
c. A copy of Government-issued ID or its equivalent (National ID card, Driver's license, Int'l passport, Voter's card)
d. You must be able to read and write
e. A Passport-sized photograph
f. Proof of Address (Utility bills e.g., Waterboard, PHCN, DStv, etc.)
g. Your Bank account statement
h. At least N50,000 for your startup capital.
How can I download the 9PSB mobile app?
Here's how you can download this mobile app:
1. Take your Android phone and open Google Play Store. However, if you use iOS, open the App Store.
2. Search for '9PSB'
Download the app and enjoy a seamless digital banking experience.
How can I contact 9PSB?
You can contact 9PSB via the following ways:
Office Address: 11 Adeola Odeku St, Victoria Island 106104, Lagos
Website: www.9psb.com.ng
Phone Number: 08099080005
Email Address: hello@9psb.com.ng
Bottom line
9PSB is primarily a digital bank that offers you a variety of payment services. It also enables you to become an agent and provide financial services to the public via the platform. Additionally, you can access investment services on this platform as it allows you to save money and earn reasonable returns. Although this digital banking platform is yet to be popular in Nigeria, it is definitely an excellent alternative to conventional banking.
Do you need a loan? Be sure to visit this loan platform that allows you to compare loans from different lenders in minutes. It offers the best and ensures that you get nothing less.