Becoming a POS agent is not as difficult as you think. In a few easy steps, you can register and become an agent. Accelerex Nigeria is one of Nigeria's leading financial platforms that provides payment terminal services. Through this platform, you can become a verified POS agent in a few minutes. Here is a summary of what you should know about this platform and how to become an agent.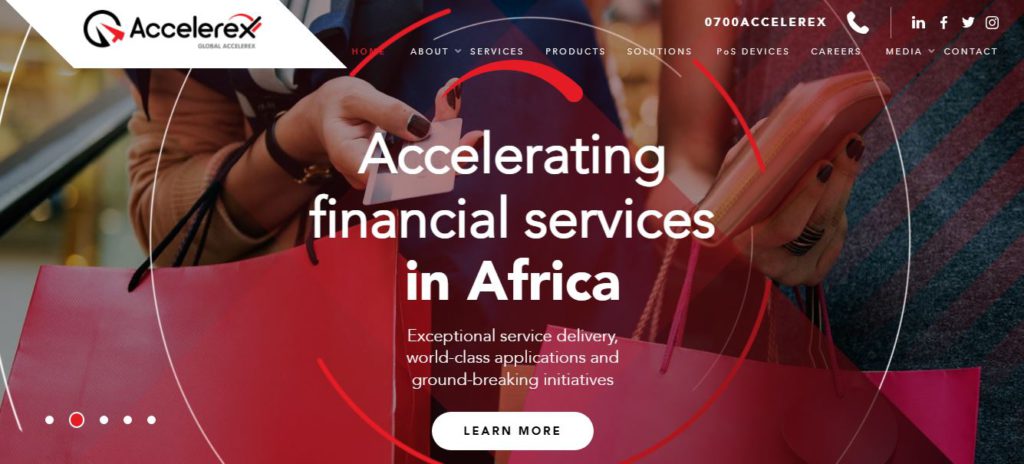 An Overview of Accelerex Nigeria
Accelerex Network Limited is a licensed organization that provides electronic financial services to the public through POS Agents. Basically, the organization delivers its services through a distinct blend of technological innovation and strong agent recruitment and administration models.
They offer innovative e-payment, collection, and remittance services to the public in a secure, credible, and inexpensive manner.
What products does Accelerex offer?
Below is a list of the products that this platform has to offer you:
1. POS App
These applications are supplied on POS terminal devices to enable their POS agents to make safe and reliable transactions. Basically, they provide payment terminal services through this app.
2. Agent Network Platform (ANP)
Agent Network Platform (ANP) is a portal specifically designed for Agency Banking businesses. Basically, it has the feature to integrate with various payment channels and execute financial operations such as cash deposit and withdrawals, account opening, bill payments, etc.
3. RexHub
RexHub is a platform that enables 3rd party systems to connect seamlessly to the platform's APIs in a safe, organized, and credible way.
4. RexPay
RexPay is a platform that enables sellers to receive payment in a quick, convenient, and secure way. Basically, this way you can receive payments either on the web or mobile channels from your customers.
5. RexRetail
RexRetail is an all-in-one solution to meet retail business needs. Basically, this product acts as a Mobile POS Solution that allows vendors to digitize their retail operations.
How can I register on Accelerex?
To register in this financial platform, follow the steps below:
1. Visit the official website of this platform, go to the dashboard and click on "Get Started".
2. Next, input details like your name, phone number, as well as your email address on the application form.
How can I become a POS agent on Accelerex?
To become a POS agent on this platform follow the steps below:
1. First, visit their website.
2. Next, go to the menu bar and click on "Become an agent" and tap on "Become an Accelerex agent".
3. Thereafter, fill out the agent application form. For this form, you will need to provide important details like your name, BVN, email address, home address, phone number, as well as your office address.
4. Lastly, upload other necessary documents then cross-check your details and submit it.
After you have done this, wait for their team to verify your details and contact you once they approve your application.
What documents do I need to register and become a POS Agent on Accelerex?
To register and become a POS agent on Accelerex, you need the following details:
1. Your first and last name
2. BVN
3. Email Address
4. Phone number
5. Home Address
6. Office Address
7. State of residence
8. A valid, government-issued ID
9. Your passport photograph
10. A copy of your recent utility bill
What are the benefits of being a POS agent?
Here are some amazing benefits of being an agent:
1. You get a quick settlement for all your transaction
2. A very efficient and reliable platform
3. Lower commissions for every transaction. Hence, this increases your profit.
Lastly, you get a wide range of financial products to work with. 
Recommended – Moniepoint POS review
Who is an Accelerex Aggregator?
An aggregator is just like a supervisor for several other POS agents. Basically, your role as an aggregator will be to onboard and manage POS agents. This way, you will earn more while being the head of financial inclusion in numerous neighbourhoods. Also, you act as a bridge between independent agents and the company itself. If you want to become an aggregator, just simply follow similar steps listed above but click on "Accelerex Aggregator".
Does Accelerex have a mobile application?
Yes, this platform has a mobile app. However, it is only available on Android devices. Here's how to download it:
1. Visit the Google Play Store on your android device.
2. Next, type "ANP – Agency Banking" and search for it.
3. Lastly, download the app and commence your registration to become a POS agent.
How can I contact Accelerex?
You can contact Accelerex via the following ways:
Address: 8, Eric Moore Street, Off Ajao Road, WEMABOD Estate, Ikeja, Lagos.
Phone number: +234 (01) 295 1655
Email Address: info@accelerexnetwork.com
Website: www.globalaccelerex.com
Bottom Line
Accelerex is primarily an app that provides electronic financial services to the public through its POS agents. Also, they offer individuals the opportunity to earn a living by becoming a POS agent. To become an agent, just follow the steps listed above and make your path to financial empowerment.
Need a loan? Kindly check out this platform that allows you to compare loans from several lenders in minutes. This would help you make the best decision for you.