Luno was established in 2013 and has become a leading global cryptocurrency trading platform. Basically, the company offers a platform for cryptocurrency consumers to trade with ease. The trading services rendered by the company are available in over 40 countries including Nigeria.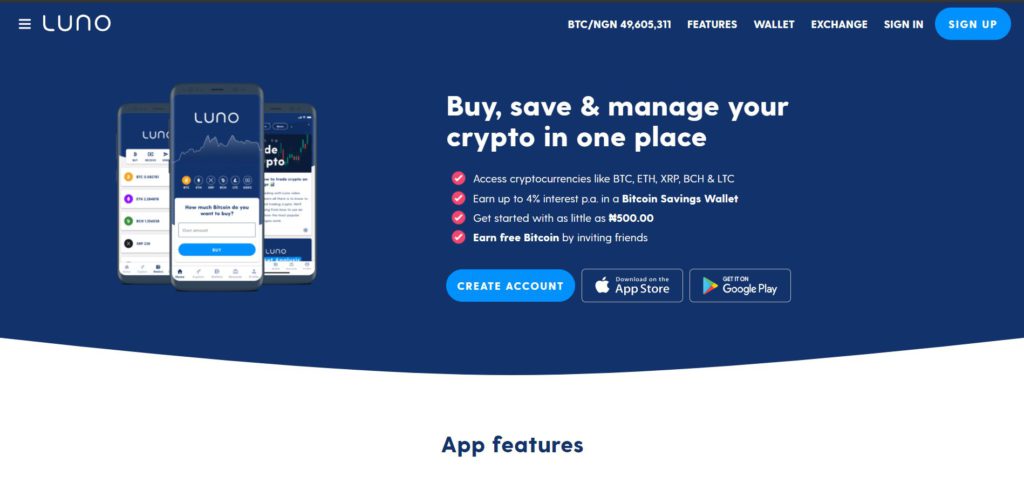 An overview of Luno Nigeria
Luno Nigeria was incorporated in 2016 and began physical operation in 2019. Basically, the company's virtual wallet allows Nigerian customers to purchase virtual currencies available on their platform. In addition, the purpose of the digital platform is to empower people across the world by improving them to a more open and efficient financial system
How to buy Bitcoin and other cryptocurrencies on Luno Nigeria
Luno Nigeria is Nigeria's leading cryptocurrency platform. You can purchase Bitcoin by following the steps below:
Download the app and open an account
Supply all the necessary details and confirm your account
Furthermore, proceed to loading your wallet with Naira
After that, you can now buy Bitcoin directly from the Luno app
Meanwhile, there are other digital currencies available for purchase on the app. They include:
Ripple (XRP)
Litecoin (LTE)
Bitcoin cash (BCH)
USD coin (USDC)
However, Bitcoin is the most expensive of them all. Read more about bitcoin investment strategies here.
What are the requirements for trading cryptocurrency on Luno Nigeria?
You have to meet the following requirements in order to be eligible for trading cryptocurrency on Luno Nigeria:
Must be over 18 years of age
You must open your Luno account using only your original name and other details
No one is permitted to own more than one account
You must secure transactions executed via your Luno account. Basically, you can secure transactions by making sure there is enough local currency (Naira) in your account before any transaction is made.
No history of using your Luno account for any illegal activity.
You must not transfer any Nigerian Naira from your Luno wallet to a bank account belonging to a third party.
What are the send limits and restrictions of cryptocurrency on Luno Nigeria?
Your send limit amount may differ depending on your verification level. The company placed this safety measure to fight the high risk of fraud. However, you can increase your send limit by upgrading your verification level.
How to upgrade your verification level on Luno
Luno Nigeria demands certain requirements before they upgrade your account to another level. They are:
For Level one, all you need to do is to confirm your personal details and mobile number.
To upgrade to level two, you have to submit a photo or scan of your government-issued identification card. You should submit your ID with a selfie photo within 24 hours.
Finally, to upgrade to level three, you need to submit your home address, employment status, source of income as well as your occupation on the company's platform.
What is the interest rate of Bitcoin on Luno Nigeria?
The interest rate of Bitcoin on Luno Nigeria is 4% interest per annum as of 2021. You can profit from Bitcoin interest rate by investing in it and allowing it to grow over time. Thereafter, they pay your earnings and interest directly into your Bitcoin savings wallet at the beginning of every new month.
Bottom line
Luno Nigeria has created a convenient and easy-to-understand way for cryptocurrency consumers to trade. All you need to do is to download the Luno app, carefully go through the terms and conditions and then sign up and trade.
Need a loan? Kindly check out this platform that allows you to compare loans from several lenders in minutes. This would help you make the best decision for you