Quidax is a digital assets exchange established on July 17, 2017. The platform allows its users to easily trade cryptocurrency using their local currency within 5 minutes. Also, as of 2021, it is available in over 15 countries globally including Nigeria. The nature of cryptocurrency trading is such that it requires trust, as there are many fraud platforms around. Basically, this is the issue that Quidax solves, as it offers a completely secure platform to trade crypto without risks.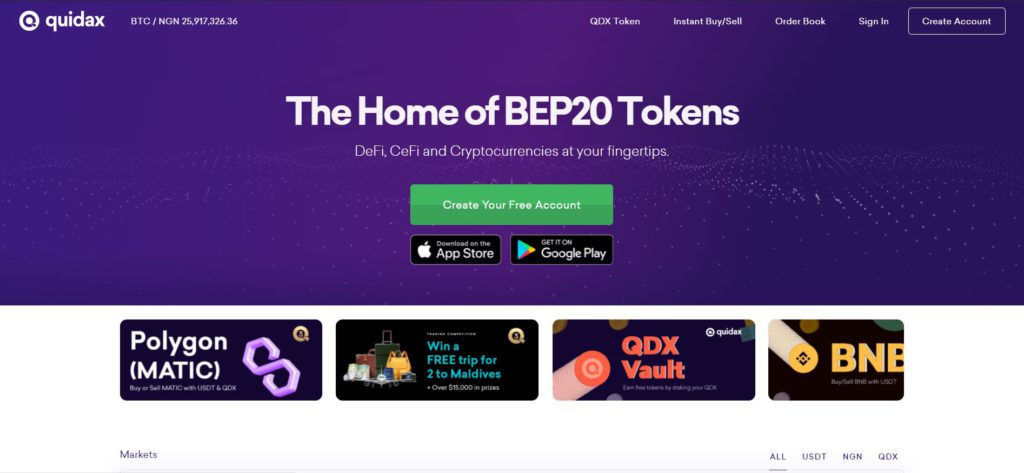 An overview of Quidax Nigeria
In 2018, Quidax incorporated its digital assets exchange in Nigeria. The virtual platform allows Nigerian cryptocurrency consumers to buy and sell digital currency using Nigerian Naira. Quidax is popularly known for being beginner-friendly and providing a seamless trading interface for Nigerians with no prior experience in crypto trading.
How to trade Bitcoin and other cryptocurrencies on Quidax
Quidax provides a secure platform for crypto traders. To start trading Bitcoin and other cryptocurrencies on Quidax, you need to follow the simple steps below:
First, you have to create a Quidax account. You can create an account by downloading the Quidax app
Proceed to install the app and supply the required details. This includes your full name, email address, and a secure password
Next, you have to deposit funds by selecting your desired deposit option.
Finally, they grant you access to start trading in Bitcoin, Litecoin, Ethereum, Bitcoin Gold, and Ripple after completing the first three steps
Basically, follow these steps to trade instantly on Quidax. You can also read more about bitcoin investments.
What are the criteria for trading in Quidax?
You must meet the following requirements in order to trade cryptocurrency on Quidax:
Not be less than 18 years old
You must register your Quidax account using your original name
They do not allow you to own more than one account
You must always secure all trading transactions executed using your Quidax account
Quidax does not permit its users to execute any illegal transaction through their account
Lastly, you must not transfer any local currency from your Quidax wallet to a bank account owned by a third party.
They only allow a crypto trader to freely trade upon fulfilling the requirements above
What is the limit to the cryptocurrency you can trade on Quidax?
With Quidax, there are no limits to the amount of cryptocurrency you can receive. However, you have to upgrade your account to Level 2 to be able to send cryptocurrency.
How to upgrade your account verification level on Quidax
There are basically four account verification levels on Quidax. They include:
Level 1:
People on this level will not be able to withdraw or deposit Naira. However, they will be permitted to trade and store cryptocurrency
Level 2:
This level verification gives you access to daily, weekly, and monthly withdrawal limits of 200,000, 1,400,000, and 5,000,000 Nigerian Naira respectively. Also, this level grants you access to unlimited deposits in Naira. To upgrade to this level, Quidax will require your NIN.
Level 3:
Level 3 increases your withdrawal ability. With level 3, you get a daily, weekly, and monthly withdrawal limit of 2,000,000, 14,000,000, and 50,000,000 Nigerian Naira respectively. Basically, upgrading to level 3 requires documents like your driver's license, National identity card, international passport, permanent voters card, and residence permit to be submitted.
Level 4:
Finally, Level 4 is the highest verification level. It gives you access to a daily, weekly, and monthly withdrawal limit of 10,000,000, 70,000,000, and 200,000,000 Nigerian Naira respectively. To upgrade to level four, you have to submit documents like your tax or pension statement, Bank statement, utility bill, insurance certificate, Mortgage statement, and tenancy agreement.
Also, it is important to note that you must be an active Quidax user to get an upgrade on your verification level.
What is the interest rate of cryptocurrency on Quidax?
Quidax doesn't offer interest rates on cryptocurrency. However, they permit their users to exchange supported digital currency on their platform. Therefore, the interest rate is usually determined by the variation in prices of the specific cryptocurrency.
Conclusion
Quidax created a platform that offers a trade limit higher than other crypto trading platforms. Therefore, this makes them a more preferable platform to trade if you are seeking to invest in Bitcoin or other cryptocurrencies.
Do you need a loan? Be sure to visit this loan platform that allows you to compare loans from different lenders in minutes. It offers the best and ensures that you get nothing less.