Having a seamless means of sending and receiving money is essential for every business to operate smoothly. Nowadays, nobody wants to go through the stress of waiting in line to make transactions, hence, payment platforms are important. Verto is a company that allows you to make and receive payments instantly via its platform. Basically, this global company offers you a secure, fast, and stress-free payment gateway.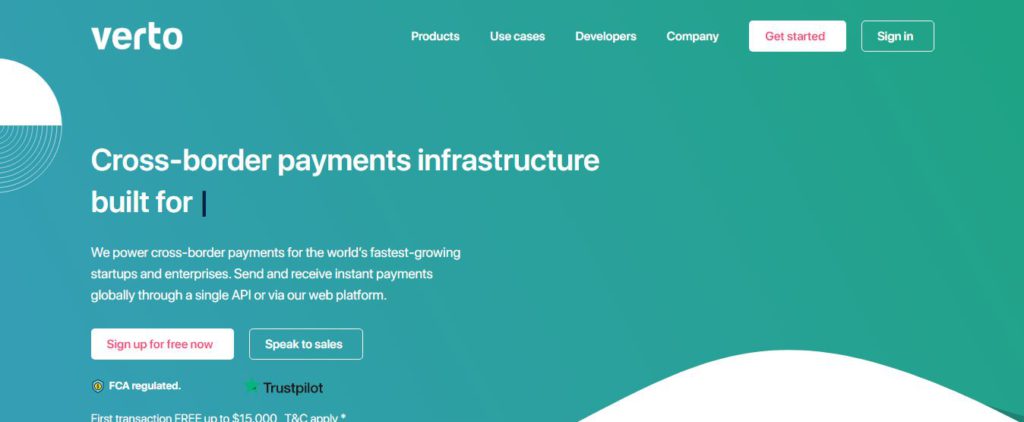 An Overview of Verto Money Transfer
Verto is a fintech company that allows businesses of various sizes to access cross-border payments and banking solutions. You can access these services via their advanced platform or API. Basically, this platform enables you to send and receive money in more than 200 countries.
Currently, they boast of helping over 1000 customers ranging from startups, SMEs, and even large corporate companies. Their platform seamlessly connects businesses to any in the world.
The company was established in 2017 by Anthony Oduu and Ola Oyetayo and is located in Moorgate, England. With this platform, you can switch between 39 currencies, open a bank account, and even make payments just on a single platform.
What Products does Verto offer?
Basically, this payment platform offers the following products to businesses:
1. Payments
The platform provides you with an adjustable and integrated payments solution. Basically, it allows you to send and receive payments immediately in more than 200 countries. This product is fast, secure, and customer friendly.
2. Exchange
With this platform, you get access to interbank exchange rates or assign your rate. Basically, this gives your business the ability to regulate inherent currency exchange exposure.
3. Multi-currency account
You also get a banking platform that has no limit. Moreover, it provides you with free, seamless, and secure multi-currency accounts. You can use this account for both local and international payments. Also, you can pay and receive payments from international companies the same way you do for a local company.
Read Also, How to Receive Money Through PayPal in Nigeria
How can I register on Verto?
Here's how you can register on this payment platform:
1. First, go to their website, www.vertofx.com
2. Next, click on the side menu option and tap "Get Started".
3. Lastly, tick the appropriate boxes in the short application form and submit it.
After you submit the short form, you will need to create your account by inputting your basic details.
How can I send money to my Verto account?
Here's how to send money to your account:
1. First, create an account by completing the registration process
2. Verify your account by verifying your personal and company information
3. Lastly, send in money to your wallet through your online banking.
What are the fees & costs on Verto?
The fees and costs on this platform are as follows:
1. Transfer fees
This platform is known for its zero transaction fees policy; Basically, this means that there would be zero fees for any international fund transfer plus no hidden fees. However, this does not take into account any transfer fees charged by the intermediary and receiving financial institutions. This means that your financial institution may charge you for the transactions.
2. Additional costs
There is no other hidden fee or extra cost for transactions you make on this platform. Basically, every transaction you make is free of charge.
How long does it take to receive money through Verto?
This platform claims that they are 3x faster than banks. However, it's not certain how long it will take for their money transfers to reach a recipient. Moreover, transfer speed may depend on the size of the money, selected currency, and destination country.
How can I download the Verto mobile application?
Here's how you can download this payment application:
1. Take your Android phone and open Google Play Store.
2. Next, type 'Verto' in the search bar.
3. Thereafter, download and install the app.
How can I contact Verto?
You can contact Verto via the following ways:
Address: 120 Moorgate Moorgate, England EC2M 6UR, GB
Phone Number: +44 20 3318 0261
Website: www.vertofx.com
Bottom Line
Verto is primarily a platform that enables you to send and receive money globally. With this platform, you can make and receive instant payments. Essentially, this company has been authorised by several government bodies. Hence, they are safe enough for you to entrust your transactions.
Do you need a loan? Be sure to visit this loan platform that allows you to compare loans from different lenders in minutes. It offers the best and ensures that you get nothing less.