Investment is a sure way to grow your wealth passively. Basically, when you invest, you get a chance to earn on your investment without lifting a finger. Savyt is a platform that provides you with a variety of high-interest investment opportunities. Here is an extensive summary of the company.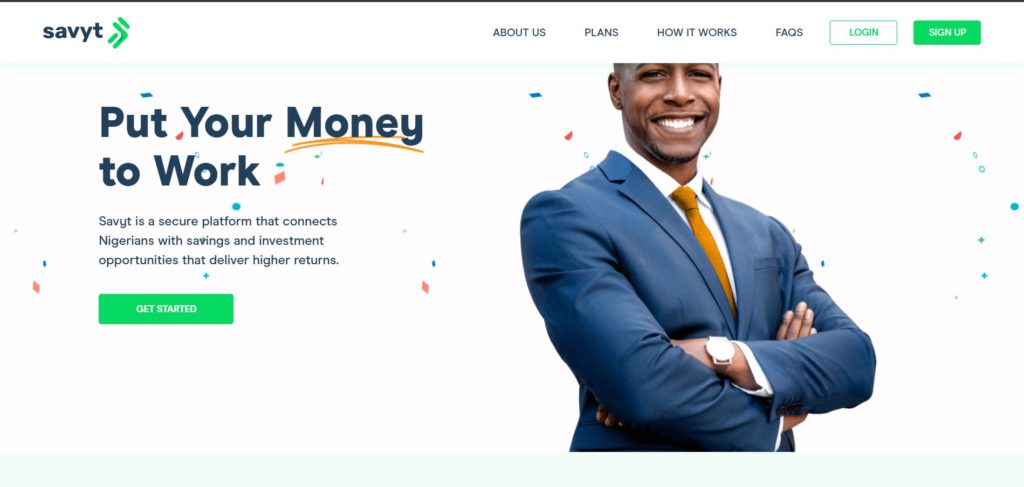 An Overview of Savyt
Savyt is a secure digital platform that connects Nigerian investors with investment and savings. These investment opportunities are sure to deliver high returns. Basically, they invest your money in low or medium assets from blue-chip companies, government entities as well as financial institutions.
The privately-held company has its headquarters in Lagos, Nigeria. They specialize in providing financial services for all Nigerians. Also, read more on Investing for beginners – Everything you should know.
What products does Savyt offer?
The digital platform offers you a wide range of investment plans. They include:
1. Target Savings and Flexty Wallet
The target savings plan helps you to save intentionally towards the things you find important like a vacation or wedding. You can start your savings with any amount and earn 5% interest yearly. Basically, the Flexty wallet allows you to save your money and withdraw it at any time you want.
2. Maintain Plan
With this plan, you can start saving as low as N20, 000. It has an investment duration of 30 days. Thereafter, you will get an interest rate of 9% at the end of your investment duration.
3. Accelerate plan
To invest in the Accelerate plan, you need to start saving with a minimum of N50, 000. It has an investment duration of 90days. After 90days, you receive a 12% interest rate.
4. Activate Plan
Activate Plan allow you to start with at least N50, 000. It has an investment duration of 180 days. After 180 days, you get an interest rate of 13.5%.
5. Elevate Plan
To subscribe to this plan, you need to start saving with a minimum of N100, 000. Elevate has an investment duration of 365 days. Thereafter, you will receive an interest rate of 15%.
How can I register on Savyt?
To register on the digital platform, you just need to follow the step below:
1. Visit their official website, www.savyt.com
2. Next, touch the "Get Started" toolbar
3. Fill in the registration form provided
Lastly, once you are sure that your information is accurate, click on "Get Started"
How can I invest with Savyt?
To invest with Savyt, follow the steps below:
1. First, create an account on their website
2. Next, choose an investment plan, which is most suitable for your financial goals
Thereafter, just relax and earn between 5-15% yearly returns on your savings
What is the interest rate on Savyt?
Your interest rate depends on the plan you choose. If you choose the Target Savings and Flexyt plan, you will receive a 5% interest rate. The Maintain plan pays you 9% in interest, Accelerate plan pays you 12% interest, and the Activate plan gives you 13.5 on interest.
Lastly, Elevate gives you up to 15% interest. You just need to choose the most suitable plan for your financial goals.
Does Savyt have a mobile app?
No, Savyt does not have a mobile application yet. However, you can create your account and execute other transactions using their website.
How can I contact Savyt?
You can contact Savyt via the following ways:
Address: No 16, Saka Jojo Street, off Adeola Odeku, Victoria Island, Lagos, Nigeria.
Website: www.savyt.com
Bottom Line
Savyt is primarily an investment platform that allows you to earn high returns. Also, their various investment allows you to start investing with whatever amount you have. In all, the platform is a great place to begin your investment journey.