Saving, as easy as it sounds, is easier said than done. Basically, to save consistently, you need to master financial discipline, which can be difficult for many people. Also, even when you are financially disciplined, there are still some problems of saving money that may hinder you from achieving your goal. Here, you will be learning about these problems and how to handle them effectively.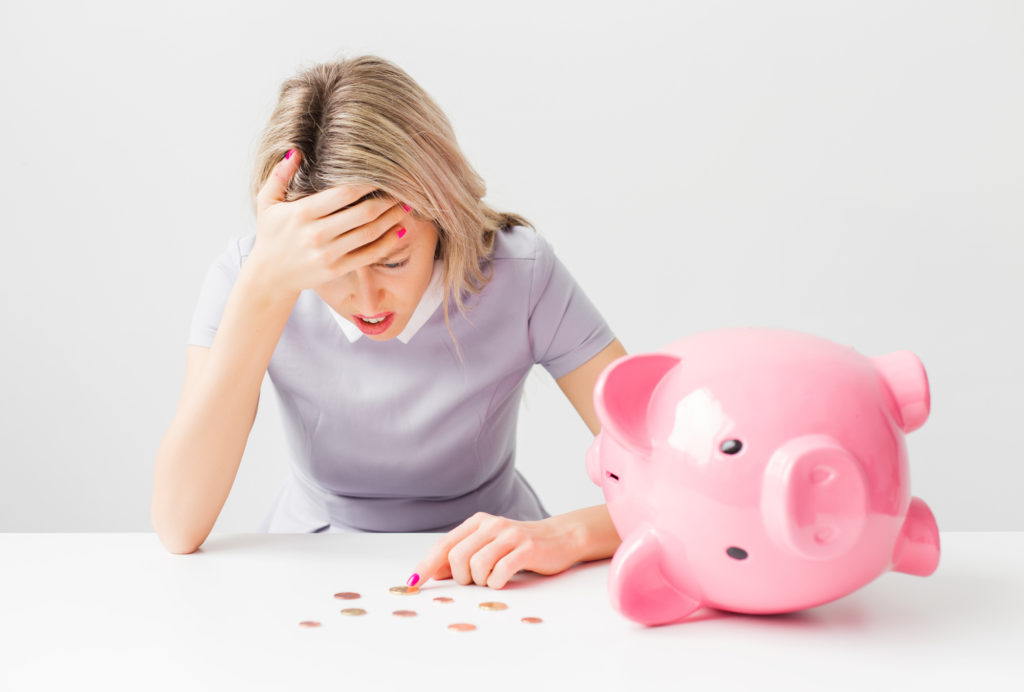 How much money should I save each month?
According to the 50/30/20 rule, you should save a minimum of 20% of your income each month. Meanwhile, a maximum of 50% of your income should go into your necessities, while 30% of your income should be used for optional items. Basically, this rule provides a great way for you to budget your money properly. 
5 Problems of Saving Money
Here are five problems of saving money and how to handle each of them:
1. Spending too much on rent
Rent is the biggest expense most people have to cover every month. But think about it, are you paying for more than you can handle? Also, is your rent too expensive for your income? Generally, you should pay no more than 30% of your income on housing. If you pay more than that, it can hinder your ability to save effectively.
One way to handle the problem of rent is to try looking for a more affordable apartment to live in. Ensure that whatever house you want to rent is very affordable for your income.
2. No defined budget
Not having a budget is one of the major problems of saving money. A budget is very important because it helps you to gauge your spending limit and solves the problem of overspending. Also, having a budget accounts for every money you make and spend so you can understand how much you should be saving.
To knock down the barrier of budgeting, simply create a budget. Basically, to do this make a list of all your expenses every month and subtract it from your monthly income. Thereafter, you can save whatever money is left.
3. Lack of a measurable savings goal
Saving, just like any other goal is easier to achieve when you have a clear target to reach. Hence, you should try as much as possible to set a target for the money you are saving. When you achieve your goal, you will feel good knowing that you worked for it and stayed on track.
To make saving easy for you, just set up automated transfers every payday from your account to your savings account.
4. Having the "I'll save when I make more money" mindset
Some people feel that they should not save since they do not make much money. Although it seems like this excuse makes sense, since making more money makes saving much easier, it is still not a good reason to not save.
Even if you do not make much money, it is still important to save. Basically, you need to start saving from the little you make so it will not be so difficult to start saving when you make more. Also, ensure that the amount of money you save is suitable for how much you earn. As your income increases, you need to increase your savings too.
5. Your comfort zone
Truthfully, it is difficult to add the habit of saving to your routine if you have not been saving before. Moreover, creating a budget, sticking to your budget, and setting a savings target may seem very foreign to you and this can make you nervous. This is another major hindrance to savings.
To knock down this barrier, make everything easy for you by starting with what you can handle. Do not set difficult goals right away. Start small to enable you to adjust to the world of saving. With time, you will adapt to it and then you can increase your target accordingly.
Closing thoughts
There are numerous problems of saving money. However, there is always a solution for each problem you face. Above, you will find some hindrances to saving money and how you can overcome them. In all you do, just ensure that you save 20% of your income each month as this money will help you when there is a financial emergency. 
Do you need a loan? Be sure to visit this loan platform that allows you to compare loans from different lenders in minutes. It offers the best and ensures that you get nothing less.