It is normal for every business owner to think about integrating banking services into their platform. This is because it enables customers to access these services directly on the business platform. Basically, this saves them the stress of going through banks to make any form of payment. Fortunately, some platforms enable business owners to integrate these banking services. OnePipe is a platform that allows you to embed banking services within your own digital platform. Here is a summary of how this works.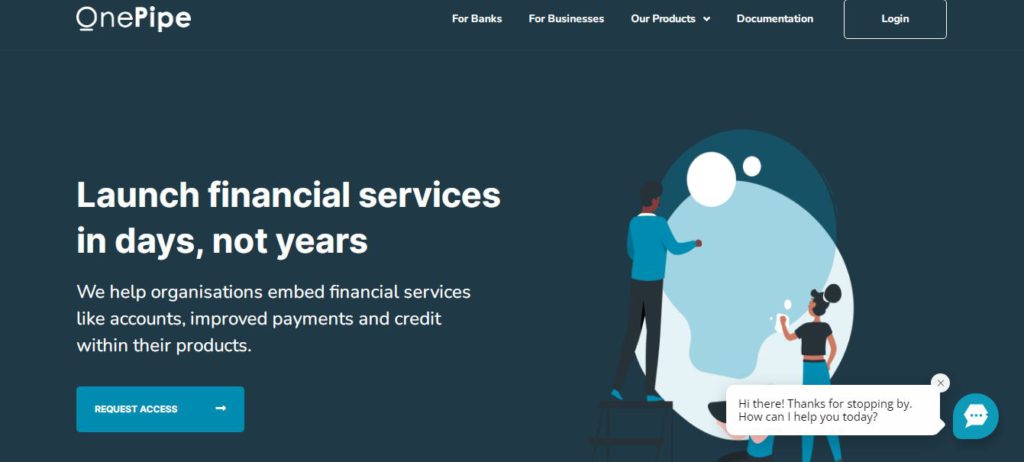 An Overview of OnePipe
The OnePipe platform enables you to embed banking services within your own digital channels and apps. Basically, this digital infrastructure allows banks to collaborate with digital services and fintech. They do this by enabling businesses to partner with banks and easily access banking services on their channel.
The privately held company was established in 2018 by Ope Adeoye. Since then, they have shown a reasonable level of growth and commitment. With this platform, embedding banking services into your own app is easy.
What Services does OnePipe offer?
Basically, you can access the following products from this platform:
1. Grassroot Banking
Basically, this product boosts customer affinity by integrating financial services within the digital channels you made for your customers. These financial services include frictionless payments, special bank accounts, and credit functionality.
2. PaywithTransfer
The PaywithTransfer platform offers a unique means for payment collections that go far beyond a faster and cheaper payment experience. Also, it empowers your business to build customer loyalty while gaining earnings from financial services over time.
3. Account Payments
Account Payments product gives a seamless, regulatory-compliant method of debiting money from designated accounts.
4. Simple Loans
Simple loans product helps you distribute lending services in a way that is infrastructure light. Also, this way makes minimal operational dependencies.
Interesting Read, Agency Banking in Nigeria explained
How can I register on OnePipe?
To register on this platform, follow the steps below:
1. First, visit their website. To get a direct link to their website, check below.
2. Next, scroll down the webpage and click on "Request Access".
3. Lastly, fill in the request form and then submit it.
Also, you can decide to go directly to the request page. To do this, just follow this link https://onepipe.io/start.
How can I access OnePipe services?
You can not access this platform's services directly. Hence, you will need to go through any of their partner banks and register on their version of it. The registration process is simple and stress-free. Here's how to do it:
1. First, input the BVN linked to your active bank account in any bank.
2. Next, wait to receive an OTP to the phone number linked to that bank account. Once you receive this code, input and confirm the OTP.
3. Thereafter, their partner bank will automatically open an instant business account for you in their bank.
4. Wait for just a few minutes for the platform to approve your API access.
5. You will receive an email to activate your newly created account and also generate your API keys.
Lastly, follow the documentation to do your integrations. Here's a link to the platform documentation, https://v1.docs.onepipe.io/
Read More, Top 7 Online Businesses That Pays
What documents do I need to register on OnePipe?
To register and access the services of this platform, you need your BVN, name, email address, as well as your phone number.
Does OnePipe have a mobile app?
This platform does not have a mobile application yet. However, you can register and access its products on the web platform.
How can I contact OnePipe?
You can contact OnePipe via the following ways:
Address: 11b Badagry Street, Off Adeniyi Jones Avenue, Ikeja, Lagos, Nigeria.
Phone Number: +234 809 6300 339
Email Address: consult@onepipe.com
Website: www.onepipe.com
Bottom line
OnePipe platform enables you to embed banking services within your own digital channels and apps. Basically, they achieve this by allowing banks to partner with businesses and offer banking services directly to them. You can try their services out today!
You can obtain a comprehensive loan, tailored to your specific needs by using this platform. Basically, it allows you to compare loans from different lenders across Africa, ensuring the best option doesn't slip through.