Octa FX is a reliable platform that helps forex traders make the most profit through efficient trading decisions. Basically, the nature of forex markets is such that it is unpredictable and requires in-depth studying of trends and when to enter/ exit the market. Therefore, many traders find it hard to navigate the tender waters, leading them to lose money on trades. Octa FX reduces this experience to the bare minimum through accurate fund management, transparency, and easy-to-use services amongst others.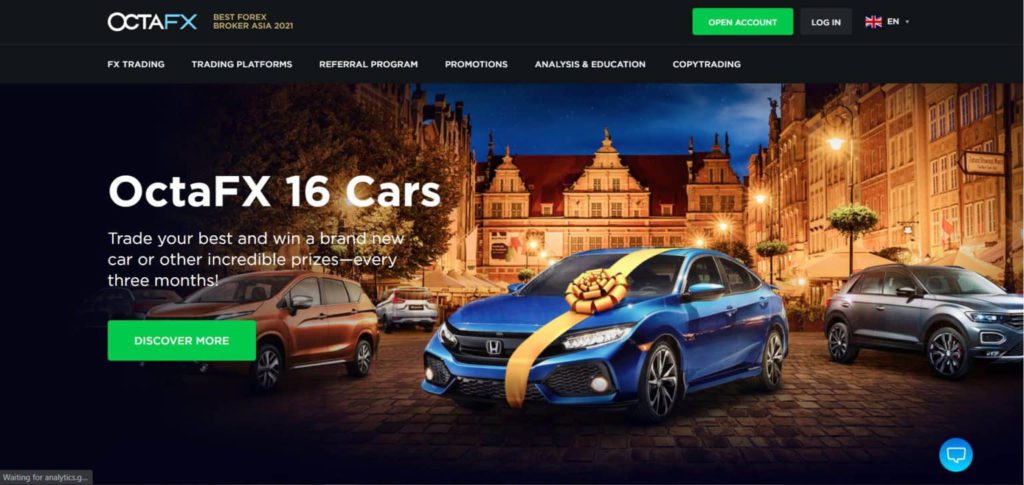 An Overview of Octa FX
Octa FX is a platform that makes it easier for people to enter the forex market, and maximize their potential for profit. Basically, being one of the most popular in the business, it does this through cost-effective trading conditions and transparent worldwide services that ensure you remain on the right track. Also, at the moment, the company hosts over 6.6 million forex trading accounts, with transactions exceeding 500M. Octa FX is currently present in over 100 countries and boasts 38 forex industry awards to date.
What are the benefits of using Octa FX?
Octa FX remains arguably the most popular forex trading platform, and one of the reasons for that is the numerous benefits attached to using the platform. These includes:
1. Tight spreads
Octa FX platform supports the lowest spreads in the forex industry, allowing you to earn up to 25% more than you would with other forex brokers. Basically, the spread allows you to maximize your gain from every trade you make.
2. 50% deposit bonus
With the 50% deposit bonus, you have an opportunity to support open positions of a higher volume of trades. Also, after meeting your volume requirements, you are free to withdraw your bonus.
3. Rewarding loyalty program
Asides from outright trading, the Octa FX trade and win program enables you to redeem several prizes like the latest gadgets and merchandise. Also, your user status comes with special privileges including spread reduction, advanced analysis as well as other exclusive benefits.
4. Fast deposits and withdrawals
With fast deposits and withdrawals, there is little or nothing to hold you back. Therefore, you can start trading immediately after submitting your deposit and when it's time to withdraw, you can be sure to face little or no discomfort.
5. No commissions
Octa FX collects no commissions on any deposits and withdrawals that you make. Also, they offer the best exchange rate among forex brokers on the market to every user.
To learn more about Octa FX and how you can benefit from using the platform, visit their official website at: https://www.octafx.com/
What services does Octa FX offer?
Their trading services include:
Metatrader 4
This is the most common trading platform that offers users robust technology paired with high security to enable traders to trade without worries. Basically, it offers tools to identify trend patterns through graphs and charts, follow price fluctuations and also deploy automated trading techniques to manage trade
Metatrader 5
On the other hand, MetaTrader 5 allows trading Forex and CFDs with thorough fundamental market analysis. This includes the technical aspects too, with features like copy trading, automated trading, and more incorporated. The Metatrader 5 offers a variety of order types and modes of execution.
Octa FX Mobile application
At the moment, the Octa FX platform has two apps through which users access the market. These are:
Octa FX Trading app
The trading app is the original application through which users can access the forex market. The app is easy to use, with a user-intuitive design that makes things much easier to understand. You can download the app from the Google play store by searching for "Octa FX trading app".
Cryptotrading app
The cryptotrading app is a more recent program launched by Octa FX. Basically, the application focuses on crypto trading, allowing users to access the market at fair prices and offering some of the best exchange rates you can get. Also, you can download the application from the google play store by searching for "Octa FX cryptotrading app".
How do I contact Octa FX?
You can contact Octa FX by sending them a DM on any of their social media handles at:
OctaFX for Facebook, Youtube, and Twitter, OctaFX_official for Instagram, OctaFX-official for Linked in, and octaFX_analytics on Telegram.
Also, you can choose to go the easiest route and start a chat with their customer care agent on the company's official website at https://www.octafx.com/
Conclusion
Octa FX remains one of the top forex trading platforms in Nigeria and West Africa as a whole. Basically, all you need to do is download the app and start trading due to its simplicity. However, remember to keep an eye on the market and trade wisely in order to avoid losses.
Need a loan to trade with? You can get the best loan for your specific needs through this platform. The loanafrica platform allows you to compare loans from several lenders, ensuring that you get the best with the most favourable conditions.