The Federal Government of Nigeria Social Investment Program also known as N-SIP is a program put together by the Nigerian government, through strong collaborations with both local and international stakeholders.
This partnership has a firm belief that social interventions have a major role to play in transforming the country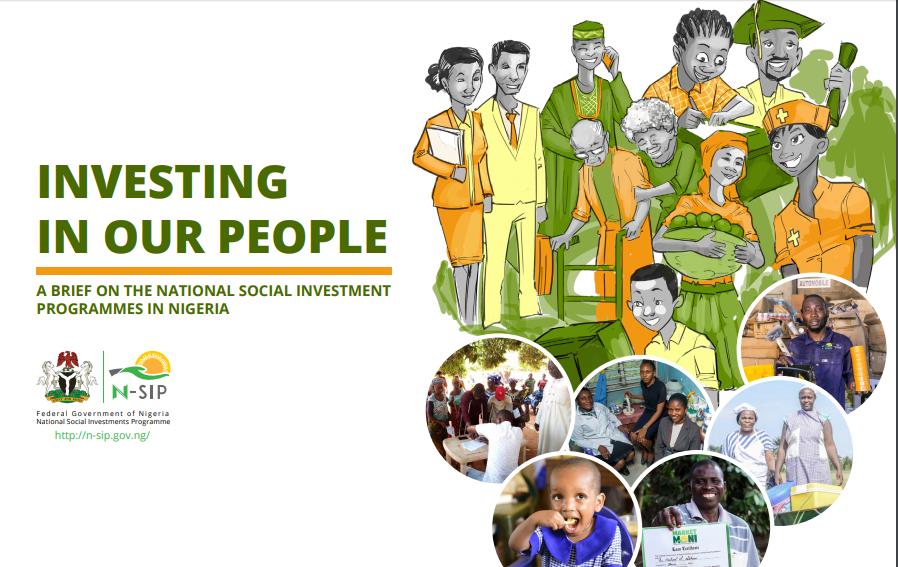 Core Values
Essentially, several core values guide the organization which include transparency, innovation, excellence, and empowerment of poor citizens among others.
Established within the Office of the Vice President back in 2016, N-SIP has implemented several National Social investment programs that have helped the poor populace.
Goals of the Federal Government of Nigeria Social Investment Program
The goals of the Nigeria Social Investment Programs are:
Standard, transparent, efficient, and accountable structure of delivery.
Adequate coordination and synergy amongst key agencies, ministries, and departments between federal, local, and state governments.
Effective monitoring and evaluation mechanisms.
Finally, improvement of human capital indices.
Current Programs of the Nigeria Social Investment Program
Basically, the Federal Government of Nigeria's Social Investment Program runs four different programs in line with achieving its goals. These programs are available to all citizens of Nigeria, with accessibility depending on social class and certain other criteria. They are:
Conditional Cash Transfer – CCT
The government designs this program to target the large population of Nigerians living below the poverty line.
The government collaborates with the World Bank under a National Social Safety Nets Project (NASSP). CCT has the following goals for poor households:
 Provide a net safety
 Reduce vulnerability
 Improve health outcomes
Increase educational outcomes
Encourage overall environmental awareness
Further financial inclusion
Lastly, upgrade human-life capital development
Conditional Cash Transfer is further subdivided into:
Conditional cash transfer: this supports the poor in household consumption.
Top-up: basically, this focuses on their deficiencies in capacity by creating an incentive for very poor households. Benefits cover health, education, nutrition, health, productivity and the environment.
Benefits:
N5,000 naira per month per household on the fulfilment of certain conditions.
 Capacity building on basic skills through training.
Lastly, coaching and mentoring support.
Eligibility:
Citizens from all states in Nigeria under the poor and vulnerable class are eligible for this program. Households, however, have to have one or more of the following to qualify:
Health: Registered pregnant women who attend an ante-natal and post-natal clinic and lactate mother's children from age 0 – 2 years.
Environment: women from age 18 to 40 years.
Education: children from age 6 to 18 years old.
The National Home-Grown School Feeding Program  – NHGSFP
Basically, the major goal of this program is to increase school enrollment and attendance by eliminating the incidence of malnutrition and poor feeding among the poor. 
This is achieved by the provision of free school meals through supplies from local farmers.
Aim and objectives:
 To increase school enrolment, attendance, and completion rate.
 To eradicate child malnutrition and health.
 Providing markets for farmers by patronizing them for local produce.
To create employment opportunities while achieving these goals.
N-POWER:
N-POWER is a skill empowerment program for young Nigerians, which also creates jobs. It covers youths between the ages of 18 and 35. N-POWER is categorized into graduate programs and non-graduate programs.
Graduate programs:

N-Agro.
N-Teach.
N-Health.
N-Tax.

Non-Graduate Programs:

N-Creative.
N-Build.
N-Knowledge.
Government Enterprise and Empowerment Program – GEEP
This scheme micro-entrepreneurs and provides loans between N10,000 and N100,000 at no monthly costs to beneficiaries. The loan is available for farmers, traders, artisans, youth, farmers, and women in particular.  
Qualifications:
 A BVN.
 A member of an accredited market association or cooperative within your state.
Your cooperative or association has to submit its information as a sign of interest.
Lastly, if successful, a MarketMoney agent would be sent to your group for loan assessment.
How do I benefit from the Nigeria Social Investment programs?
You can visit the official website n-sip.gov.ng to get detailed information on the documents required for a successful registration.
Conclusion
The Federal Government of Nigeria's Social Investment Program has benefits for different categories of citizens.
They capture every vulnerable citizen in at least one of the scopes. If you need a helping hand register to benefit from NSIP today!