Popular proverbs say; "yesterday is history, tomorrow is a mystery, but today is a gift. That is why we call it the present." The future remains uncertain and unknown to all. However, what we do with the gift of today goes a long way to affect the outcome of tomorrow. Making investments is the best way to secure a financial future. Learn more about different investments in Nigeria. MBA forex investment is one of the fastest-growing investment companies.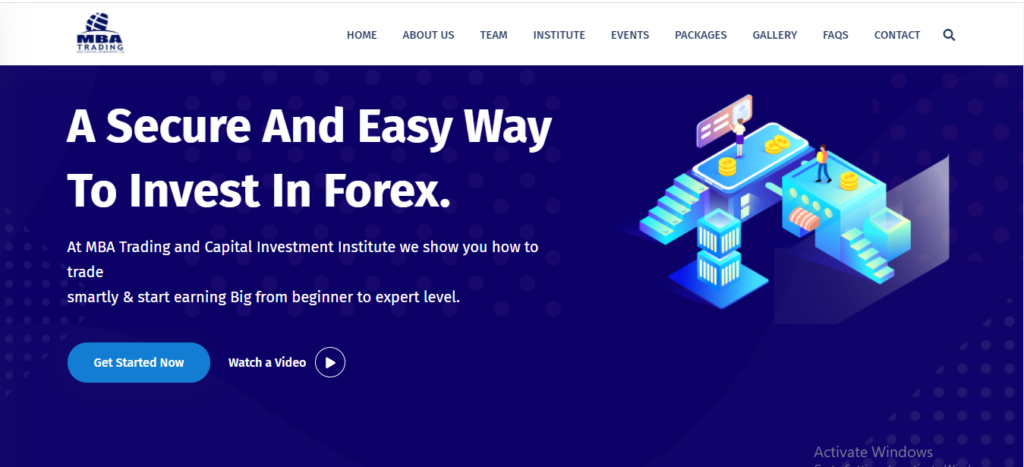 About the MBA forex investment.
MBA Trading and Capital Investment Limited is a Capital Investment Company with very high ratings. Their vision is to impart knowledge and provide sustainable financial freedom to all and sundry.
The company has over 10 thousand active investors, over 10 business locations in Nigeria. They also render their services at the international level through their offices in the United Arab Emirates (UAE) and the United Kingdom (UK).
MBA Trading and Capital Investment limited operates on two major platforms; the trading/training institute and the investment platform. MBA investment platform is exclusively open to individuals and corporate organizations.
How do I invest with the MBA and what are their cashing out plans?
MBA investment platform provides its services in different categories, this includes:
Huge Saver category:
They divide this category into four major rankings; Huge saver, Huge Saver PRO, Huge Saver PLUS, and Huge Savers.
This category is usually suitable for individuals who want to save up their Return On Investment (ROI) for a period. Here, they pay the accrued ROI quarterly, i.e. every 3 months.
Smart fund category: 
They also divide this category into three rankings which includes; smart funds, smart funds PRO and smart funds PLUS. It is a replica of the existing investment package and it guarantees investors with a monthly ROI for 12 Months.
MBA Trading and Capital Investment limited make monthly interest payments via bank transfer or cheque.
The benchmark amount for investing with them is $1000 in its naira equivalence.
Also, in MBA Trading and Capital Investment limited, they do not allow multiple accounts.
This is for proper investment management and prevention of fraud. However, multiple active investments can operate simultaneously.
What are the requirements for taking up a product or investment with MBA?
To invest or purchase any product or service from MBA, they will require the following information:
Full names,
Address(es),
Contact details/Phone numbers,
Email address and Account details.
In addition to the requirement above, they may also require a copy of your passport or identification card.
Note that all these documents will be good through verification before approval.
How can I contact MBA Investments?
For more inquiries visit their Headquarters at;
Suite C201, Plot 1245 Adetokunbo Ademola Crescent, Wuse 2, Abuja, FCT.
Or
Phone number: +2347000002000
Email Address:
support@MBAtrading.org
What are MBA's Value-added services?
Apart from investment services, MBA runs a trading/training Institute where students receive training on Forex market navigations for profitability.
They also offer a free three months mentorship for graduates of the institute to ensure their success in the Forex Market.
Here are some of their training plans:
Online learning schedules:
Session hold between 10-11 AM, 12-1 PM, and 4-5 PM from Monday-Wednesday and Friday's
Duration: 1 MONTH
Offline learning schedules: 
They divide this into four categories
Regular class: Session hold between 10 -12 AM & 2 – 4 PM, on Mondays and Fridays. Duration: 3 Months. Training fee: N150,000
Crash class: Session holds between: 9-11AM, 12-2PM & 3-5PM, Monday – Friday. Duration: 1 MONTH. Training fee: N250,000
Weekend Class: This session holds between 10-2 PM on saturday's. Duration: 2 MONTHS. Training fee: N300,000
Home training: The session here is subject to the time agreed between both parties.
For more enquiries: visit their site: learnforexonline@mbatrades.com
Conclusion
MBA is an investment company who has a firm determination to provide all-encompassing investment services to all their clients. They guarantee their customers a risk-free investment plan and investment offers that come with zero regrets.