One of the most important values any individual must possess to play safe of any unpredictable and inevitable crises is by saving. These crises may be a job loss, health challenges, unfavourable government policy changes, and so on.
Unfortunately, many people have no clue on how to go about developing and maintaining a saving culture. KoloPay is a mobile piggy bank that can help you save nominally towards your future goals.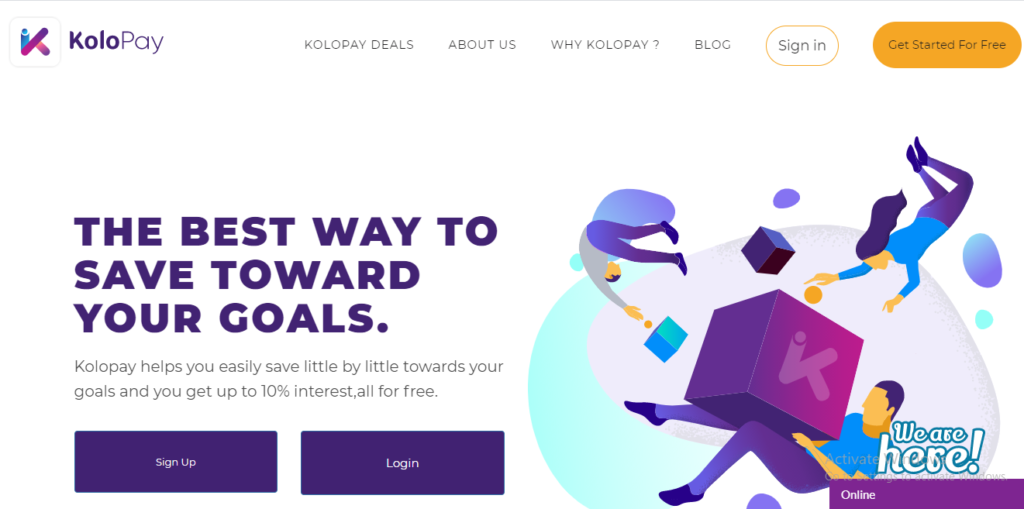 About Kolopay
KoloPay is a major savings platform, which they formerly call Mr. Kolo.
Its aim is to ease the stress that comes with saving and encourage a good saving culture in their customers.
You can also make direct purchases from Koloplay, as it also provides e-commerce services for its customers.
Ayoola Ogunnowo and Ifeoluwa Popoola launched Kolopay on the 4th of December 2017. Since its launching, Koloplay has consciously made a name for itself and has gained recognition for its outstanding features.
How does KoloPay work?
Kolopay operates on two major savings options, they include:
EasySave:
With this option, Kolopay allows their users to save any amount of money.
You can make one-off payments from your account to your Kolopay and you can save as little as ₦1.
AutoSave:
This option allows users to choose a savings plan. This can either be daily, weekly, or monthly.
Apart from these saving options, Kolopay operates an e-commerce feature whereon users set their target budget for the purchase of desired products.
How can I open a Kolopay account?
Here are the steps you must follow to get a Kolopay Account:
Register for a Kolopay Account via their App available at www.kolopay.com
Provide all necessary information required which may include your name, email address, and phone number, Account details, etc.
How do I save with Kolopay?
After successfully creating a Kolopay account, follow these steps to save:
Create a target i.e. set a target name and a certain amount that you would like to save.
Then, link at least one bank account held by a bank in Nigeria to your Target
For more information, visit their site on www.kolopay.com
What are the minimum requirements needed to use Kolopay?
There are certain qualifications that Kolopay requires of its potential customers. These includes:
You must be a Nigerian citizen or a legal Nigerian resident;
You must be at least 18 years old.
However, where the majority age in the state of residence is 21 years old, they require the same.
Finally, you must have a bank account with a licensed Nigerian bank.
What are Kolopay Interest rates?
Kolopay provides her customers with a 6% rate of interest annually on each target budget.
However, interest may not accrue if you make a withdrawal within 30 days of which you create the target.
Also, In return for their services, Kolopay keeps any interest accruing on the total funds after payment of any interest due and payable to their customers.
When can I access savings from Kolopay?
The rules regarding Disbursements/withdrawal are:
You can only access funds in your account when your savings balance is over 3,000 Naira.
You can make requests for disbursement of any amount from your Credit Balance through the App. However, this can only occur once each calendar month.
Kolopay releases all withdrawal requests within 24 hours directly to your linked account details.
However, when the amount you request exceeds your available credit balance, they will decline your disbursement request.
Finally, Kolopay does not make disbursements to third parties except otherwise instructed.
Conclusion
Kolopay is one of the safest and reliable saving platforms in Nigeria.
They provide outstanding services and ensure the satisfaction of their customers.
Unlike other platforms, KoloPay allows her users to save from multiple bank accounts in order to encourage them to save more.