From drawing out clear goals to mapping out a strategy to keep track of your expenses, there are several ways to save money from salary that comes in every month. Basically, there's no special secret that those who save better have over those that don't. Instead, it's down to understanding strategies, and discipline to make things work regardless.
Although your amount of income matters, when it comes to saving, it's more down to how well you are able to set money aside and your discipline in sticking to a monthly budget. Basically, many hold the notion that a better job with better pay would mean them saving more.
However, the moment such pay comes in, they tend to embrace an improved live style, spending more and saving less as a result. This is not to say that you shouldn't seek to earn more.  In this article, we would be sharing tips on how to save money from salary that comes in.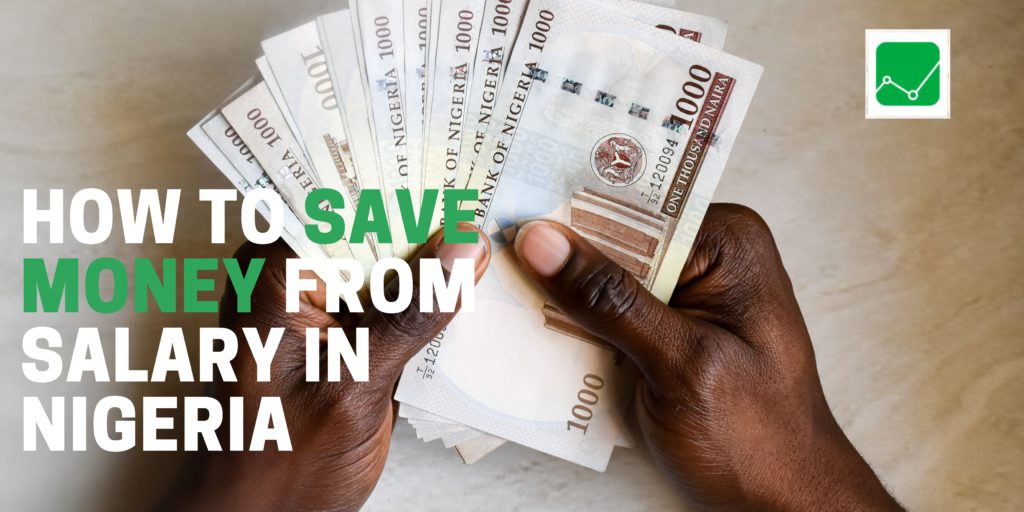 How to save money from salary
First and foremost, saving is a discipline habit that you have to cultivate regardless of your amount of income. Therefore, more earnings don't always equate to more savings although they normally should. Here are some tips to help you save money from your salary:
1. Have set goals
Having set goals you hope to achieve with your salary in a month is just as important as receiving the salary itself. Basically, it's all about laying out what your goals are for the month and should be done in the early part of it. Without set goals, there's almost a guarantee that you would end up squandering most of your earnings. Therefore, ask yourself important questions like; what are you saving for? What is the estimated duration? How would this impact my life in general? With this, you'd not run out of motivation to hit your target.
2. Monitor your expenses
If there is a hidden secret to not overspending, it is this. Monitoring your expenses should be non-negotiable, and done at all times to keep track of what is going out. Basically, you can help better your chances by developing a reward system for yourself anytime you hit a set target. In all, ensure you stay realistic and don't set unachievable goals.
3. Create a budget and stick to it
A budget is how you distribute your income from the highest spending to the last penny. Therefore, it should be detailed, and include everything that takes money from as little as airtime to as basic as feeding. Also, ensure you do not make the mistake of leaving the budget in your head as many do. Instead, write it down on a piece of paper or accountability software where you can track things easily. In addition, remember to always review the budget to include unexpected spending that you didn't factor in. Most importantly, a portion of your salary should be saved.
4. Cut costs through your shopping location
When it comes to shopping, closer isn't always better. Therefore, embrace the idea of shopping at wholesale stores, where prices are usually cheaper. Although it may not seem like it, more often than not, your roadside customer is more expensive than fancy wholesale stores that carry the expensive look externally.
5. Impose restraints when using your ATM card
Like it or not, having an ATM card on you mostly causes you to spend far more than you budgeted. Yes, they can be a lifesaver, and for grabbing easy cash, however, they can also contribute greatly to why you remain poor. Basically, for your savings account, stay away from an ATM card as much as you can. Also, when you have to withdraw, always stick to the exact amount that you need.
Also, avoid saving your card details on shopping apps or stores. When you do this, there is a higher chance that you end up actually purchasing something. ATM card gives you an easier way to spend money, therefore, you have to say no to it.
6. Calculate your cost-to-time ratio
One thing that would help you make better financial decisions is understanding your hourly rate. For example, if you earn N100,000 per month, and work the regular 9 am to 5 pm from Mondays to Fridays, means you work 8 hours daily, 40 hours weekly, and 160 monthly. Breaking it down, you earn about N625 per hour and should spend according to it. Therefore, if you want to go to a retort center for fun with a budget of N5,000, that's precisely 8 hours of your work, which is a day's pay. Ask yourself if it's worth it, and make an informed decision.
7. Open separate accounts
Having separate accounts is a strategy that works like a charm. Precisely, you should open four different accounts for different purposes in order to maximize savings. Also, these four accounts must have different features and satisfy different purposes which are:
Wants
The first account should represent your wants, which are things you do not necessarily need. Basically, from hangouts to shopping and satisfying cravings, only transfer the sum you budget for wants into this account.
Bills
Bills are a must, and everyone has them. Therefore, this account is arguably the most important, and if you can, make it your salary account. It should hold money to sort out basic bills like housing, electricity, and feeding. Also, being your salary account, distribute money to other accounts from it.
Emergencies
Emergencies are never expected, which is why they are called that. Basically, you can be having the time of your life one moment, and in dire need of cash the next. This is why it's good to always have an emergency account, and it should be funded by a certain percentage of your total income. However, there are times when you get hit by emergencies and require urgent loans to cover up. If you do, simply visit this lending platform that allows you to compare loans from different lenders within minutes and make the best decision for the moment. Borrowing in panic leaves you open to poor choices, which is exactly what this platform helps you prevent.
Projects and wishes
This account should be for farfetched wants like vacations, purchasing a vehicle, or buying a car. Therefore, it exists to help you save towards projects and other expensive trips that you may intend to go on.
8. Delayed gratification is the way forward
Although it seems difficult, delayed gratification is one of the best ways to save money. Basically, it is you giving up a small pleasure for a larger reward later on. Investing after having access to supply chain finance should be considered. It really comes in handy during your decision-making process before purchase. Therefore, always look at the future, to see if this is something you need now or if you can get a better offer later on. Also, sometimes, cheap is expensive in the long run.
9. Say no to impulsive purchases
Spending would always be forever easier than actually making the money. In addition, to make things worse, shopping online is even much easier and requires great restraints if you want to save. Therefore, you should try to plan your online shopping, and if possible, only make massive purchases during annual discounts like Black Friday sales.
10. Save before you spend
As soon as your salary comes in, the first step should be to remove your savings. Basically, always budget after saving and not before. If you truly want to improve your savings habit, you have to live on what's left after you have saved as doing otherwise would almost guarantee that nothing is left by the end of the month.
11. Cutaway eating out
One of the things that consume the most money is feeding, and when you eat out, you spend double. However, with good planning and discipline, you can avoid going to pay heavily for meals you could have easily cooked and save money. Start by purchasing foodstuff, and store it at home. Also, develop cooking schedules and weekly plans to ensure you are not caught unawares. However, this does not mean you should never eat in restaurants, but if you can avoid it, do so. Restaurant meals certainly cost more in less quantity.
12. Reconsider your housing plan
Your housing plan and expenses should be proportional to your earnings. Basically, living in a house that costs N500,000 per annum while you earn N100,000 is a bad financial decision.
in order to meet up, you literally have to give up 5 months of your salary from a year and live on the remaining 7. Also, budget your housing expense according to a percentage of your salary. For example, if your rent is N300,000 while you earn N100,000, you would need to save at least 25% on a monthly basis to meet up. Doing this gives you more perspective and helps you save.
13. Opt for used items when you can
Instead of that brand-new car or television, go for a fairly used one, and you'd be shocked about how much you can save. However, be sure that the fairly used item is in good condition or it could be costly to maintain down the line.
14. Earn extra income
This is one of the best ways to boost your savings. When you earn extra, you can simply channel it to your savings and live on your salary like you have been doing. Basically, there are a ton of online opportunities to make money from in your free time.
15. Cut down transportation
Transportation eats a chunk of everybody's income as we all have to go to work and return every day, asides from weekend movements. However, although this is nonnegotiable, you can save money by trekking certain distances when you have the luxury to. For example, you can decide to walk to church on Sundays instead of taking transport or start walking to your bus park from work. When you put together the N100 and N50 saved in a month, you'd realize how plenty it is.
16. Cut down on TV cable subscriptions
Instead of going for the outright premium option that costs a lot monthly, seek out alternatives that give you exactly what you want. For example, If you prefer sports, search for a cable TV provider that focuses on sports. Basically, they are often lower than others that combine everything in a one in all expense package.
Conclusion
Saving money is down to your zeal, determination, and discipline. However, we can all agree on the fact that these tips on how to save money from salary are top-notch, and it's left for you to follow. Also, pay attention to your spending habits and set goals that you stick to no matter what.