Flutterwave is a platform in Nigeria that manages financial payments between customers and businesses. Basically, they remove the restriction that businesses encounter with customers during online transactions, especially between international parties. However, they also possess a mobile POS option, which recently turned favourite for businesses to use as a cash register and physical POS machine.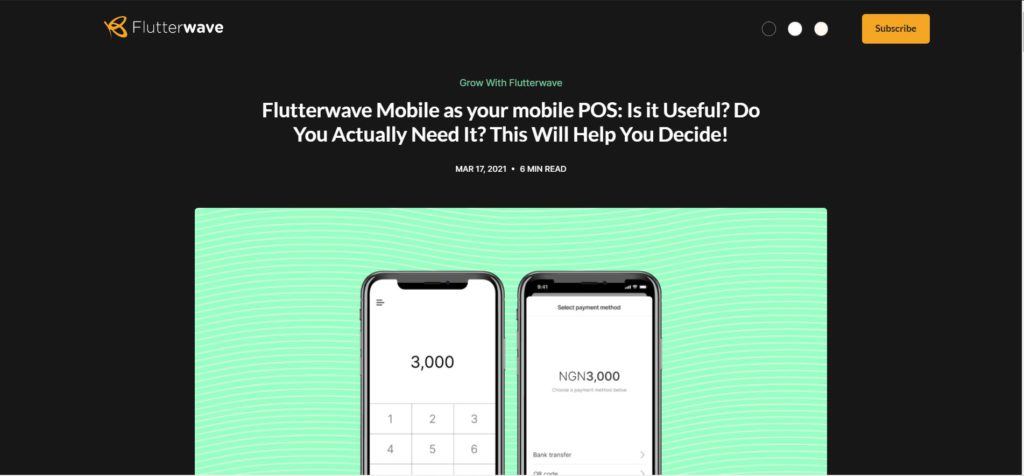 What is a mobile POS?
With a mobile POS, you can accept payments from your customers, issue a receipt, and even maintain a record of sales. Therefore, a POS combines the features of several devices in one, allowing you to do a host of transactions and recording, making your business transactions easier. However, Fluttewave POS differs from others, being that they offer a mobile downloadable POS feature, instead of a conventional machine like other POS services.
What services does Fluttewave offer?
Flutterwave offers the following services in general:
Checkout
The checkout system is one of the easiest ways to collect payment from your customers online, wherever they are in the world. This service exists on the web and mobile for optimal comfort. Basically, all you need to do is integrate it on the checkout page of your business site and you're good to go.
Card issuing
Flutterwave allows you to create and manage virtual cards through their card-issuing platform. Therefore, this means that you can easily generate a card for your group as a form of budget. Flutterwave allows you to set spending or site-specific limits and they host the cards on their API.
Store
For those looking to run an online business at minimal cost, Flutterwave is a very good option. Basically, it allows you to set up a store within a few minutes and also list products and their details to entice customers. After that, what's left is to share your store link around.
Invoice
Invoice simply helps you create and manage professional invoices with your clients. Also, the system keeps track of all the payments and makes them readily accessible to you at any time.
Payment Links
Payment links were designed for business owners who need a platform to accept payments from their customers. Basically, after setting up, all you need to do is share your payment link with customers, after which they can make payments.
Consumer
Lastly, consumers' service makes it possible to plug Flutterwave into your preferred payment method. Payments are arguably easier with the consumer platform, and it also allows payment through multiple channels including card, USSD, bank account, Barter, transfer, QR, and more.
Flutterwave POS
Flutterwave POS is unique in the sense that it does not involve any form of the hassle of physical hardware to set up. Therefore, this saves you cost as well as the time usually spent on logistics. With Flutterwave POS, you would also skip all annoying extra registration that follows procuring a physical POS. Basically, they make this possible through their superior payment infrastructure network that allows you to accept PayPal, Paga, Mobile Money, debit and credit card, Barter, and more.
In addition, the app also possesses an option for a Flutterwave store, allowing you to organize your business at an online and offline level. This helps you monitor your transaction and monitor your whole business from the comfort of your mobile.
How do I download the Flutterwave POS?
At the moment, the app is available on the Google play store and App store. You can download and start using it through the following steps:
Log on to google play store or app store and search for the Flutterwave app
Download the app and ensure you install it on your phone
Sign in with your Fluttewave account on the app
Swipe right and navigate the menu options to POS
Conclusion
Flutterwave POS provides a platform to both connect your business off and online as you deep fit. Basically, it also helps with mobility and ensures you're not caught aware when you come in contact with a customer. In all, it is a good mobile solution that could help your business grow.
Need a loan? Kindly check out this platform that allows you to compare loans from several lenders in minutes. This would help you make the best decision for you