One important aspect of family life is finances. Basically, every family has to create an effective money management method to help them take charge of their family needs. Doing this ensures that you control your family's expenses and do not run into debt. Below are some guidelines to walk you through the process of managing your family's money.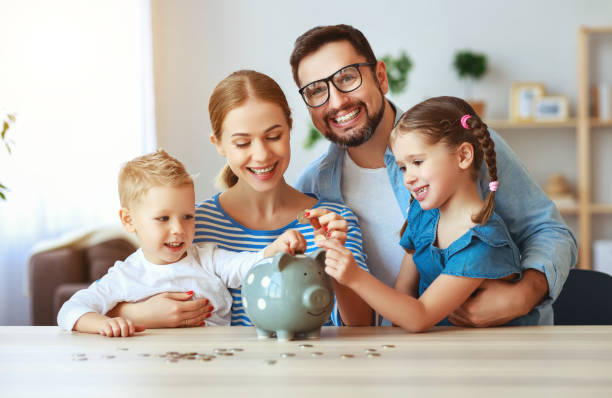 Why is money management important?
Basically, money management involves settling your family needs and daily expenditures, dealing with unexpected bills, as well as setting some money aside for the future. Doing this puts you in control of your finances, which enables you to feel more secure and avoid stress. Hence, money management is important because it helps you to take charge of your finances.
For an effective money management process in the family, you need to prioritise communication. Do not be afraid of having any difficult conversation concerning finances. Basically, communicating frequently with your partner will help you to avoid and resolve any conflict about money. Also, you can involve your children during the money planning and budgeting process to make it easier to achieve your goals as a family
Why is having a Family budget important?
Creating a family budget is important for the money management process. That's because having a family budget helps you to:
1. Spend your cash wisely on the various things you must have (your needs)
2. Save some cash for things you like to have but can live without (your wants)
3. Put aside some cash for unforeseen expenses and emergencies. For instance, if your car breaks down unexpectedly and needs repairs.
4. Avoid accidental overspending.
5. Get an idea of the amount of money you need for daily essentials, such as food, housing, household bills like gas, phone, electricity, water, transport as well as medical services.
Basically, it can help you ensure that you have enough money to settle unexpected expenses and emergencies.
Budgeting is the first step you need to take if you want to take charge of your family's finances and control your expenses. Also, it helps you to avoid debt since you are in charge of how much you spend. Hence, you enjoy your family life to the fullest instead of stressing yourself out over debts and your finances in general.
How does budgeting work?
The key to creating a budget for your family needs is following the simple rule – spend less than your earnings.
One great way to create a budget is to list out how much money you earn, your expenses, and your debt. To help you out, you can check out your previous salary and benefits statements, your current bank statement, and your bills. If you spend or receive income in any other way, you should go through it too.
Try to check out your bills and bank statements from the previous year to understand your normal spending habit. Also, you need to look at where you had to pay more bills due to unforeseen expenses.
After you have considered your family needs and emergencies, your goal should be to have some leftover money for your wants and savings.
To make this process easier for you, you can download budget planning apps and savings calculators to assist you. You can get these apps from the Google Play Store for Android or the App Store for iPhone. 
Working out how much money you spend: the first step towards managing money
One of the most difficult things about creating a budget and the money management process is keeping a record of your expenses. Basically, spending can either be regular (also known as fixed expenses) or irregular (also known as variable expenses).
Here are some fixed expenses you may want to add to your family's budget:
1. Rent or mortgage repayments
2. Council fees and land taxes
3. Utilities, such as electricity, gas, water, internet, and phone bills
4. School fees
5. Car, health, and property insurance
6. Personal loan repayments (if any)
7. Cost of using public transportation
Here are some variable expenses you may want to add to your family's budget:
1. Food
2. Household maintenance and goods
3. Medical fees
4. School uniforms, stationary, and textbooks
5. Car repairs, maintenance, and petrol
5. Personal items, such as clothing and haircuts
6. Vacations
7. Entertainment
8. Gifts for birthdays, weddings, or any other celebrations.
If your income permits, it is better to deliberately overestimate the money you assign for bills. This may help you to find more spending money.
Planning how and what to save: a major part of managing money
Your budget will last you know if you are presently spending less or more money than you make. If you are spending more, you should come together as a family and think of how you can cut expenses and save money. However, if you are spending less money than you make, you should consider how to start saving and what to use it for.
How can I make a savings plan for my family?
Here are some useful clues for creating a savings plan:
1. Review your spending
First, you have to find out if you are saving as much money as you can. Is it possible to cut down your spending on specific items? Can you figure out other ways to reduce your expenditures? If you can, do it to help you save more money.
2. Create a savings buffer
Before you begin saving money for your wants, it is very important to set aside extra savings to offset financial emergencies. For instance, you could try to set aside some money in different savings account for your emergencies.
3. Decide what you are saving for
What goals do you have in mind? How much money do you need to save in order to achieve them? Start by setting a deadline for your goal. However, you need to be realistic with the deadline to avoid feeling like you are pressing yourself.
4. Open a savings account
Open a high-interest bank account, which is different from your main account. Just use this account strictly for saving towards the goal you have in mind. Just set up an automatic debit at the end of the month from your main account to your savings account.
You can also consider other options, such as telling your employer to divide your salary payment, so that a specific amount of your salary can go into your savings account.
After you have come up with a good savings plan, it is advisable to examine the advantages and disadvantages before you start anything.
Bottom Line
In every budget you want to create, your family needs should come first. Needs are the things you can not do without, such as food, rent fee, medical bills, etc. Also, it is advisable to set aside some money for emergencies. If you want more advice, you can talk to your bank or a financial adviser.
Need a loan? Kindly check out this platform that allows you to compare loans from several lenders in minutes. This would help you make the best decision for you