Investment is just about the best plan that any of us can do. It is a big step to financial security, which is why we encourage it today. One of the best platforms around to do this is Cowrywise Investment. This is because it offers different services tailored to your needs as an individual and helps you prepare for the future. You can check out other investments in Nigeria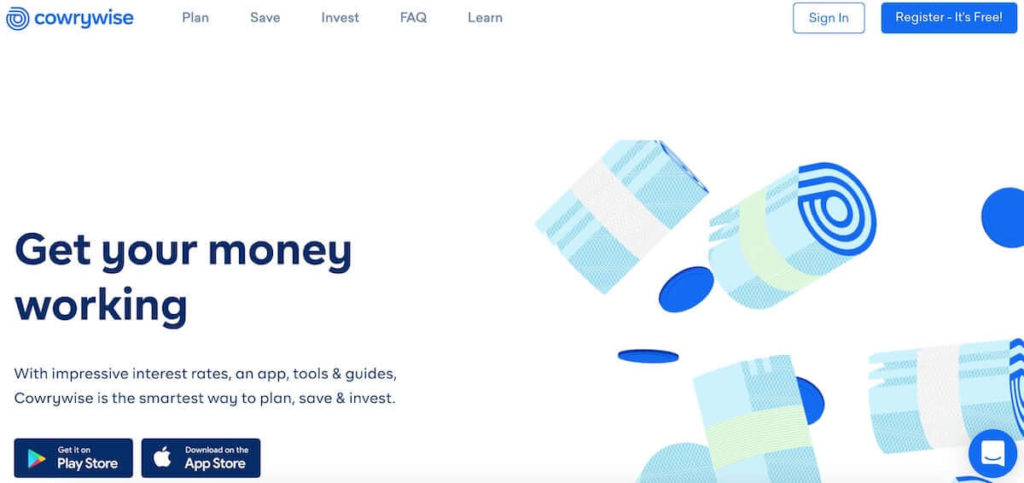 About Cowrywise Investment
Cowrywise is a registered cooperative with Meristem Trustees Limited. It has its assets held and monitored by this group who is an SEC-registered company. Basically consisting of a team of experienced and highly skilled professionals with over 20 years of working in the industry run Cowrywise, they have a goal to digitize investment for Africans for easier accessibility.
What products does Cowrywise Investment offer?
The services offered by Cowrywise investment revolve around the three products below:
1. Plan:
Generally, the Cowrywise investment plan service helps plan for future projects through saving. Some examples of these are: sending your child to his dream university or purchasing an asset. Basically, you can use your money for whatever you desire.
The amazing thing is that, at the end of your savings period, your total amount saved comes with interest.
You can calculate your interest using the personal interest calculator on their official website www.cowrywise.com/interest-tool.
2. Save:
Basically, you can automate your savings and opt for different packages under savings which have different tenors depending on your target. The available packages are:
Regular savings: regular savings have a minimum tenor of 3 months and come with competitive interest rates.
Life Goals: with life goals, you can save for your long-term targets. It has a minimum tenor of 22 years, and also comes with amazing returns.
Halal Savings: They design this product specially for Muslims who do not want interests. It is free of automation and riba.
Savings Circles: savings circle encourages a group of individuals by allowing them to set a savings target together. You can join this with your group of friends and it also comes with good returns.
3. Invest:
This makes it easy for just about anyone in Nigeria to invest in mutual funds and enjoy their juicy returns. You do not need a huge sum to get started. Invest and sit back to enjoy your returns.
How do I invest and cash out with Cowrywise Investment?
Investing and cashing out is simple with Cowrywise investment. Simply follow the steps below:
Download the "Cowrywise app" through the google play store
Register by imputing all the requested details.
Navigate to your preferred service (save, plan or invest), and set it up.
Cowrywise investment makes use of a very encrypted system therefore you can be sure your information is safe.
What are the requirements for taking up a product or investment with Cowrywise Investment?
There are no special requirements for taking up an investment with the company. As far as you have the following, you're good to go:
A functional bank account to fund your Cowrywise investment account.
Cowrywise investment account.
Enough money to make an investment or set up a savings plan.
Are there any applicable Interest rates with Cowrywise Investment?
Yes, there are. For every Cowrywise investment service, you get returns on your money. However, this excludes the Halal Savings plan.
As earlier said, you can calculate your investment returns through the loan calculator on their website www.cowrywise.com/interest-tool.
Are there any restrictions on using Cowrywise Investment?
No there aren't. Invest as much as you can, for as long as you can. The ball is in your court.
What other Value-added services does Cowrywise Investment offer?
All Cowrywise Investment services are accessible through their mobile application. You can download this app through the play store or by visiting their official website at www.cowrywise.com. The bottom of the site contains a link to download the app.
Note that you cannot access their service through a web browser on your phone or computer.
Conclusion
With Cowrywise Investment, planning, saving, and investment become much easier. It even allows you to automate the process for stress-free use. Sign up today to enjoy these amazing packages with interest.