Buycoins is a crypto trading platform that allows users to trade cryptocurrency and manage their cryptocurrency portfolio. With Buycoins, you can buy and sell cryptocurrency quickly easily using your local currency.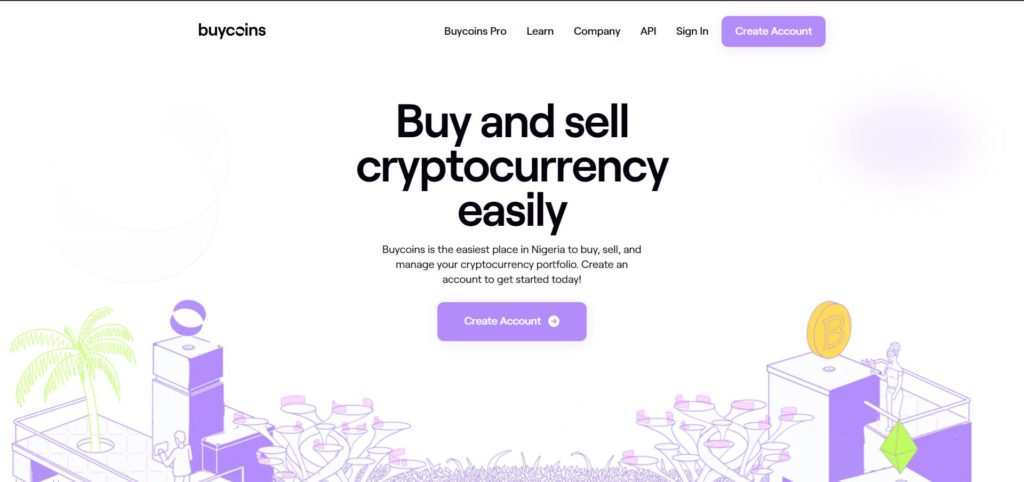 An overview of Buycoins
Buycoins is a Nigerian based crypto trading platform founded in 2017 by a team of blockchain experts. The company is reputable for being the only crypto exchange platform that allows users to buy bitcoin in Nigeria by directly using either their local bank account or debit card. Also, the platform provides an escrow service on all of its trading transactions to safeguard users from fraud. 
What cryptos do BuyCoins support?
Buycoins support various ranges of coins including Bitcoin, Litecoin, Ethereum, as well as Bitcoin cash. Basically, this list grows frequently as they keep adding new coins to their support database. Therefore, it could be more in the nearest future. You can read more about investing in Bitcoins.
How can I trade Crypto on Buycoins?
Buycoins provides a secure platform for users to trade with zero transaction fees. You can start trading in three easy steps:
First, you need to download the Buycoins app from the app store on your IOS or Android device.
Next, you have to create an account by logging into the app and inputting your personal details
Thereafter, you link your bank account to the app to enable you to make Naira deposits and withdrawals.
Finally, you can top up your account with funds before you are granted access to start trading your favourite coins.
However, it is important to note that Buycoins does not charge any extra transaction fee when you buy and sell coins.
What are the criteria for trading on Buycoins?
You have to meet the following requirements to trade successfully on Buycoins:
Not less than 18 years and must own a Nigerian bank account
You must not use your Buycoins account to engage in any transaction involving advanced protocol
Also, you must not use your Buycoins account for any illegal activity
You must always secure all transactions executed using your Buycoins account
Lastly, you can get a comprehensive list of all other requirements for trading on Buycoin's website.
What are the features of Buycoins crypto trading platform?
Below are the key features of Buycoins:
1. Instant buy and sell
The company credits your Buycoins account quickly when you trade coins.
2. Secure wallet
Buycoins secures all users transactions against fraud by providing an escrow service.
3. Zero transaction fee
Buycoin does not charge any additional transaction fee when you trade crypto.
4. Buycoins Pro
Buycoins pro is an app specially made by Buycoin for advanced traders. Also, users of the app are granted access to advanced trading tools like Market orders. In addition, Buycoins pro app allows users to trade in multiple markets with favourable prices.
The features of Buycom are specially optimized to give users a pleasurable experience.
How can I sell on Buycoins pro using Market order?
Buycoin Pro is created with a special feature that allows you to trade multiple cryptos by placing Market orders. Basically, a Market order means placing an order to instantly buy and sell at the best prices currently available in the order book. Here's how you can place a market order:
Download and create an account on Buycoins pro app.
Click on 'Search Market' and choose the coin pair you want to trade.
Thereafter, you can input the number of coins you want to sell and click on 'Place Sell Order'.
Lastly, go on to check the details of your order in the 'Open Orders' section. However, Market orders should only be used if you are willing to pay higher fees created by crypto slippages.
Is there a crypto transaction limit on Buycoins?
All transactions on Buycoins are subjected to limits set by each user's local bank account. Basically, this means your transaction limit depends on your financial institution, payment method, and other critical factors. You can contact your financial institution to find out your Buycoins transaction limit.
Are there interest rates for Tokens on Buycoins?
The interest rates for tokens on Buycoins differs based on the amount of money and type of cryptocurrency involved. However, they would indicate the exact rate during the process of purchasing the tokens.
Bottom line
Buycoins is an exceptional platform suitable for Nigerians seeking to invest in crypto. Basically, its beginner-friendly and zero transaction fee feature makes it one you should try.
You can obtain a comprehensive loan, tailored to your specific needs by using this platform. Basically, it allows you to compare loans from different lenders across Africa, ensuring the best option doesn't slip through.