Nowadays, several platforms offer Nigerians access to trading digital currencies. Basically, these platforms provide you with a digital space where you can buy bitcoin in Nigeria. Binance is the world's largest and leading cryptocurrency and blockchain provider. Here is a summary of everything you should know about the crypto-centered infrastructure.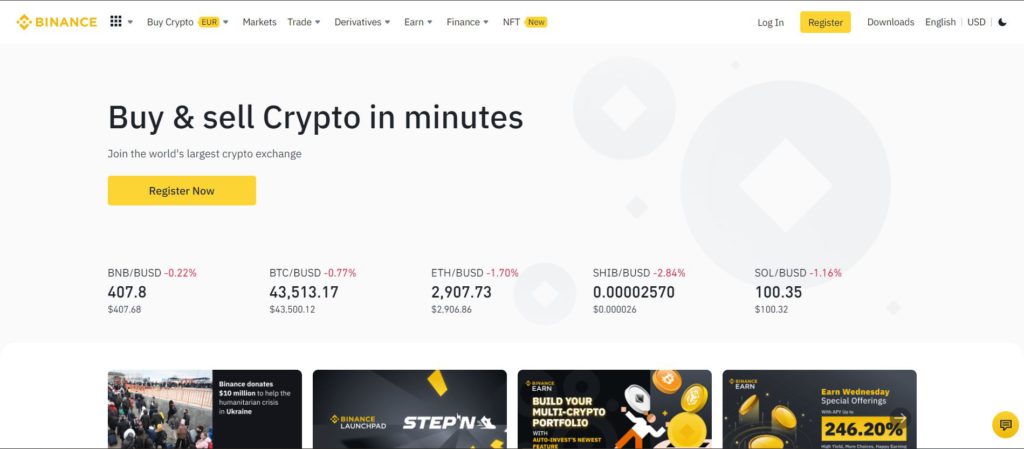 An Overview of Binance
Binance is a leading cryptocurrency and blockchain infrastructure provider with a financial product platform that encompasses the largest digital asset trade by volume. Basically, the platform enables individuals to purchase and trade cryptocurrency seamlessly.
The privately owned company was founded in 2017 and boasts of having millions of users globally. The platform aims to increase the autonomy of money for its users and offers a variety of crypto products. These products include trading and finance, data and research, education, social good, decentralization, investment, and incubation, as well as infrastructure solutions. Binance is one platform where you can easily buy and sell cryptocurrency. It a top crypto exchange platform.
What Products does Binance offer?
Here are some products the crypto centered infrastructure offers individuals:
1. Exchange
The digital infrastructure allows you to actively trade cryptocurrency without stress. Basically, this means that you can purchase and sell Bitcoin, Ethereum, and other digital currencies on the platform.
2. Academy
Academy is your step-by-step guide to blockchain and cryptocurrency. Basically, this product teaches you everything you should know about digital currencies.
3. Labs and Launchpad
Labs provide assistance to technical teams that build up and support the development of the decentralized web. On the other hand, Launchpad is a platform that allows you to purchase or earn tokens that you can use on Binance.
4. Trust Wallet and Gift Cards
The Trust wallet is secure and allows you to buy, store and exchange cryptocurrency. Basically, Gift cards enable you to generate and send a crypto gift card with customized card themes and messages, and coins to your family and friends.
Basically, these products are what the crypto-based company offers its users. Users can access these products anytime and anywhere.
What are the trading rates on Binance?
Trading rates are not constant. It all depends on the crypt currency you want to exchange. To get a detailed description of each cryptocurrency and its rate, visit their official website www.binance.com.
Read more on Best trading apps in Nigeria.
How can I register on Binance?
Here is how you can sign up on the crypto infrastructure:
1. First, download and open the Binance App and click on register.
2. Next, enter your basic details like the email address and password you would like to use for your account.
3. Thereafter, complete the Security Verification puzzle for your account.
After this, the platform will send a verification email to your inbox. Click on the link in the mail you receive and verify your account.
How can I buy Bitcoin on Binance with Nigerian Naira?
Here is a step by step guide on how you can purchase bitcoin easily:
1. First, open the Binance App. Tap the "Buy with Cash" toolbar and select P2P.
2. Next, select the Buy tab and pick BTC. Tap the filter icon that you can see at the top right of your phone screen.
3. Choose your Bank payment type and the NGN currency to purchase the crypto. Then, click on confirm.
Lastly, input the quantity of bitcoin you want to buy, specify a payment method, and then click on "Buy BTC". Transfer the money to the seller and receive your Bitcoin within a few minutes.
For more insights, read this article on Bitcoin Investment Strategies Explained.
How can I sell Bitcoin on Binance?
Here are steps to selling your Bitcoin on Binance:
1. First, go to the Binance App. Tap the "Buy with Cash" toolbar then go to P2P.
2. Next, select the Sell tab and then the BTC crypto. After that, touch the filter icon located at the top-right part of your phone screen
3. Choose your preferred Bank payment method and the Naira currency to sell the Bitcoin. Thereafter, tap "Confirm".
Lastly, proceed to pick the offer most suitable for you and click on "Sell". Input the quantity of Bitcoin you want to sell, choose a payment method, and click on "Sell BTC". You will receive the payment in Naira into your Bank account.
How can I download the Binance app?
Here are steps to guide you on how to download the mobile app:
1. Click on the Play Store store on your Android phone or the App Store on your iPhone.
2. Next, type "Binance" into the search bar.
Download the app, create an account, fund your digital wallet and commence trading.
How can I contact Binance?
You can contact Binance via the following ways:
Live Chat with a customer care representative: https://www.binance.com/en/chat
Twitter: https://twitter.com/BinanceHelpDesk
Reddit: https://www.reddit.com/r/binance/
Website: www.binance.com
Just follow any of the links and ask them any question you have pertaining to the cryptocurrency-centered app.
Bottom Line
Binance is primarily a digital infrastructure that enables you to purchase and trade your favorite cryptocurrency. Also, it offers you a wide range of products, which makes trading seamless. In all, the platform is credible, secure and charges lower fees compared to other crypto exchange platforms.
Need a loan? Kindly check out this platform that allows you to compare loans from several lenders in minutes. This would help you make the best decision for you.